Aceasta reteta de linte cu legume gratinate la cuptor este delicioasa si satioasa si constituie un fel principal vegetarian sanatos. | Vegetarian recipe for lentils and veggies gratin casserole dish, easy to make and budget-friendly. 
  Recipe in English
  Reteta in Romana
This lentils and veggies gratin recipe is AAAHMAZING!! Really! It was made by my dad about 2 weeks ago and it had a huge success. He saw a cooking TV show where a similar recipe was prepared and because he never made a gratin before he decided to give it a try. The crispy crust is delicious and the composition has a 'meaty' texture everyone will love.
You definitely have to give this lentils and veggies recipe a try!
Lentils and Veggies Gratin
Vegetarian recipe for lentils and veggies gratin casserole dish, easy to make and budget-friendly.
Ingredients
1 cup red lentils, boiled for 20 minutes
1 cup grated teleme cheese,

or any other healthy cheese you like

1 big carrot, chopped
1 parsnip, chopped
1 cup celeriac, chopped
2 cups mushrooms, chopped
1 onion, chopped
4 eggs, beaten
approx. 1/2 cup breadcrumbs

(you can use GF breadcrumbs)

1/2 cup grated Parmesan
salt and pepper to taste
a bunch of parsley, chopped
Instructions
Saute the carrot, parsnip celery root, onion and mushrooms in a little bit of olive oil for about 10 minutes.
Mix the following ingredients in a large bowl: sauteed veggies and mushrooms, grated teleme cheese, beaten eggs, boiled red lentils, parsley, salt and pepper.
Put the composition in a previously oil coated casserole.
In a separate bowl mix the breadcrumbs with grated Parmesan and spread evenly over the veggies in the casserole.
Bake for 40 minutes at 180-200 degrees Celsius.
http://gourmandelle.com/linte-cu-legume-gratinate-la-cuptor-lentils-and-veggies-gratin/
Copyright: 2014 Ruxandra Micu | www.gourmandelle.com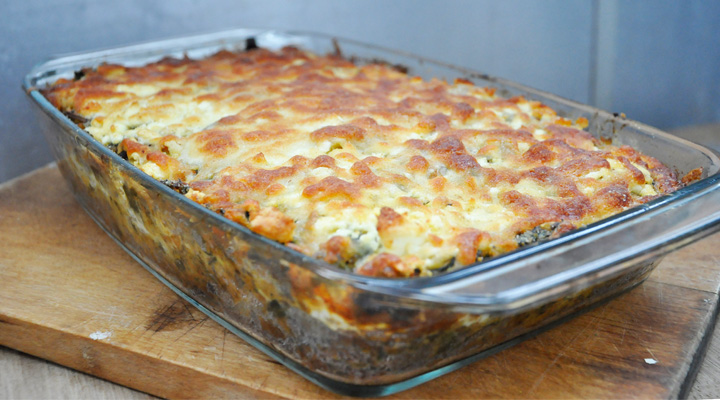 Reteta asta de linte cu legume gratinate la cuptor este minunata!! Este facuta de tatal meu acum 2 saptamani, dupa ce vizionase o emisiune in care se prepara un fel de mancare asemanator. Nu mai gratianse niciodata si a zis sa incerce. Bine a facut! Crusta de pesmet si cascaval este divina, iar compozitia de radacinoase, linte si ciuperci are o textura 'carnoasa' care va fi pe placul tuturor.
Neaparat sa incercati aceasta reteta de linte cu legume gratinate la cuptor. Astept parerile voastre. Sunt absolut sigura ca va fi un succes!
Linte cu legume gratinate la cuptor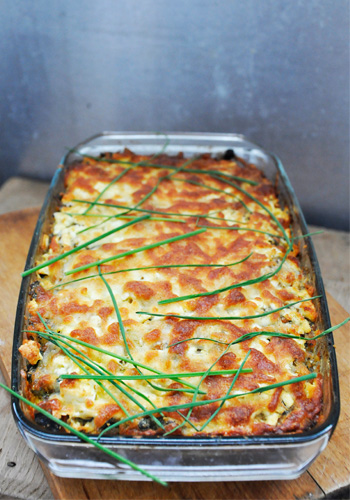 Ingrediente:
1 cana linte rosie, fiarta 20 de minute
1 cana branza telemea rasa
1 morcov mare, taiat cubulete
1 pastarnac, taiat cubulete
1 cana telina, taiata cubulete
2 cani ciuperci, taiate cubulete
o ceapa, maruntita
4 oua, batute
aprox. 1/2 cana pesmet (cat sa acopere legumele pentru gratinare)
cascaval ras (nu foarte mult, 1/2 cana aprox., se foloseste pentru gratinare)
o legatura patrunjel, taiat marunt
sare si piper, dupa gust
Instructiuni:
Caleste radacinoasele, ceapa si ciupercile in putin ulei de masline. Nu trebuie sa fie complet gata. Se calesc aprox. 10 minute.
Amesteca intr-un bol urmatoarele ingrediente: lintea fiarta, branza telemea rasa, morcovul, pastarnacul, telina, ciupercile, ceapa si ouale batute. Adauga patrunjelul maruntit, sare si piper.
Pune-le intr-o forma de cuptor, unsa in prealabil cu putin ulei sau unt. Eu am folosit un vas termorezistent.
Amesteca intr-un bol separat, cascavalul ras cu pesmetul. Presara-l peste legumele din forma.
Baga-le la cuptor 40 de minute.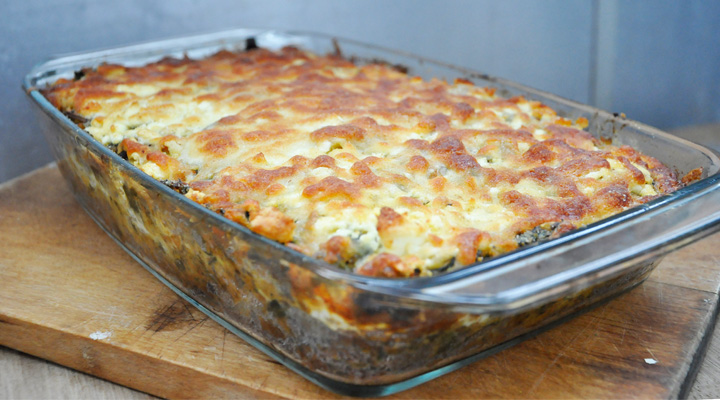 Cooksnaps