Change language | Schimba limba: Romanian
This is a vegetarian zucchini moussaka casserole recipe with mushrooms and tomato sauce, ideal to feed a whole family. 
Who's the best at making delicious, vegetarian casserole recipes? My mom! She made this awesome, healthy zucchini moussaka and I absolutely loved it! This vegetarian moussaka recipe is low calorie, low fat, dairy free and 100% tasty! Also, the prep part is really quick so you won't spend a lot of time in the kitchen.
This recipe is vegetarian because it contains eggs. It can be "veganized' if you use egg substitutes. I never tried it without eggs, but if you do please leave a comment and tell me how it was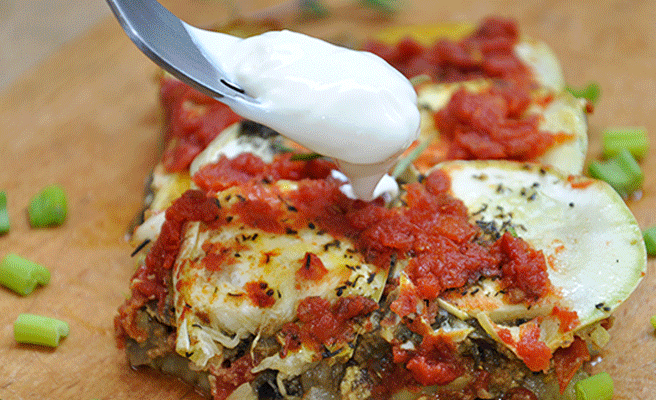 Vegetarian Zucchini Moussaka
Vegetarian Zucchini Moussaka casserole recipe, ideal to feed a whole family. Budget-friendly, family recipe.
Serves:
9×13-inch rectangular casserole pan | 12 servings
Ingredients
2-3 large zucchinis
1 cup chopped, peeled tomatoes (canned or homemade)
6 Tbsps tomato paste
500g mushrooms (Portobello or button mushrooms – equal to approx. 4 cups), chopped
2 big onions, chopped
5 garlic cloves, mashed
3 eggs
1 bunch of dill, chopped
2 tsp dry thyme
2 Tbsps extra virgin olive oil
sour cream (optional) – use REAL, 100% NATURAL sour cream, not that low fat crap :)
salt and pepper, to taste
Instructions
Heat the olive oil in a large pan. Add chopped onion and saute for 2-3 minutes. Add chopped mushrooms and saute for another 5 minutes. Add 1 cup chopped and peeled tomatoes, you can use canned tomatoes, mshed garlic cloves, chopped dill, salt, pepper and 1 tsp dry thyme. Saute for 5 minutes and then remove from heat.
Whisk 2 eggs and pour them in the pan. Mix well.
Preheat oven at 180C/350F.
Grease a 9×13 rectangular casserole dish with some olive oil.
Using a mandoline, make thin zucchini slices.
Cover the pan in one layer of zucchini slices. Add the mushroom composition and spred evenly. Cover it with the final layer of zucchini slices.
Beat the remaining egg and pout it over. Spread evenly.
Spread 5-6 tablespoons of tomato paste on top and sprinkle with 1 tsp of try thyme.
Bake for 35-40 minutes at 180C/350F.
Serve with sour cream - optional.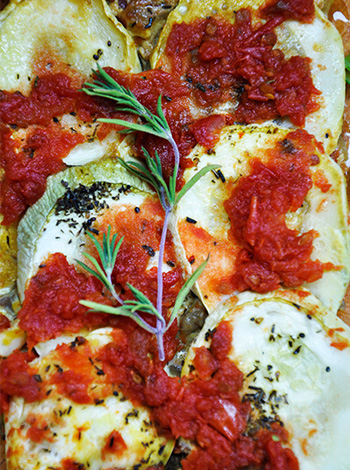 More vegetarian casserole recipes? Try these:
Vegetarian Zucchini Moussaka with Mushrooms
was last modified:
April 10th, 2015
by