Vegetarian Zucchini Moussaka casserole recipe, ideal to feed a whole family. | Reteta vegetariana de musaca de dovlecei , simpla si economica, ideala pentru a hrani o familie intreaga!
  Recipe in English
  Reteta in Romana
Who's the best at making delicious, vegetarian casserole recipes? My mom! She made this awesome, healthy zucchini moussaka and I absolutely loved it! This vegetarian moussaka recipe is low calorie, low fat, dairy free and 100% tasty! Also, the prep part is really quick so you won't spend a lot of time in the kitchen.
This recipe is vegetarian because it contains eggs. It can be "veganized' if you use egg substitutes. I never tried it without eggs, but if you do please leave a comment and tell me how it was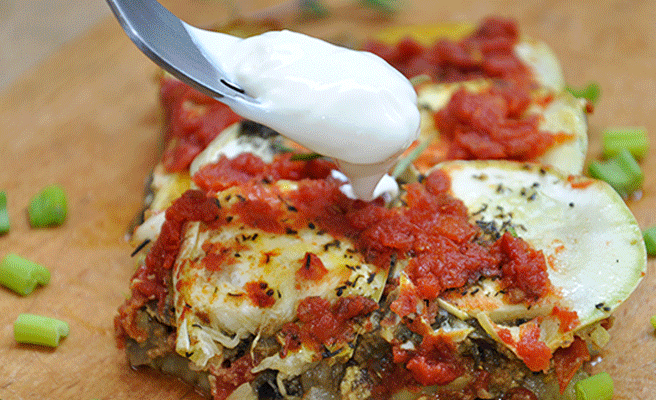 Vegetarian Zucchini Moussaka
Vegetarian Zucchini Moussaka casserole recipe, ideal to feed a whole family. Budget-friendly, family recipe.
Ingredients
2-3 large zucchinis
1 cup chopped, peeled tomatoes (canned or homemade)
6 Tbsps tomato paste
500g mushrooms (Portobello or button mushrooms – equal to approx. 4 cups), chopped
2 big onions, chopped
5 garlic cloves, mashed
3 eggs
1 bunch of dill, chopped
2 tsp dry thyme
2 Tbsps extra virgin olive oil
sour cream (optional) – use REAL, 100% NATURAL sour cream, not that low fat crap :)
salt and pepper, to taste
Instructions
Heat the olive oil in a large pan. Add chopped onion and saute for 2-3 minutes. Add chopped mushrooms and saute for another 5 minutes. Add 1 cup chopped and peeled tomatoes, you can use canned tomatoes, mshed garlic cloves, chopped dill, salt, pepper and 1 tsp dry thyme. Saute for 5 minutes and then remove from heat.
Whisk 2 eggs and pour them in the pan. Mix well.
Preheat oven at 180C/350F.
Grease a 9×13 rectangular casserole dish with some olive oil.
Using a mandoline, make thin zucchini slices.
Cover the pan in one layer of zucchini slices. Add the mushroom composition and spred evenly. Cover it with the final layer of zucchini slices.
Beat the remaining egg and pout it over. Spread evenly.
Spread 5-6 tablespoons of tomato paste on top and sprinkle with 1 tsp of try thyme.
Bake for 35-40 minutes at 180C/350F.
Serve with sour cream - optional.
http://gourmandelle.com/musaca-de-dovlecei-ciuperci-vegetarian-zucchini-moussaka/
Copyright: 2014 Ruxandra Micu | www.gourmandelle.com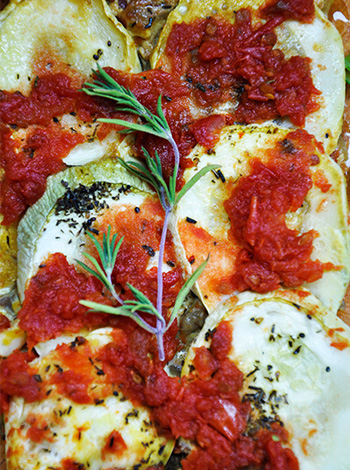 More vegetarian casserole recipes? Try these:
Cine face cea mai gustoasa musaca ever?! Nu eu, mama! Mama a devenit specialista la facut mancaruri vegetariene. Azi a facut o delicioasa musaca de dovlecei cu ciuperci, asa ca intreg meritul pentru reteta asta este al ei!
Reteta asta e musaca de dovlecei cu ciuperci se face foarte usor si este ideala pentru hranit o familie intreaga, fiind extrem de economica si satioasa. Mai mult, musacaua nu contine lactate, are putine calorii si grasimi si este 100% delicioasa! Prepararea ei dureaza putin, asa ca un plus este ca nu vei petrece mult timp in bucatarie.
Reteta contine oua, de aceea este vegetariana si nu vegana. Poti incerca si varianta "vegana" folosind inlocuitori de ou. Nu am incercat-o fara oua dar as fi curioasa sa aflu cum iese. Asa ca daca incerci reteta asta de musaca de dovlecei cu ciuperci, nu uita sa lasi un comentariu si sa imi spui cum a fost
My first GIF! :D 
Musaca de dovlecei
Ingrediente pentru o tava intreaga cu musaca de dovlecei: 
2-3 dovlecei mari
o conserva de rosii taiate cubulete
6 linguri de pasta de tomate
500g ciuperci champignon, taiate cubulete
2 cepe mari, maruntite
5 catei de usturoi, pisati
3 oua
o legtura de marar, maruntit
2 lingurite de cimbru uscat
2 linguri de ulei de masline extravirgin
smantana (optional)
sare si piper dupa gust
Instructiuni:
Incinge uleiul intr-o tigaie mai mare. Adauga ceapa maruntita si ciupercile taiate cubulete. Soteaza-le 5-6 minute. Adauga conserva de rosii, cateii de usturoi pisati, mararul maruntit, sare, piper si o lingurita de cimbru uscat. Soteaza inca 5 minute si pune deoparte.
Bate 2 oua si toarna-le peste amestecul de ciuperci. Amesteca bine.
Preincalzeste cuptorul la 180C.
Folosind o razatoare speciala, feliaza dovleceii. Se pot felia si prin metoda clasica, folosind cutitul, insa feliile trebuie sa fie subtiri, max. 5mm fiecare.
Unge tava cu putin ulei si pune primul strat de felii de dovlecel. Adauga compozitia si intinde-o uniform.
Pune ultimul strat de felii de dovlecel.
Bate si oul ramas si toarna-l peste, uniform.
Presara o lingurita de cimbru uscat si intinde pe toata suprafata 5-6 linguri de pasta de tomate.
Lasa la cuptor 35-40 de minute la 180C.
Reteta de musaca de dovlecei e gata! Serveste cu smantana proaspata (optional).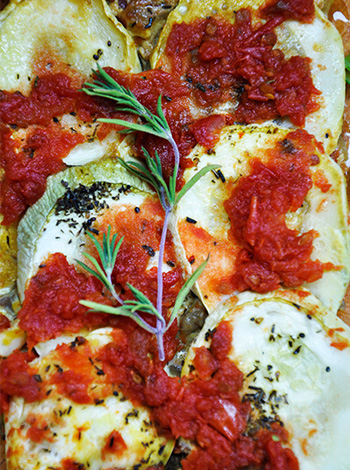 Retete vegetariene similare? Incearca si:
Cooksnaps