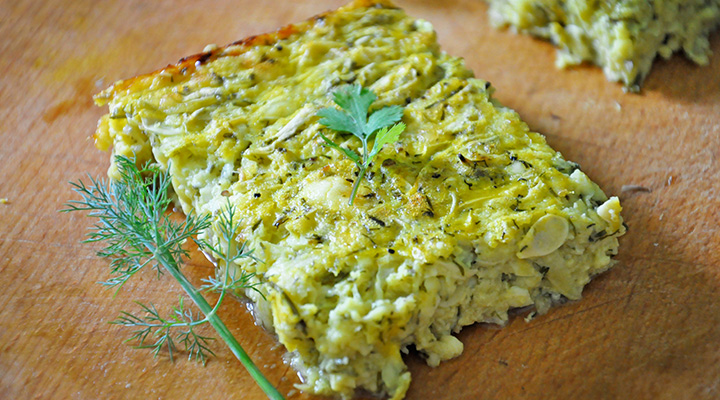 Budinca de dovlecei cu branza telemea, usor de facut si extrem de economica, ideala pentru familii. | Zucchini Cheese Vegetarian Casserole is a budget-friendly recipe, ideal to feed whole families! 
  Recipe in English
  Reteta in Romana
Yesterday I received some yummy zucchinis from my boyfriend's parents'garden and I had no idea what to do with them. Today mom solved the problem. She made an awesome zucchini and cheese casserole. This zucchini and cheese casserole recipe is super easy to make, you just have to mix the ingredients, put them in a casserole and let them cook for an hour. You'll get a super delicious vegetarian zucchini and cheese casserole, which goes great served with some cold, fresh sour cream on top. YUM!
I hope you'll like this tasty zucchini and cheese casserole. If you're looking for some more delicious vegetarian casserole recipes, check out these: Lentils and Veggies Gratin, Cauliflower and Cheese Casserole, Grandma's Spaghetti and Cheese Casserole, Vegetarian Mushroom Shepherd's Pie.
Zucchini and Cheese Vegetarian Casserole
Ingredients for a whole casserole – about 12 servings:  
3-4 big zucchinis
1 1/2 cup teleme cheese, or any other healthy cheese you like
a bunch of dill, chopped
1/2 tsp ground coriander
3-4 Tbsp breadcrumbs – use GF if you want
3 eggs
3-4 mashed garlic cloves
salt and pepper to taste
fresh sour cream, optional
Directions:
Grate the zucchinis and strain them to eliminate all excess water.
Put them in a bowl and add all the other ingredients, except sour cream.
Mix very well and put the composition in a pre-greased casserole dish.
Place in oven at 180C/350F for an hour.
Serve hot with cold, fresh sour cream on top. YUM!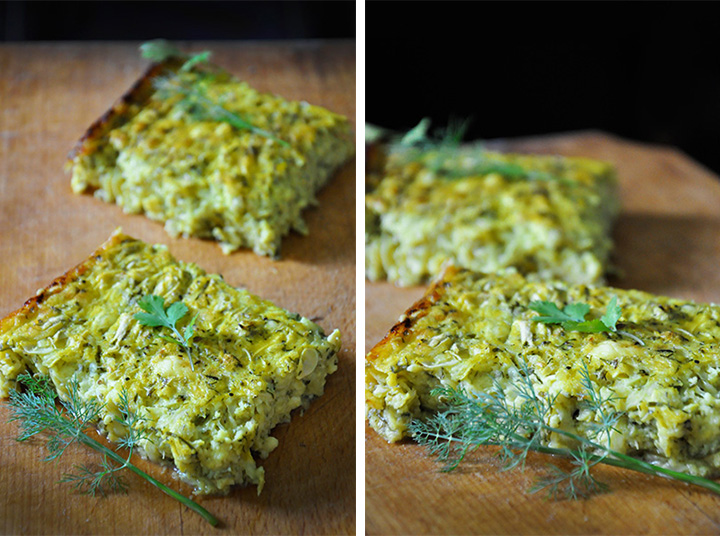 Zilele trecute am primit niste dovlecei mari si zemosi din gradina parintilor prietenului meu. Astazi cand m-am trezit, am gasit o minunata budinca de dovlecei cu branza facuta de mama mea! Ce idee buna a avut! Budinca de dovlecei cu branza a iesit excelent si se face extrem de usor. Poti hrani o familie intreaga cu doar cateva ingrediente
Sper sa va placa reteta mamei de budinca de dovlecei cu branza. Daca vreti si alte retete vegetariene facute la tava, puteti incerca si Linte cu legume gratinate la cuptor, Budinca de conopida cu branza, Budinca de spaghete cu branza,  Musaca vegetariana de cartofi.
 Budinca de dovlecei cu branza | Zucchini and Cheese Vegetarian Casserole
Ingrediente pentru o tava intreaga – aprox. 12 portii: 
1 kg de dovlecei (vreo 3-4 dovlecei mai maricei) 
300g branza telemea veche
o legatura de marar, maruntit
1/2 lg boabe de corandru macinate
3-4 Lg pesmet (se poate folosi si pesmet fara gluten)
1 lg turmeric – pentru culoare
3 oua
3-4 catei de usturoi, pisati
sare si piper dupa gust
smantana [optional]
Instructiuni:
Se rad dovleceii si se scurg bine.
Se pun intr-un bol si se adauga, sare, piper, coriandru macinat, marar maruntit, ouale, branza telemea rasa, usturoiul pisat si pesmetul.
Se amesteca bine si se toarna intr-o tava unsa in prealabil.
Se niveleaza si se baga la cuptor la 180 grade pentru o ora.
Se serveste cu smantana proaspata (optional).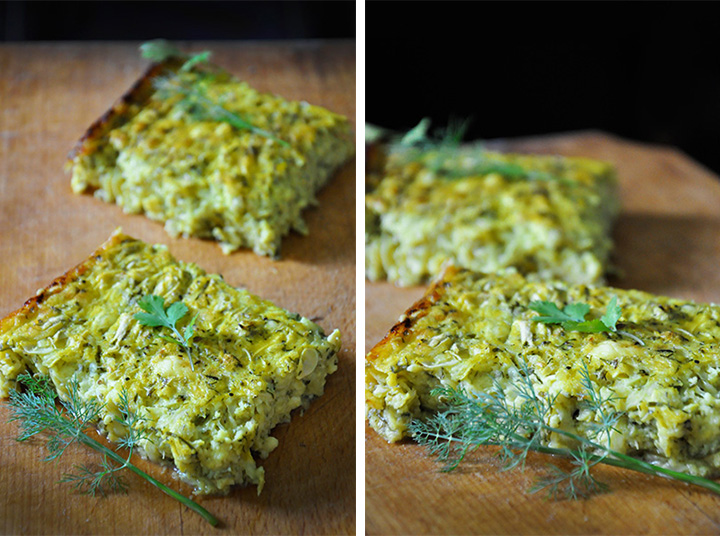 Cooksnaps