Quattro Formaggi penne pasta recipe, with a low fat, healthier version. If you want to impress this is the recipe you want to make! / Reteta clasica de penne quattro formaggi in varianta  mai sanatoasa, cu mai putine grasimi, dar la fel de gustoasa!
  Recipe in English
  Reteta in Romana
I love cheese! I can't help it and I know it's not healthy, I know it's fattening, but for me it was so much easier to give up meat rather than give up cheese. Even though I love it, I rarely eat it, but when I do…OH MY! I eat the most delicious cheese recipes ever! [later edit - I'm vegan now..hehe :D]
This is the basic quattro formaggi penne recipe and it's ready super fast! I tried to make it a little bit healthier by substituting milk with water and not using any butter. If you want to impress someone, this is the recipe you want to make!
Quattro Formaggi Penne Pasta
Quattro Formaggi penne pasta recipe, with a low fat, healthier version. If you want to impress this is the recipe you want to make!
Ingredients
2 tablespoons all-purpose flour
1 cup water
1 tsp garlic powder
1/2 cup gorgonzola, crumbled
1/2 cup brie/fontina, grated
salt and white pepper, to taste
8 ounces penne pasta, cooked al dente and drained
1/2 cup mozzarella cheese, cut into 1/4 inch cubes
1/2 cup parmesan cheese, grated
1-2 tsps dry oregano
Instructions
Boil pasta following the instructions on the package.
Add water in a medium-size saucepan over medium heat. Stir in the flour and garlic powder. Cook, stirring constantly, until lightly thickened to the consistency of cream. Whisk in the Gorgonzola, Mozzarella and Fontina. Cook, whisking constantly, until the cheeses are melted. Season with salt and white pepper to taste. Remove from heat.
Combine the cheese sauce and cooked pasta. Sprinkle with the Parmesan and sprinkle with some dry oregano. Serve hot!
http://gourmandelle.com/penne-quattro-formaggi/
Copyright: 2014 Ruxandra Micu | www.gourmandelle.com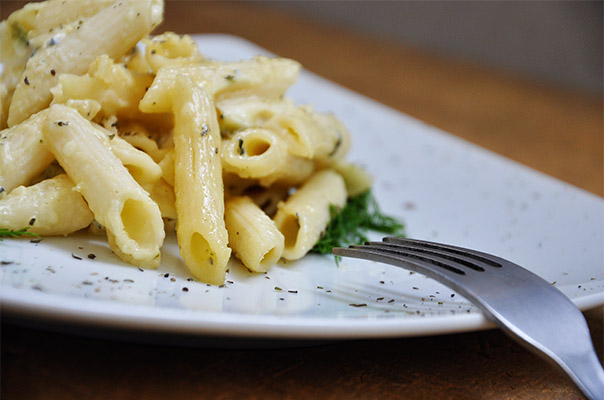 Want more delicious pasta recipes? Try these Cheesy Spaghetti with Dill and Green Pepper Sauce and Spicy Carrot Penne Pasta with Mustard and Parsnip Sauce recipes.
Ador branzeturile…nu ma pot abtine! Stiu ca nu sunt prea sanatoase, stiu si ca ingrasa, insa pentru mine a fost mult mai usor sa renunt la carne decat la branza. Chiar daca imi place asa de mult, sa stiti ca o mse ananc destul de rar, dar atunci cand se intampla…vai…mananc unele dintre cele mai gustoase retete cu branza EVER!
Asta este reteta clasica de penne quattro formaggi. Imi place foarte mult pentru ca se prepara rapid si cu siguranta o sa va impresionati invitatii daca o pregatiti. Am incercat sa o fac ceva mai sanatoasa, nefolosind unt, lapte sau smantana ci apa si un pic de faina. Sper sa va placa! Mie mi-a placut la nebunie! [later edit - am devenit vegana intre timp..hehe:D]
Penne Quattro Formaggi
Ingrediente pentru aprox 4 portii:
400g paste penne – puteti folosi penne integrale
2 Lg faina alba
o cana apa
1 lg usturoi pudra
50g [jumatate de cana] gorgonzola, pisata cu furculita
50g  [jumatate de cana] brie/fontina, rasa
sare si piper alb, dupa gust
50g [jumatate de cana] mozzarella, taiata cubulete mici
50g [jumatate de cana] parmezan ras
1-2 lg oregano uscat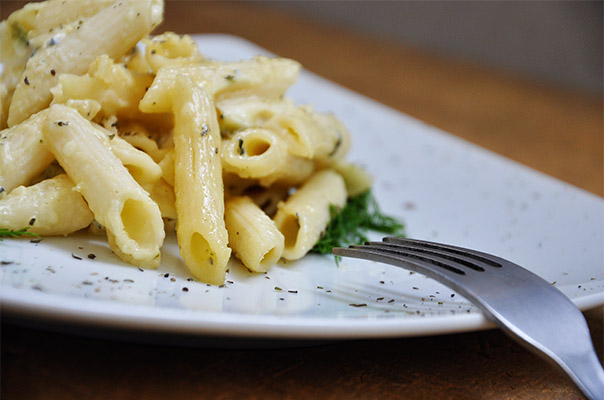 Instructiuni:
Fierbe pastele conform instructiunilor de pe ambalaj –  al dente.
Adauga apa intr-o tigaie putin adanca si se pune la foc mediu. Adauga treptat faina si pudra de usturoi, amestecand continuu pana cand capata consistenta ca de smantana.
Adauga gorgonzola, mozzarela si brie/fontina. Aamesteca continuu pana se topesc branzeturile. Adauga sare si piper dupa gust si se ia de pe foc.
Amesteca sosul cu pastele fierte si se adauga parmezan ras pe deasupra si oragano uscat.
Se serveste imediat.
Vrei mai multe retete delicioase de paste? Incearca si  Spaghete cu sos alb, marar si piper verde si Paste cremoase cu morcovi si sos de pastarnac si mustar.
Cooksnaps