Reteta vegetariana simpla si aromata, pentru spaghete cu sos alb, marar si piper verde. | This is a vegetarian pasta recipe for cheesy spaghetti with dill and peppercorns sauce, inspired by the Italian cuisine. 
  Recipe in English
  Reteta in Romana
I am crazy about this cheesy spaghetti with dill and peppercorns sauce! I've made it more than 5 times already in the past 2 weeks! I crave it like an addict and I just simply can't get enough of it! I've always been a huge fan of cheesy spaghetti recipes but this one is just perfect. The peppercorns have a beautiful, spiciy flavor and combined with sour cream, feta cheese and dill, are just heavenly!
Yes…I know.. you'll tell me that pasta isn't really healthy and neither is cheese, but still, I think we should indulge ourselves some comfort foods for once in a while. Anyway, I made this cheesy spaghetti with dill and peppercorns sauce as healthy as possible by using GF pasta made from brown rice flour and very little dairy, about 1 tbsp of sour cream and cheese per serving. I also added lots of greens which are a plus!
Looking forward to reading your comments. Let me know if you liked this cheesy spaghetti with dill and peppercorns sauce as much as I did
Also try: Spicy Carrot Penne Pasta with Mustard and Parsnip Sauce .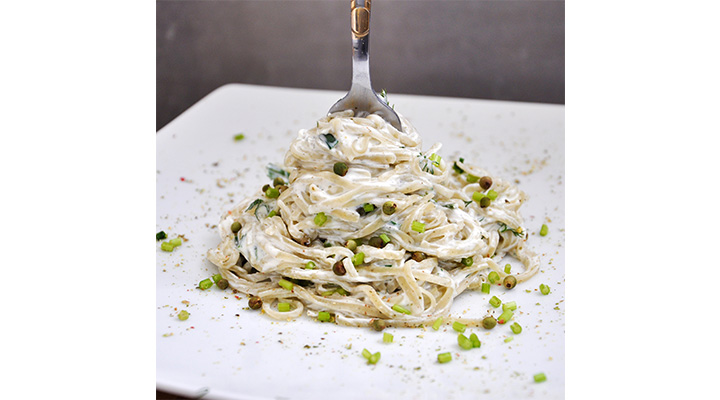 Cheesy Spaghetti with Dill and Peppercorns Sauce
Ingrediens for 2 servings of cheesy spaghetti with dill and peppercorns sauce:
spaghetti (preferably gluten free or whole wheat – I used GF brown rice noodles which I love!! )
3 Tbsps feta cheese
2 Tbsps sour cream
a bunch of dill, chopped
a handful of chopped green onions
green peppercorns, to taste
Directions:
Boil the pasta according to the instructions written on the package.
In a bowl, add feta cheese, sour cream, chopped dill, green onions and green peppercorns.
Add the boiled pasta and blend together.
Serve! Pure awesomeness!!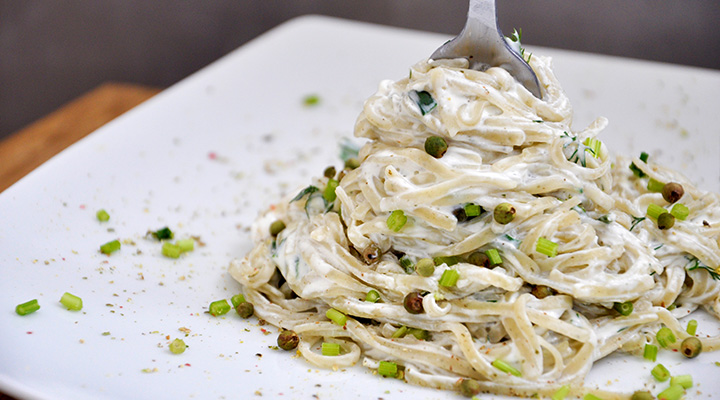 Am innebunit complet cu reteta asta de spaghete cu sos alb, marar si piper verde! In ultimele doua saptamani cred ca am mancat-o deja de vreo 5 ori!! Pur si simplu nu ma mai satur! Din totdeauna mi-au placut mie spaghetele cu sos alb de smantana sau de branza, insa parca reteta asta are ceva special. Piperul verde ii da un gust nemaipomenit, iar mararul..hmm..aromele pur si simplu se completeaza
Da stiu..o sa spuneti ca nu sunt prea sanatoase spaghetele, si nici branza, dar nu strica din cand in cand sa mancam si astfel de preparate. Oricum eu am facut aceasta retetea de spaghete cu sos alb, marar si piper verde in varianta ei cea mai sanatoasa si mai light. Am folosit spaghete fara gluten, din faina de orez brun si muuulte, multe verdeturi. Plus ca nici cantitatea de branza si smantana nu este mare, cam o lingura din fiecare de persoana.
Astept parerile voastre. Reteta asta de spaghete cu sos alb se face super rapid si cu siguranta o sa va gadile papilele gustative.
Incearca si Paste cremoase cu morcovi si sos de pastarnac si mustar.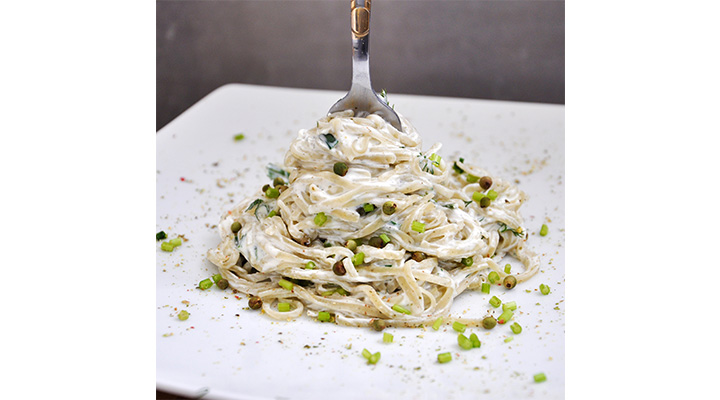 Spaghete cu sos alb, marar si piper verde
Ingrediente pentru 2 portii de spaghete cu sos alb: 
spaghete (de preferat fara gluten sau integrale; eu am folosit spaghete de orez brun, fara gluten care sunt absolut extraordinare!!)
3 linguri de branza feta
2 linguri de smantana
o legatura de marar, maruntit
o mana de ceapa verde maruntita
boabe de piper verde, dupa gust – eu una imi pun o gramada imi place la nebunie
codite de patrunjel, maruntite (optional – sunt tare bune si aromate)
Instructiuni: 
Se fierb pastele conform instructiunilor de pe ambalaj.
Intr-un bol se adauga feta, samntana, mararul, ceapa si piperul verde si se paseaza cu furculita.
Se adauga si pastele verde in bol si se amesteca bine.
Se poate servi cu patrunjel codite, taiate marunt, pe deasupra. Dau un gust tare bun!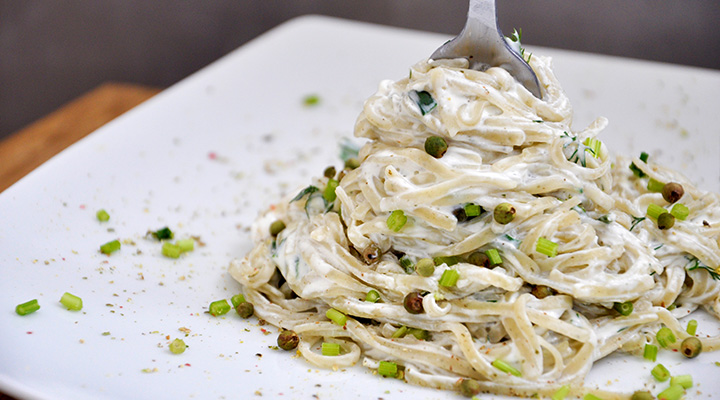 Cooksnaps