Are you in the mood for a refreshing, yet filling tart? You're in luck! Here's how to make the best zucchini and asparagus tart – perfect for lunch or as a snack!
It seems like I'm on a tart-making spree these days. Ever since I discovered how much I enjoy serving a cold slice of savory tart for lunch with a simple green salad as a side, I keep thinking of new and creative recipes!
I love seasonal recipes that involve fresh produce – and this zucchini and asparagus tart is the perfect example of a fresh summer tart.
I had lots of zucchinis in my fridge (both green and yellow ones) and I also bought some fresh asparagus from the farmer's market recently, so I had to come up with some ideas that would include both of them. And what better way to do it than by baking this super easy savory tart?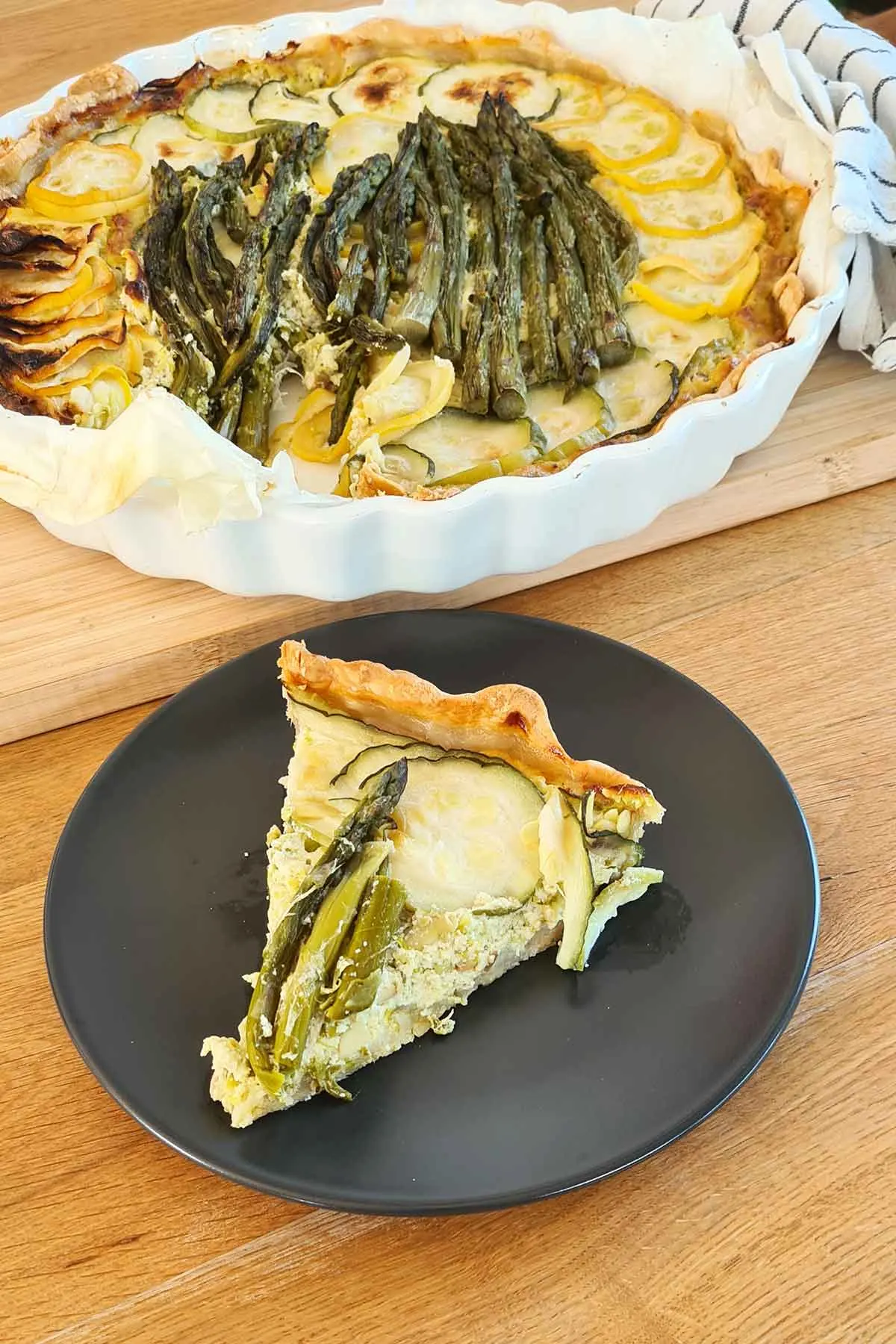 By the way, if you're a bit skeptical when it comes to asparagus, I want to change your mind! This is one of the easiest veggies to cook in the entire world, and if you want to read more about this subject, I recommend checking out my complete guide about the different ways to cook and eat asparagus: How to Cook Asparagus | Tips, Methods, Recipes.
Okay, so I had the asparagus and zucchinis prepped and ready for this tart. What else could I add to the filling to make everything even more delicious? Ricotta is one of my favorite neutral cheeses and it works wonderfully as a creamy composition binder, together with some eggs. Plus, it's delicious and it works perfectly when combined with zucchini!
I also decided to add some goat cheese for extra flavor, as well as fresh garlic and fresh parsley. I urge you not to omit the parsley, it makes the flavor of this zucchini and asparagus tart ten times better!
I also added four cups of protein powder from Gym Beam (my favorite brand of protein powder lately) because I wanted to make a protein-rich recipe. Because my husband is doing sports, I need to increase the protein amount in his dishes, and this protein powder is the easiest way to do so. In case you don't need a protein-rich tart, you can obviously omit this step and replace the powder with flour.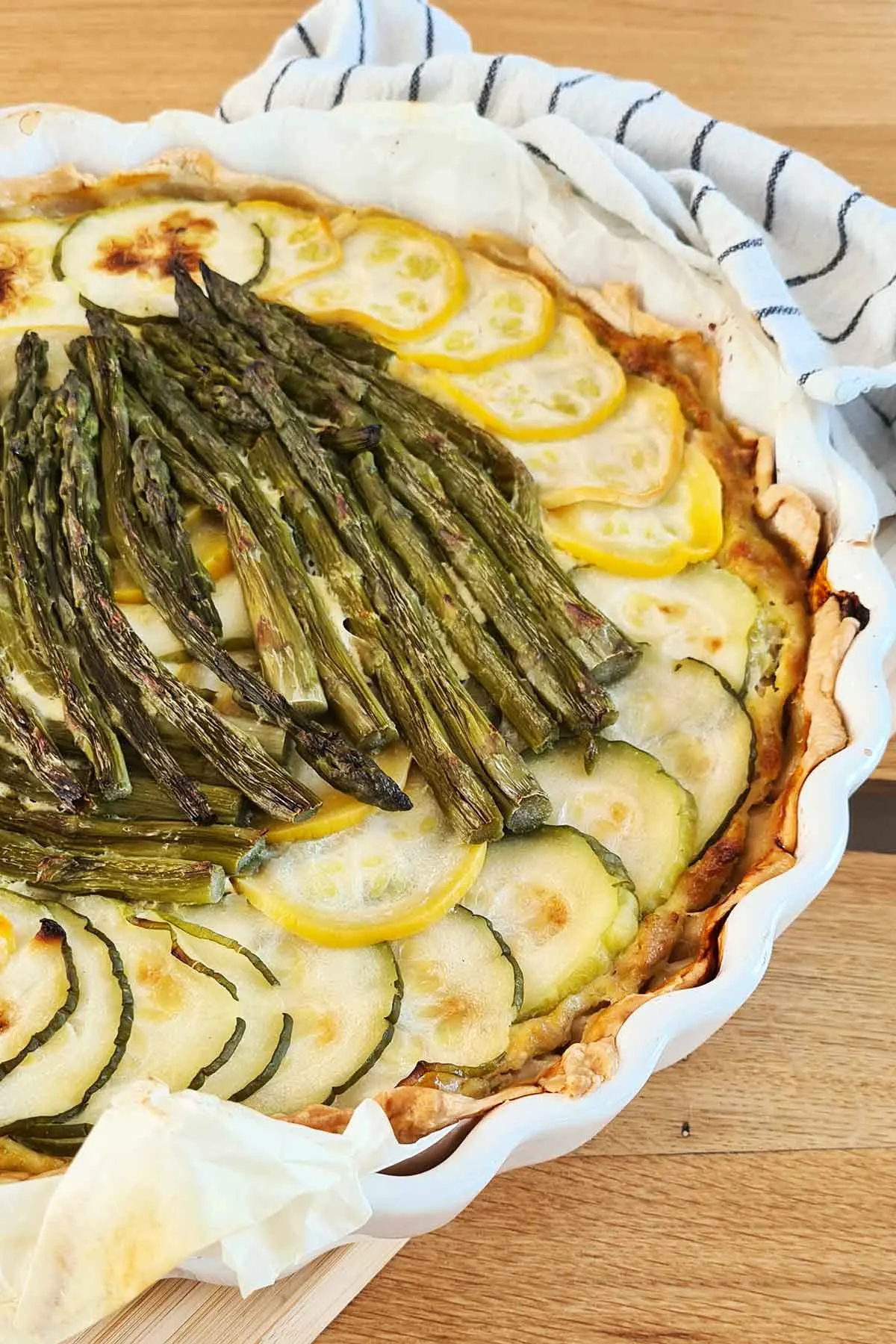 Now let me tell you a couple of words about the dough as well. If you've been following this blog for a while, you may already know that I hate spending endless hours in the kitchen (even though I'm a food blogger, I know it may seem ironic!) so I always try to optimize all my recipes to be as quick as possible. The quicker, the better!
So I usually use the frozen store-bought tart dough. I always check the ingredients before buying and I have some favorite brands in the supermarkets that I frequent, but as a general rule, if the ingredients and clean and clear with no weird stuff on the label, then that dough should be good enough.
And using store-bought dough works perfectly fine, trust me – especially if you're in a rush! But if you have enough time on your hands and if cooking is an activity that relaxes you, I recommend making your own dough from scratch. Trust me, my dough recipe you'll find below is so quick and easy, that you have no reason not to!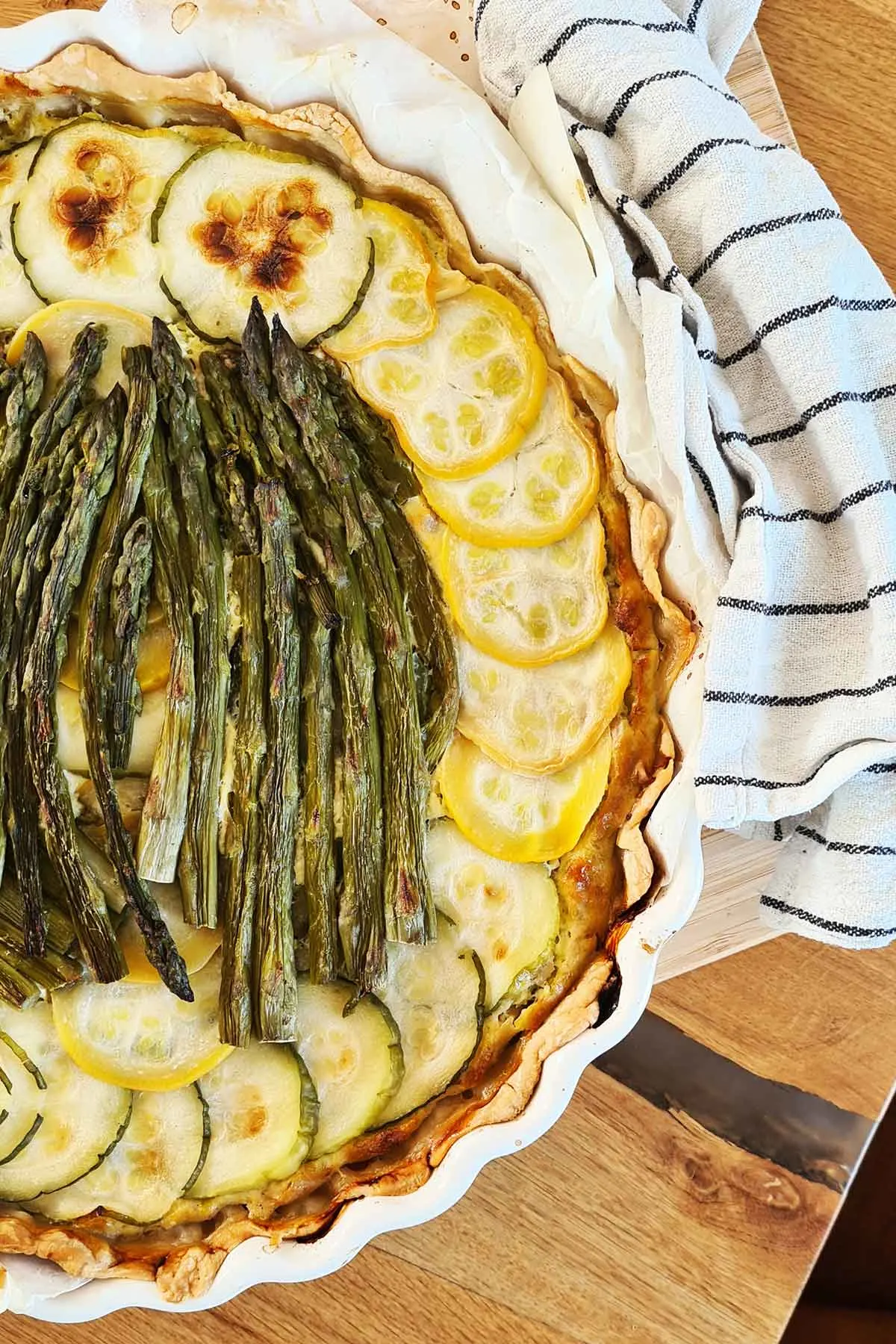 My savory tart dough is made with simple ingredients that you surely have in your pantry already – flour and whole grain flour, butter, water, and salt. Easy! And it's so easy to make. You just have to mix all the ingredients in a food processor, then knead for one minute and that's basically everything you need to do.
One of the best things about my savory tart dough is that it's literally fail-proof and it can be made by anyone, including people who never made a dough from scratch in their life. Try it and let me know how it went!
I used this homemade dough to make this amazing zucchini and asparagus tart and I couldn't be more pleased with the results. It's fresh, it's extremely delicious, it's healthy – it's everything I ever wanted! 🙂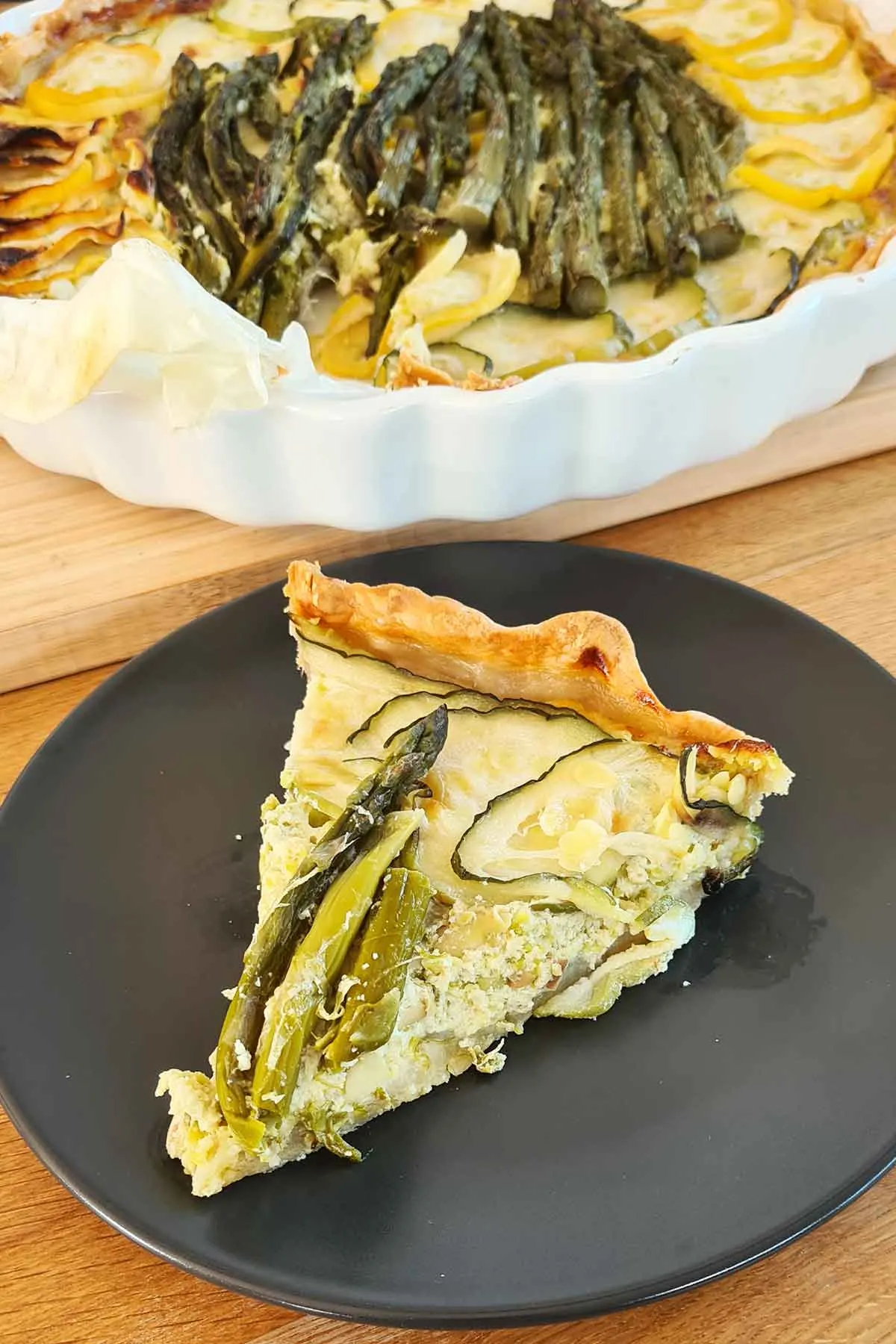 Okay, I think I've convinced you to try this delicious savory tart already, or at least I tried to. Because it's so good, it would be a shame not to make it, I'm literally in love with it!
In case you decide to give this zucchini and asparagus tart a try soon, don't forget to let me know how it went in the comments below. I'm always excited to read your opinions and answer your questions as well.
Oh, and don't forget to serve it with a fresh green salad on the side, dressed with a bit of olive oil and balsamic vinegar. For me, this is the ultimate lunch combo.
Happy cooking!
Yield: 8
Zucchini and Asparagus Tart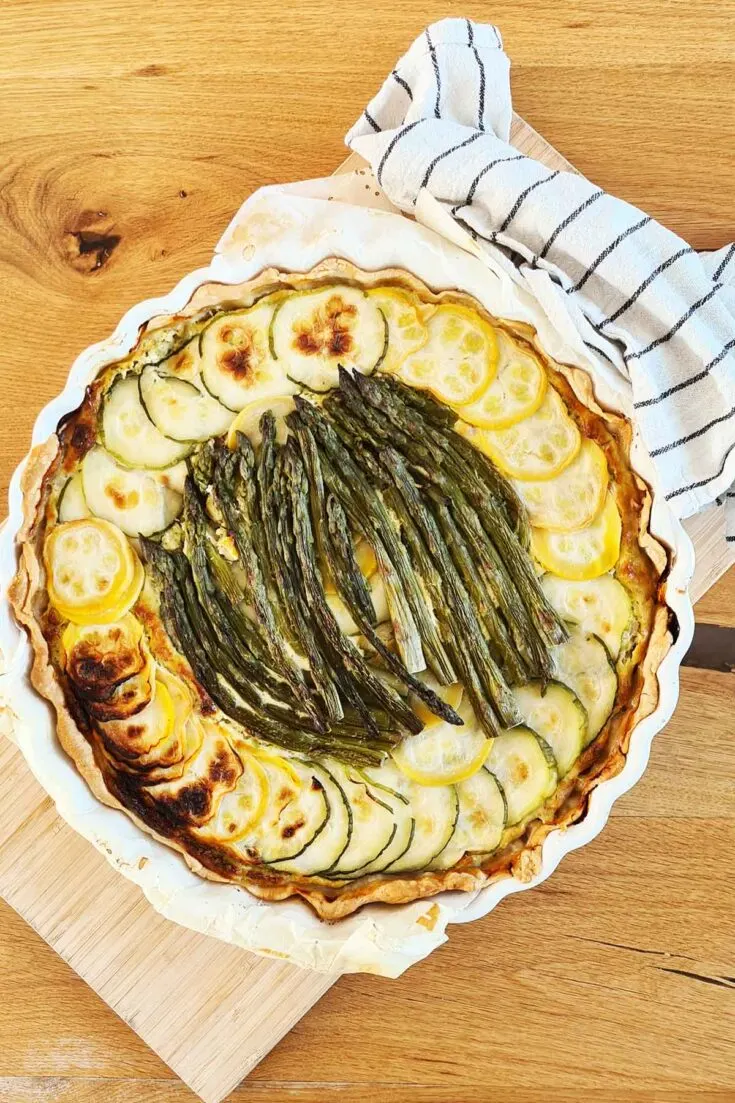 Are you in the mood for a refreshing, yet filling tart? You're in luck! Here's how to make the best zucchini and asparagus tart - perfect for lunch or as a snack!
Additional Time
30 minutes
Total Time
1 hour
10 minutes
Ingredients
For the savory tart dough:
180g (1 1⁄2 cups) all-purpose flour
80g (⅔ cup) whole grain flour
80g (1/3 cup) butter
80ml (1/3 cup) ice cold water
1/2 tsp salt
For the filling:

400g (17 oz) ricotta
2 zucchinis, thinly sliced
200g (7 oz) asparagus
200g (7 oz) hard goat cheese, matured, grated
4 garlic cloves

3 eggs

120g (2/3 cups) Pure Whey protein powder from Gym Beam - if you don't want a high protein tart, you can replace it with flour
a handful of fresh parsley, chopped

salt and pepper, to taste
Instructions
For the savory tart dough:

Add all the savory tart dough ingredients, except for the ice cold water, to a food processor and process on medium speed.

Gradually add the ice cold water, and when the dough has compacted, turn off the food processor.

Move the tart dough on the work table which was previously lightly powdered with flour and knead it for about 1 minute, until smooth.

Wrap the dough in plastic wrap and put it in the fridge for about 30-45 minutes before using.

For the filling:

Add all the ingredients (except the dough, asparagus, and zucchini) to a food processor. Blend until you end up with a creamy mixture.

Slice the zucchinis.

Roll the dough into a thin, 0.5cm layer.

Put the dough in a big tart pan (approx. 35cm diameter). Press the dough and gently lift it to coat the walls of the pan as well. If you're using store-bought dough, it will come with a baking sheet included, which you can leave on. If you choose to make your own dough from scratch, make sure to add a baking sheet to the pan first.

Pour in the filling.

Decorate with sliced zucchinis and asparagus.

Bake the tart at 200C for 20 minutes.

Let it cool before serving.

Enjoy!
Nutrition Information
Yield
8
Amount Per Serving
Calories

353
Total Fat

16g
Saturated Fat

10g
Trans Fat

0g
Unsaturated Fat

5g
Cholesterol

105mg
Sodium

423mg
Carbohydrates

29g
Fiber

3g
Sugar

1g
Protein

24g
I strive to keep the information as accurate as possible but make no warranties regarding its accuracy. I encourage you to make your own calculations using your preferred nutrition calculator.