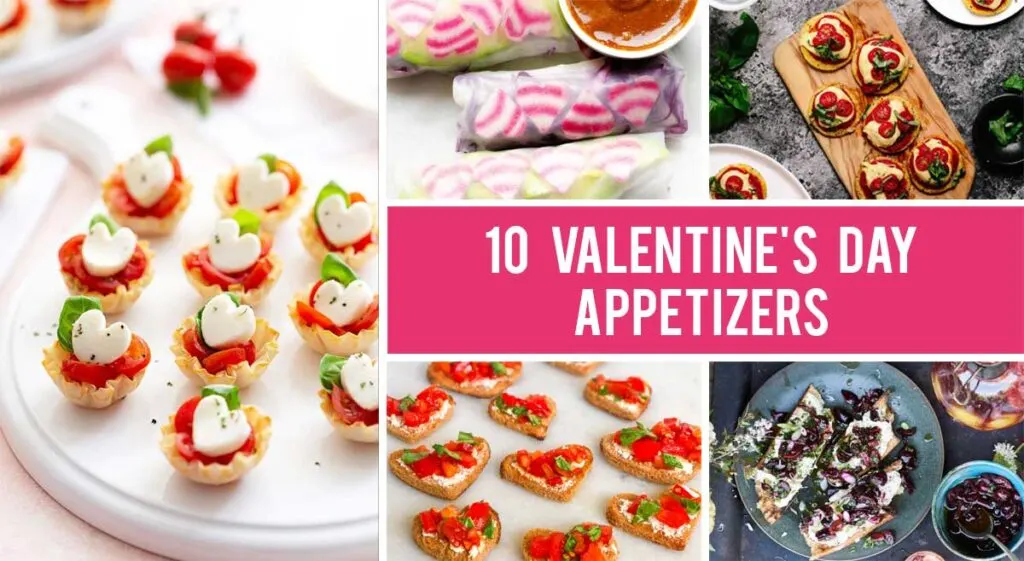 Do you want to create the best menu for V-day? Here are 10 Valentine's Day entrees / appetizers that will make you crave for more!
When it comes to Valentine's Day, everyone wants to create the best possible menu. This can be difficult, especially when you're trying to impress your significant other. However, there are some simple tricks that anyone can use to make their favorite dishes even more attractive and delicious. These include using heart-shaped food items and making sure that everything looks great on the plate before serving it up!
But, just like with any good menu for a special occasion, everything starts with… appetizers, of course! 🙂
Appetizers are an excellent way to start a meal. This allows you to sample different dishes and get excited for what's coming next. Appetizers can also be shared with friends or family (or just with your significant other), creating a fun experience that everyone will enjoy.
In addition to creating great memories, appetizers are a good way to make sure your Valentine's Day meal is memorable. The recipes in this article are all perfect choices for the occasion! 😉
By the way, appetizers also serve as perfect conversation starters and can get people in the mood to eat. And they won't leave you feeling uncomfortably full before the main course arrives! Plus, appetizers can be served at any time of day, even as an afternoon snack on the next day in case you have leftovers – which I absolutely love! So whether you're hosting a dinner party or just want to try something new for Valentine's Day, the 10 Valentine's Day entrees / appetizer recipes below will have you craving for more!
The obvious choice for this famous celebration is to make a heart-shaped appetizer. For example, you can use metal heart shapes and cut your pizza into cute little bites. Or you can cut some crunchy bread and, thus, create some romantic bruschetta bites! You can also make heart-shaped pasta such as ravioli to serve as a quick snack. Now, if I think about it, the possibilities for heart-shaped appetizers are pretty much endless!
Alternatively, for a romantic appetizer platter, you can use pink and red produce – beets (to make some gorgeous beet hummus, for example) or tomatoes. These are the two main colors for Valentine's Day, so why not experiment with them?
Even though I'm not a big fan of Valentine's Day, every year I try to create a nice little menu to enjoy together with my husband.
If you, too, are planning your menu for Valentine's Day dinner, you'll want to make sure that you've got a nice variety of appetizers. The best way to do this is by offering both hot and cold options.
Hot appetizers are great because they can be served immediately after being prepared. Cold appetizers are also great because they can be made ahead of time and stored in the refrigerator until ready for serving. And finally, it's just fun to see what kind of twists people put on classic meals!
I hope that you enjoyed reading this blog post and learned something new about Valentine's Day appetizers. And if you're eager to get cooking and create the best menu for this special celebration, scroll down to find my hand-picked list of 10 Valentine's Day entrees / appetizers that will surely impress everyone.
Happy Valentine's Day!
Valentine's Day Entrees / Appetizers
Caprese Phyllo Cups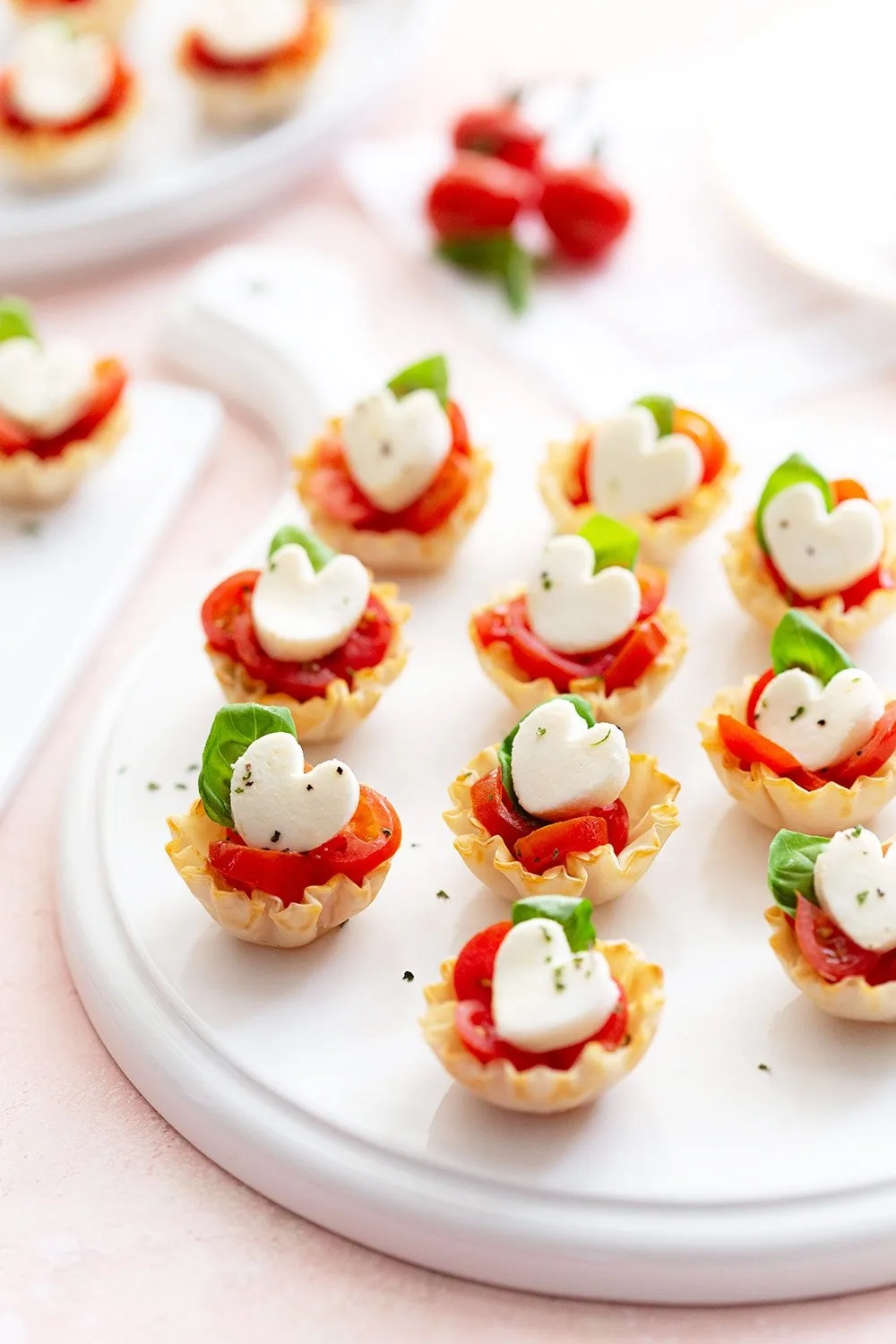 These bite-sized treats are perfect for a romantic evening in. Crispy phyllo cups are filled with juicy cherry tomatoes, fresh mozzarella, and fragrant basil, making a perfect combination of flavors and textures. Recipe created by Pizzazzerie.
Easy Beet Hummus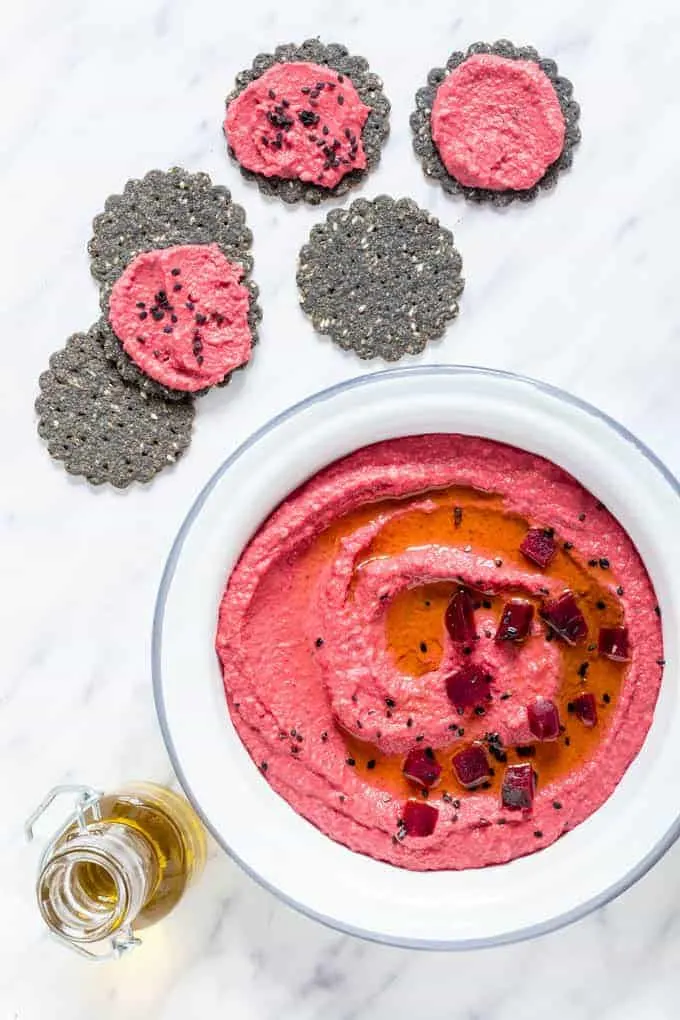 This vegan hummus is a gorgeous shade of pink, thanks to the addition of roasted beets. It's smooth, creamy, and has a rich, earthy flavor that pairs perfectly with vegetables or pita chips. Recipe created by Recipes From a Pantry.
Vegan Spring Rolls w/ the Best Almond Butter Dipping Sauce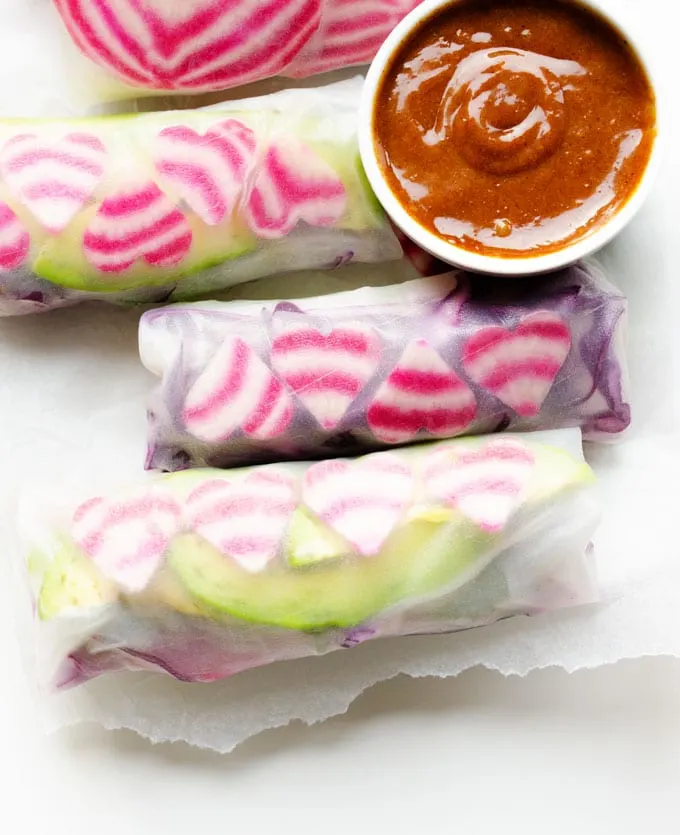 These fresh and crunchy spring rolls are filled with a mixture of veggies and noodles, and are served with a silky almond butter sauce that is sure to be a hit. Recipe created by Live Eat Learn.
Bruschetta Hearts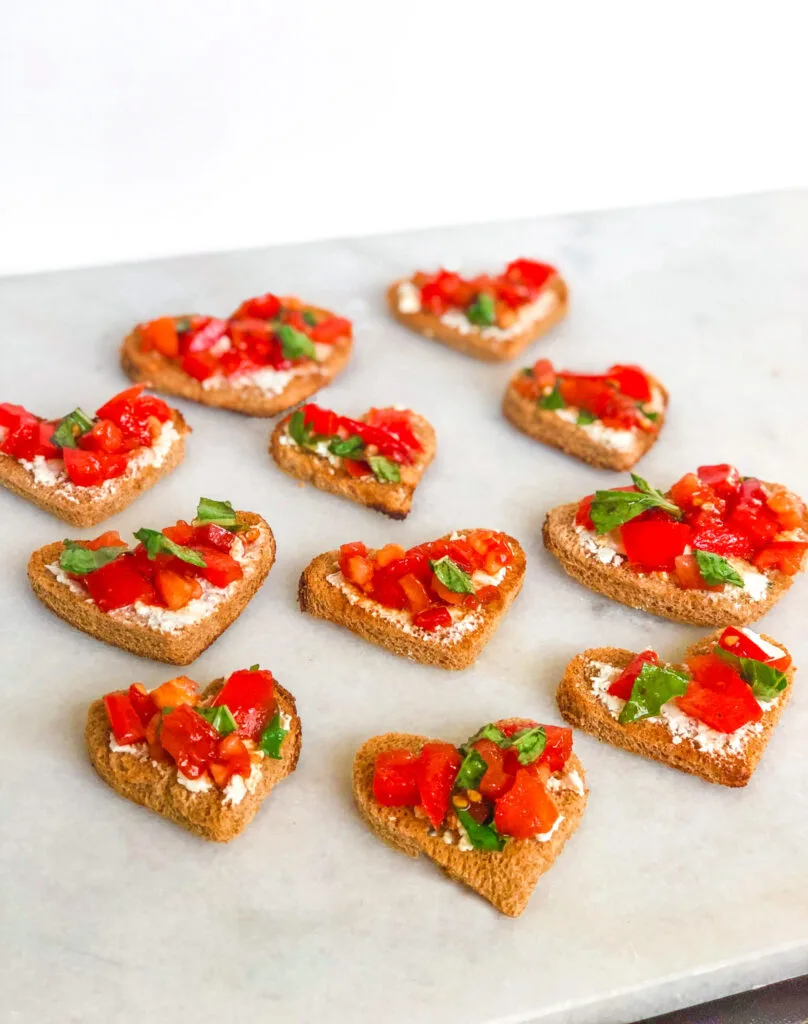 This Valentine's Day twist on classic bruschetta features juicy cherry tomatoes, fresh basil, and creamy mozzarella, all piled on top of a heart-shaped slice of baguette. Recipe created by Jolly Tomato.
Vegan Pink Sushi
Impress your sweetheart with this beautiful and healthy vegan sushi. The pink hue comes from a mixture of pickled radish and avocado, and the rolls are held together with a tangy and creamy vegan mayo. Recipe created by Green Evi.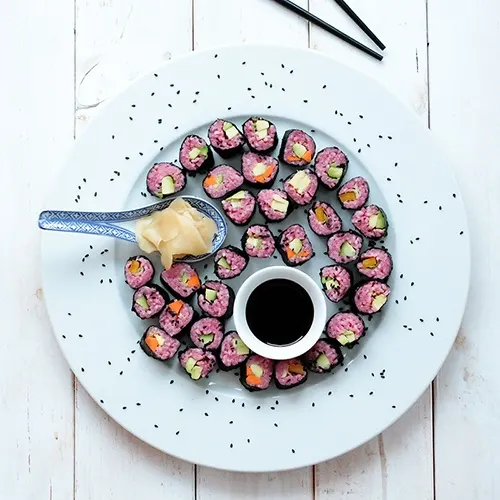 Beet and Green Lentil Cakes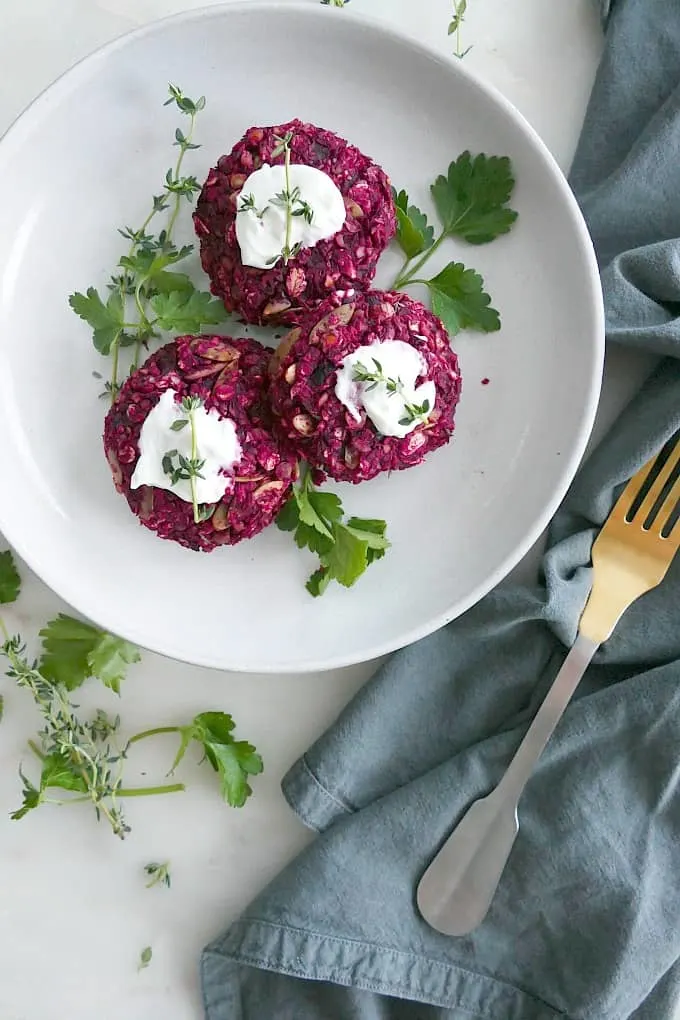 These hearty cakes are made with a mixture of beets and green lentils, and are seasoned with a blend of spices and herbs. They make a great vegetarian main course, or a fun and unique appetizer.Recipe created by It's a Veg World After All.
Vegan Polenta Pizza Bites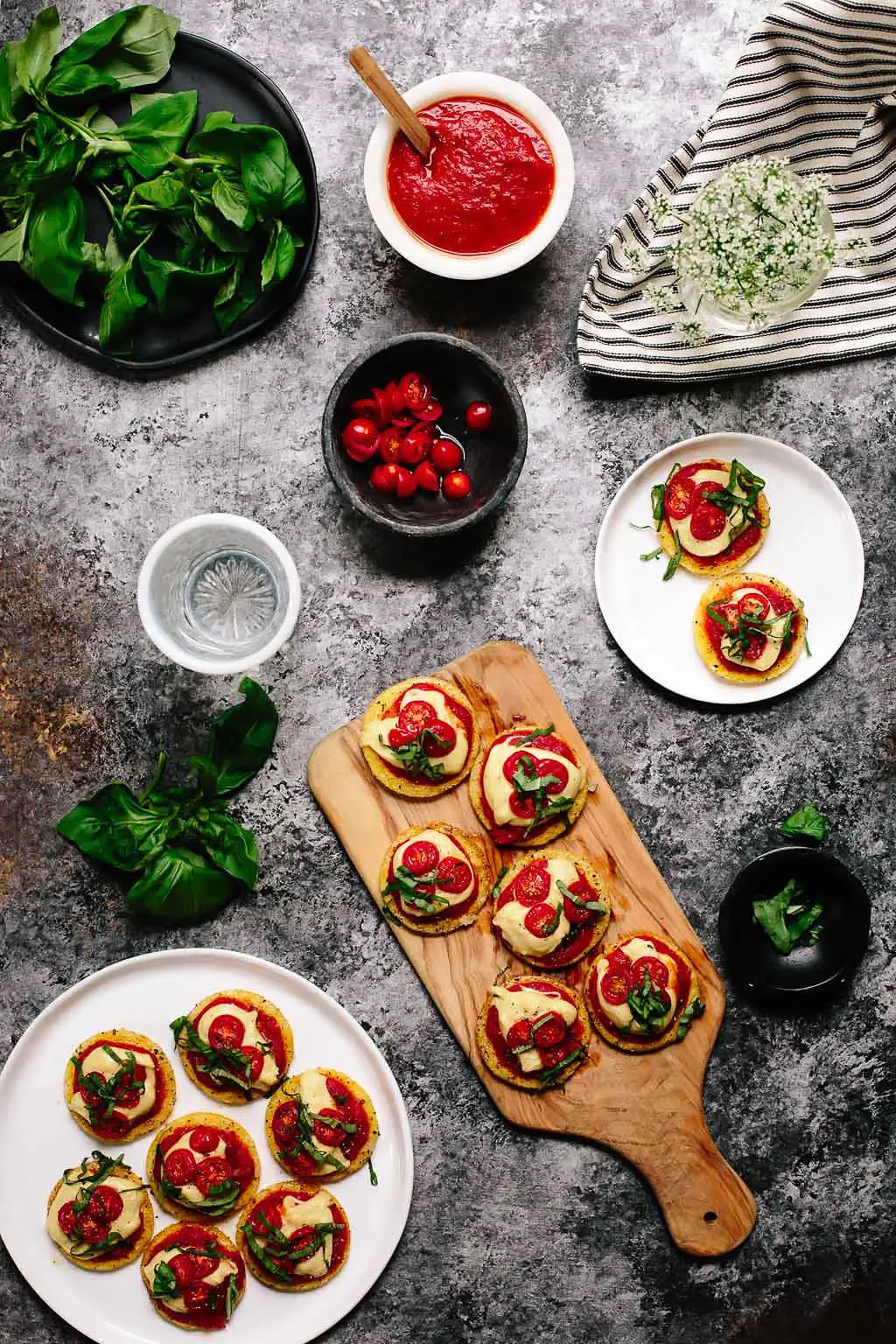 These mini pizza bites are made with creamy polenta and topped with your favorite veggies and vegan cheese. They're perfect for a casual dinner or a fun party snack.Recipe created by Blissful Basil.
Baked Brie with Cranberry Sauce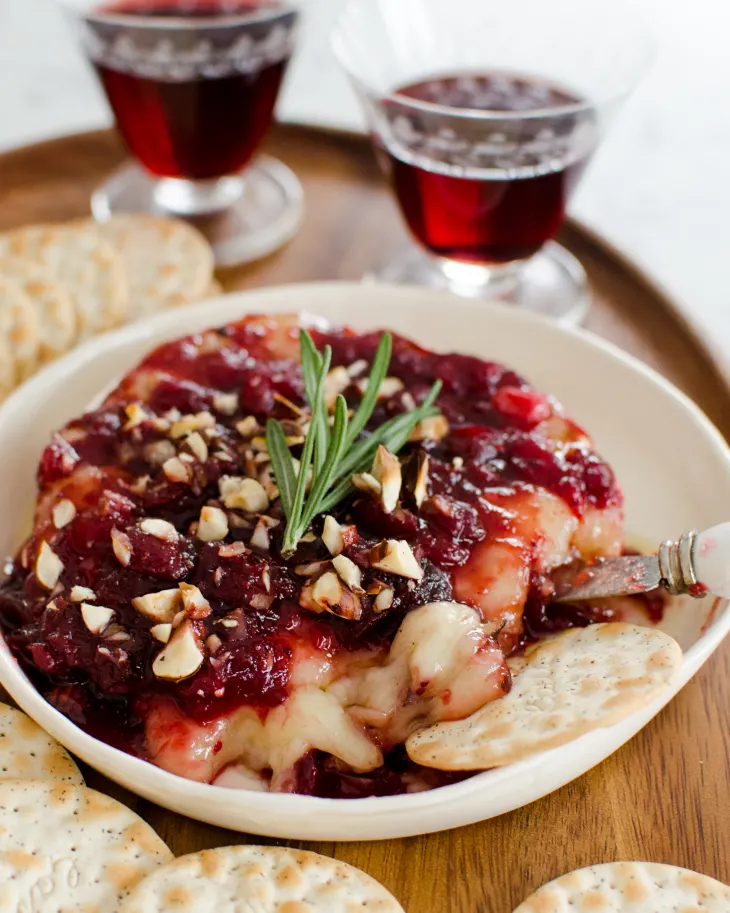 This warm and gooey brie is the perfect treat for a cozy night in. The brie is surrounded by a sweet and tangy cranberry sauce, and is served with crackers or crusty bread. Recipe created by The Kitchn.
Goat's Cheese, Sticky Walnut and Caramelised Onion Tarts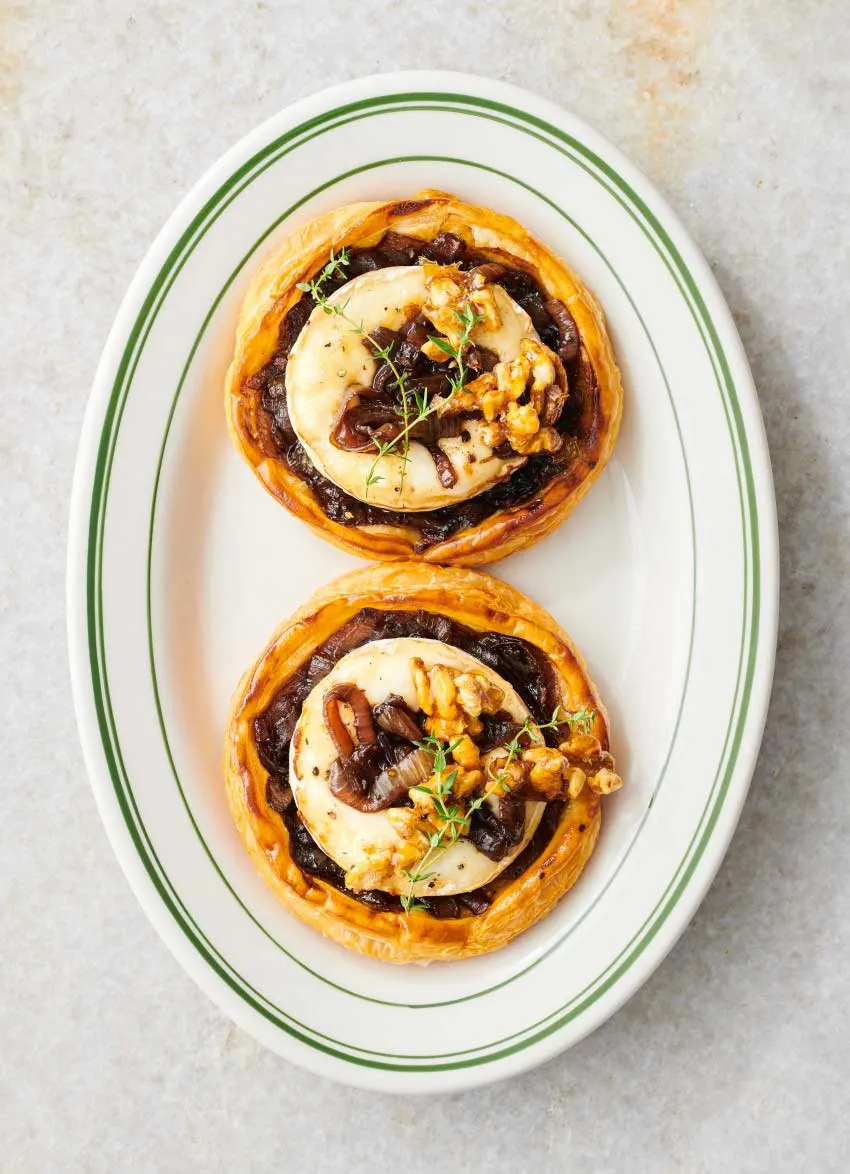 These mini tarts are a delight for the senses. The flaky pastry crust is filled with creamy goat's cheese, sticky walnuts, and sweet caramelised onions, making a perfect balance of flavors. Recipe created by Dish.co.nz.
Charred Bread with Ricotta and Cherry Salsa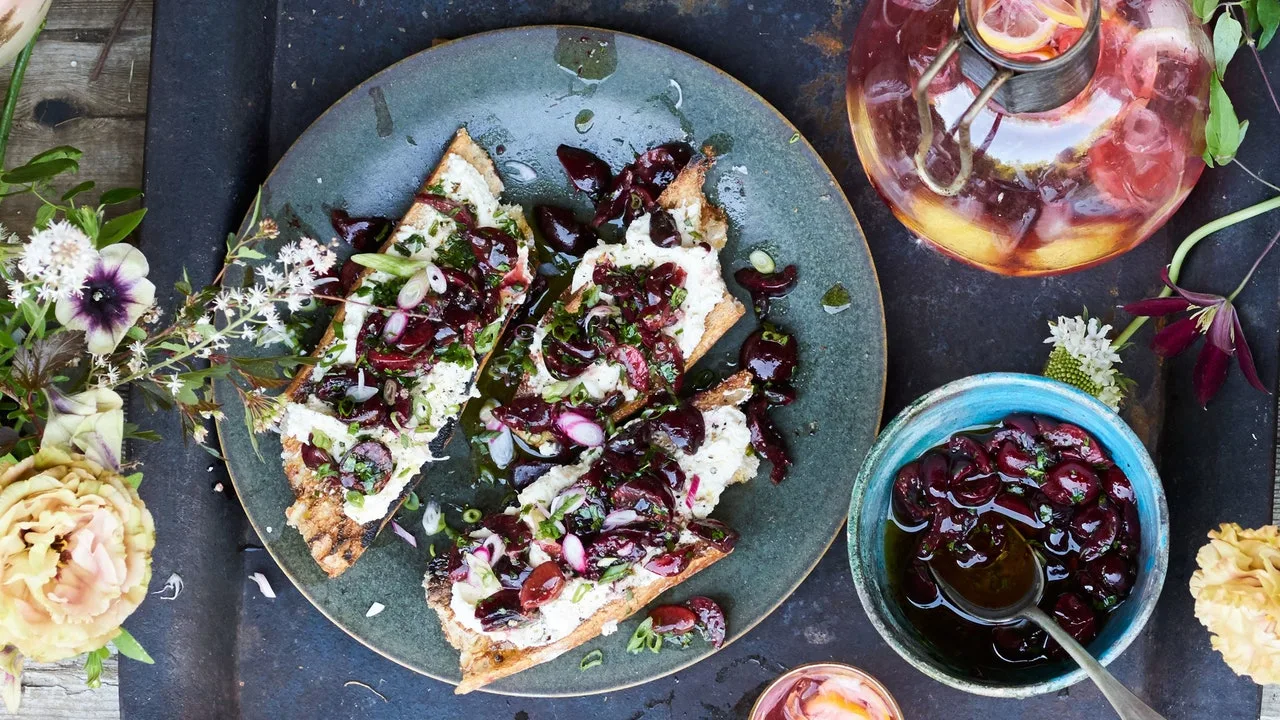 This simple yet elegant appetizer features charred bread topped with creamy ricotta cheese and a bright and juicy cherry salsa. It's a fun and unexpected twist on the classic cheese and crackers. Recipe created by Epicurious.
Valentine's Day Entrees / Appetizers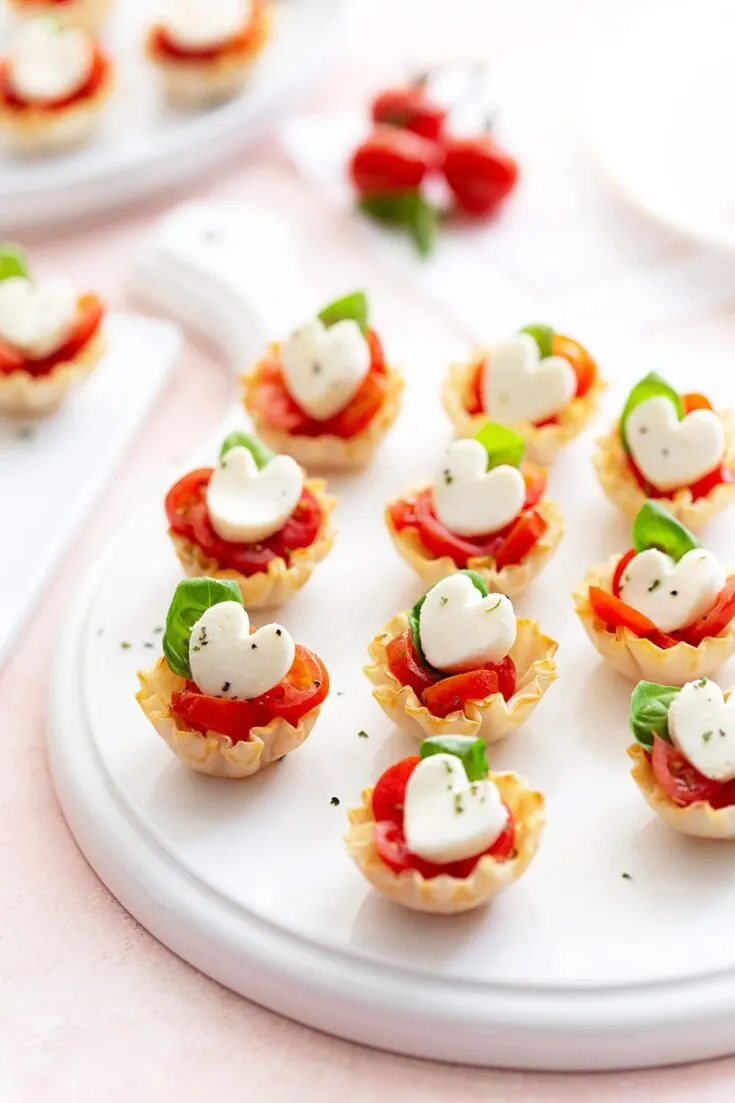 Do you want to create the best menu for V-day? Here are 10 Valentine's Day entrees / appetizers that will make you crave for more!
Instructions
Choose your favorite Valentine's Day appetizer recipe.
Organize all the ingredients.
Prep a simple V-Day appetizer in less than half an hour!