These green chickpea patties are not only delicious but healthy too! Packed with proteins and vegan, I'm sure these chickpea patties will soon become your favorite!
I think I should focus on an even more specific niche with my blog – the crazy veggie patties lovers niche! Hehe! 😀 I am CRAZY about veggie patties! This green chickpea patties recipe was inspired by my healthy vegan falafels which were a huge success! Over 16k pins and 1k likes! Thank you guys so much! It's good to know there are so many people out there who are as passionate about healthy eating as I am.
These green chickpea patties are as good as the healthy vegan falafels I told you about. Or…are these even better?! Maybe! I love olives and they're a perfect ingredient in vegan patties. Also, leafy greens are a must! I added some wild garlic leaves too!
Tahini is also my newest obsession. I discovered a great brand of tahini and I've been using it a lot in my recipes. I also made this Spring Spinach Salad with Tahini Dressing. Have you tried it already? If not, you should! The tahini dressing can turn any bland salad into a delicious treat!
So, here's the AWESOME green chickpea patties recipe with tahini sauce. Yes, I"m not modest at all. This recipe deserves a prize! 😀
P.S. I LOVE Lebanese cuisine. If you love it too, check out Ottolenghi: The Cookbook. His recipes are truly inspiring!
Yield: 20+ green chickpea patties
Green Chickpea Patties with Tahini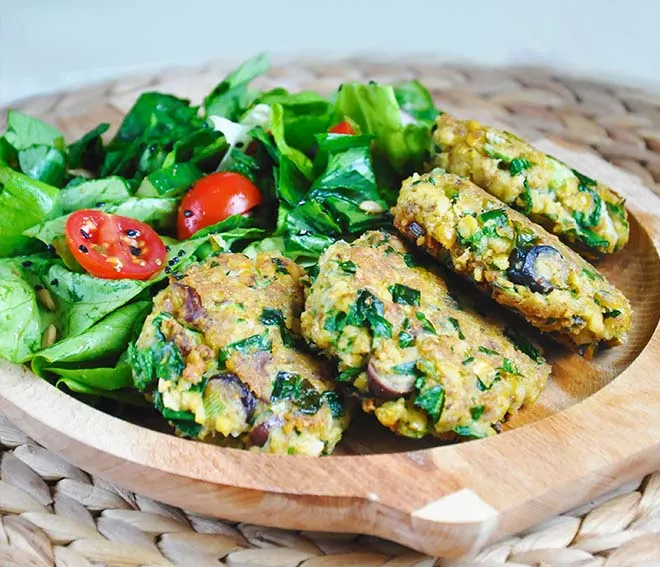 This green chickpea patties with tahini sauce recipe is not only delicious, but healthy too!
Ingredients
2 cans (400g | 14 oz each) boiled chickpea - you can use dry too, but if you want to have these chickpea patties ready in 25 minutes, then you should use canned chickpeas. If you'll use dry chickpeas, you have to soak them overnight and boil them for at least two hours
2 Tbsps psyllium husks, or one large egg
4 Tbsps nutritional yeast
25g (1 cup) fresh parsley, chopped
130g (1 cup) wild garlic/ramps, chopped
1 onion, diced
60g (⅓ cup) black olives, sliced
5 Tbsps chickpea flour, or any other type of flour or breadcrumbs
1 tsp sweet paprika
salt and pepper, to taste
1 Tbsp tahini paste + more for sauce
oil, 3-4 Tbsps for frying
Instructions
Add boiled chickpeas in the food processor and blend well until they have a paste-like consistency.
Put them in a large bowl and blend in all the other ingredients, except oil. If the composition is too moist, add more chickpea flour. The patties should be very easy to form.
Heat some oil in a non-stick frying pan.
Make the patties – 1 Tbsps per patty.
Fry them 2 minutes on each side.
Put the patties on a plate covered with a paper towel, in order to absorb all excess oil.
Serve!
Nutrition Information
Yield
20
Amount Per Serving
Calories

218
Total Fat

5.4g
Carbohydrates

30.3g
Protein

12g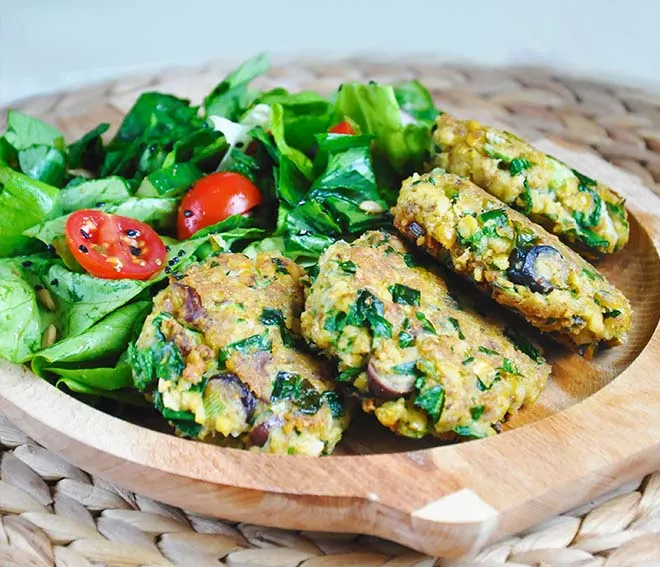 Want more veggie patties recipes. Try these: