These vegetarian mushroom crepes can be served as a main dish or appetizer and have a subtle garlic and thyme flavor you'll love!
I LOVE French crepes! Ever since I was little and my grandma made me strawberry jam filled crepes I absolutely fell in love with this lovely dish. I love the savory version as much as I love the sweet one.
This vegetarian mushroom crepes recipe has a special ingredient – sweet corn! It adds a crunchy-sweet delicate flavor which I'm sure you'll like. Also, I added a little bit of thyme and garlic, just to add even more flavor to this dish!
These mushroom crepes are pretty easy to make and are ideal for parties! They disappeared in no time and were very much appreciated.
You'll love their meaty, rich texture and strong flavor. Garlic sauces are perfect for this recipe. Don't worry because you'll only feel a subtle garlic flavor; sour cream and tomatoes somehow neutralize the smell. If you want to avoid garlic, you can make a white wine or a green peppercorns sauce. Doesn't it sound delish?!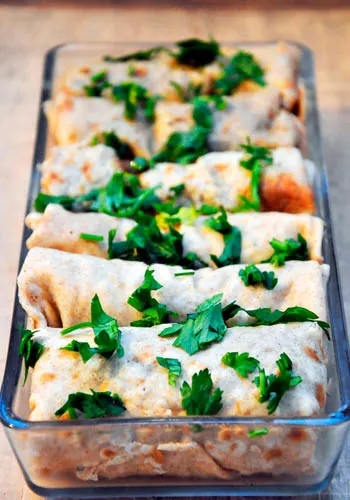 Yield: 4
Vegetarian Mushroom Crepes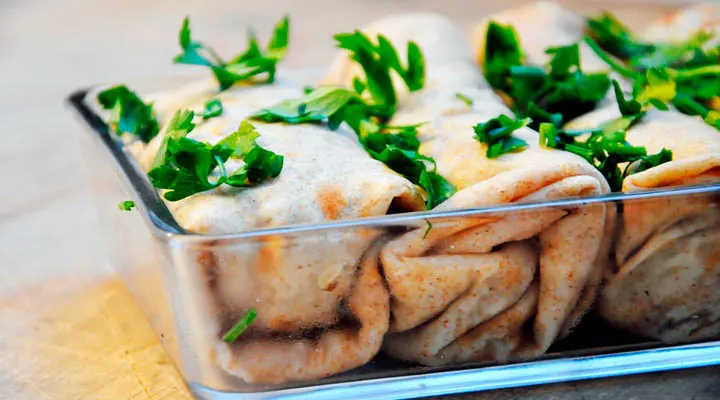 These vegetarian mushroom crepes can be served as a main dish or appetizer and have a subtle garlic and thyme flavor you'll love!
Ingredients
Crepes:
200g (7oz) white wheat flour, or GF flour mix
250ml (1 cp) fizzy water
2 eggs
Oil – for frying
Filling:
300g (10.5oz) mushrooms, chopped (Portobello, Champignons)
80g (½ cup) canned corn
½ cup chopped parsley
½ cup chopped dill
120ml (½ cup) white wine
1 big onion, chopped
1 tsp thyme
⅓ tsp ground pepper
½ tsp ground coriander
1 tsp sweet paprika
1 tsp garlic powder
sea salt, to taste
Dairy-Free Garlic Sauce:
2-3 garlic cloves, mashed
2 tbsp water
a pinch of sea salt
1 tsp olive oil
4 tbsp tomato juice, or you can scoop out the inside of 1-2 soft tomatoes
1-2 tsp chopped chives
Sour Cream Garlic Sauce:
120g (½ cup) low-fat sour cream
2-3 garlic cloves, mashed
a pinch of sea salt
1-2 tbsps chopped chives
Instructions
Crepes:
Whisk the eggs.
Add the water and mix well (you can also use a hand-held mixer).
Sprinkle the flour while continuously whisking/mixing until it has the right consistency.
Heat some oil in a frying pan over medium-high heat. Grease the whole surface of the pan and then pour the oil in a cup. You'll be reusing it.
Pour the batter in the pan, using approximately ¼ cup for each crepe. Tilt the pan with a circular motion so that the batter coats the surface evenly.
Cook the crepe for about 2 minutes until the bottom is light brown. Loosen with a spatula, turn and cook on the other side. Repeat the process until you use up all the batter.
For the filling:
Add the mushrooms and wine in your food processor. Blend until you get a thick paste.
Heat some 1 tbsp oil in a large saucepan.
Add the chopped onion. Sauté until golden, then add the mushroom paste and corn.
Add spices.
Cook for 15 minutes ten add the chopped dill and parsley and cook for another 5 minutes.
Let it cool for at least 10 minutes before assembling the crepes.
Fill the crepes using about 1 ½ tbsp of filling / crepe.
Sauces:
Mix all ingredients and pour sauce over the vegetarian mushroom crepes.
Notes
The crepes' consistency should be like yoghurt – not too thick, not too thin.
You may need to add more flour or water, it depends.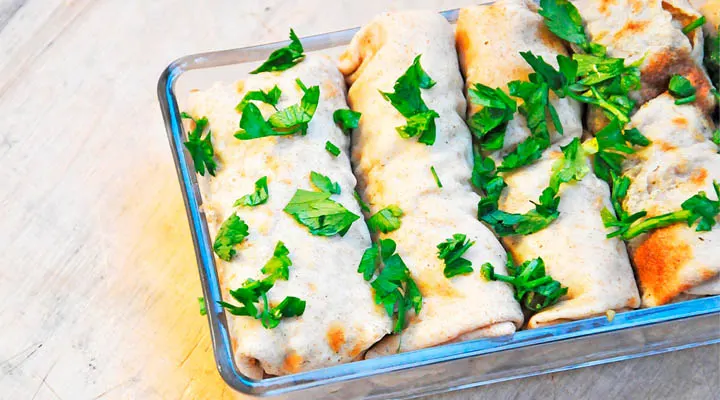 Do you love mushrooms? Try this too: Basic Stuffed Portobello Mushrooms.