These stuffed Portobello mushrooms are not only vegan and healthy but also have a tasty meaty texture. Learn how to make the perfect vegan stuffed Portobelo mushrooms!
I love stuffed Portobello mushrooms. They always turn out yummy and are ready in no time! This is the basic stuffed Portobello mushrooms recipe. It is very versatile so you can try any stuffing you want. Don't be afraid! Mix ingredients and invent new stuffings. By the way, I can't wait to try this stuffed with spinach and served with a wine flavored white sauce. Yum!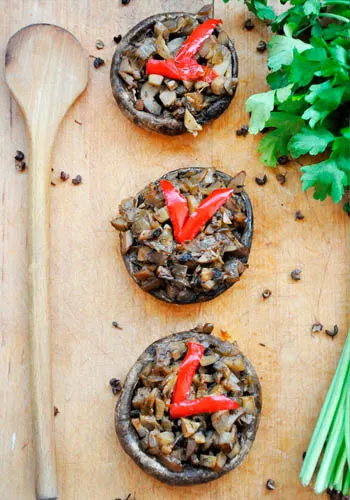 Yield: 6 servings
Basic Stuffed Portobello Mushrooms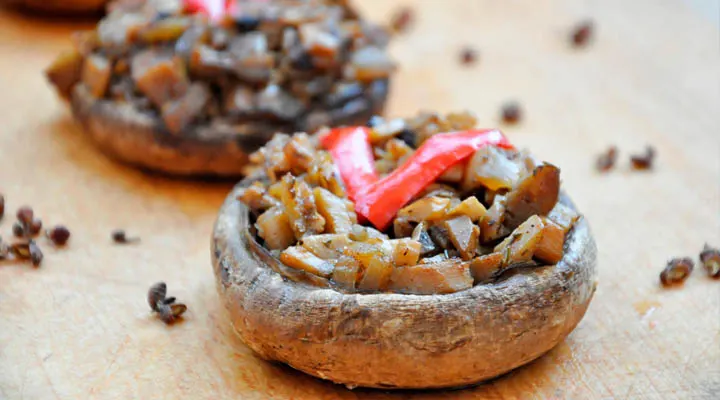 Basic Stuffed Portobello Mushrooms is a healthy, vegan recipe, perfect as a side dish!
Ingredients
12 big Portobello mushrooms, stems removed and chopped
1 red bell pepper, sliced
1 onion, chopped
1 bunch dill
1 bunch parsley
6 garlic cloves, mashed
½ tsp ground coriander
2 tsps dry thyme
2 Tbsps olive oil, for lacto-vegetarians – you can use some butter
ground pepper, to taste
sea salt, to taste
Instructions
Heat the oil/butter in a saucepan.
Add chopped mushrooms stems, mashed garlic cloves, chopped onion, pepper, salt, coriander and thyme. Sauté for 5 minutes.
Remove from heat and add chopped dill and parsley.
Preheat the oven at 375° F.
Place the mushrooms in an oven tray.
Add about 1-1 1/2 tbsp of stuffing / mushroom.
Garnish with red bell pepper slices.
Cover the tray with aluminum foil.
Cook for about 30 minutes.
Nutrition Information
Yield
6
Amount Per Serving
Calories

70
Total Fat

4.4g
Carbohydrates

6.3g
Protein

1.1g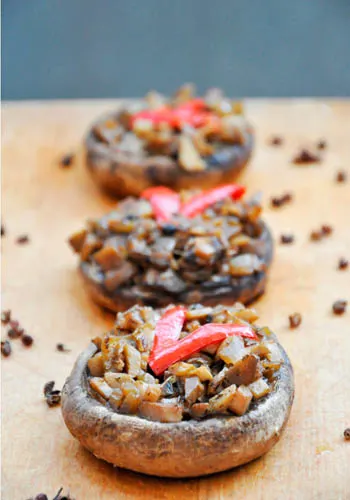 Do you love stuffed mushrooms? Try this too Stuffed Button Mushrooms with Garlicky Rice Noodles.