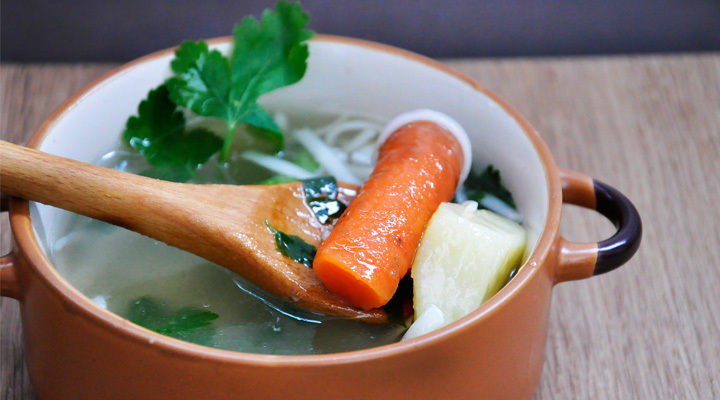 Reteta vegetariana, sanatoasa pentru supa cu taitei si legume ca la mama acasa! Ideala pentru a te pune pe picioare atunci cand esti racit. | This is a healthy vegetarian soup recipe for clear vegetables noodle soup with carrot, potatoes and fresh parsley. This soup recipe is perfect when you have a sore throat or a cold.
  Recipe in English
  Reteta in Romana
Clear Veggie Noodle Soup
Clear veggie soups were my childhood favorites! My mom and grandma used to make them, especially in the cold season. These soups are perfect when you're not feeling well because of a cold or flu. They'll put you back on your feet in no time!
I love carrots in soups and I like them whole! Big, chunky veggies are perfect for soups like this. I think that parsley is the main ingredient here. No good, clear veggie noodle soup can be eaten without tons of fresh, chopped parsley.
You should try this noodle soup and let me know if you liked it as much as I did, and don't forget about the Veggie Soup with Semolina Dumplings I told you about. Pic below
Clear Veggie Noodle Soup
Ingredients:
1-2 carrots, sliced or cut in chunks
1-2 medium potatoes, cubed
1 onion, chopped
noodles
1-2 tsp sunflower oil
sea salt and ground pepper, to taste
parsley, LOTS! for garnish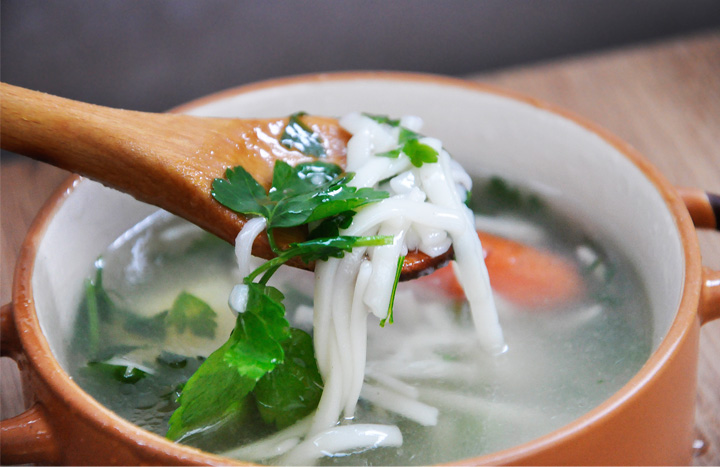 Directions:
Fill a pot with water and add carrots, potatoes, onion, noodles, sea salt, ground pepper and oil.
Let them boil until tender, for about 20 minutes.
Serve with lots and lots of fresh, chopped parsley!
…yes..it's that easy!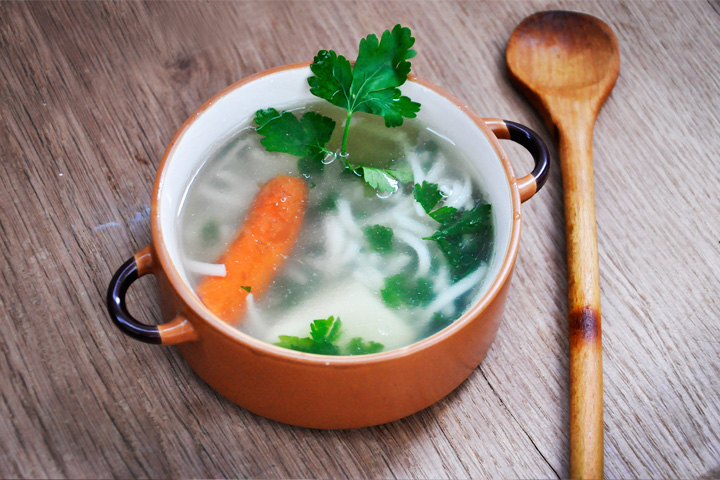 Supele de legume au fost preferatele mele inca din copilarie! Atat mama cat si bunica le faceau, mai ales atunci cand eram racita. Ce poate fi mai bun decat o supa cu taitei sau cu galusti, atunci cand te doare gatul?!
Morcovii ii ador! Imi plac taiati in bucati mai mari, nu feliute. Cred ca legumele taiate in bucati mai mari sunt perfecte pentru astfel de supe. Bineinteles ca din aceasta supa cu taitei nu trebuie sa lipseasca patrunjelul! Tone, tone de patrunjel! El este ingredientul minune, bogat in vitamina C.
Daca ti-a placut supa cu taitei trebuie sa incerci si supa cu galusti , poza mai jos:
Supa cu taitei
Ingrediente:
1-2 morcovi, feliati sau taiati in bucati mai mari (cca 3-4cm)
1-2 cartofi medii, taiati cubulete
o ceapa, maruntita
1-2 lg ulei de floarea soarelui
sare de mare si piper, dupa gust
muuuuuult patrunjel proaspat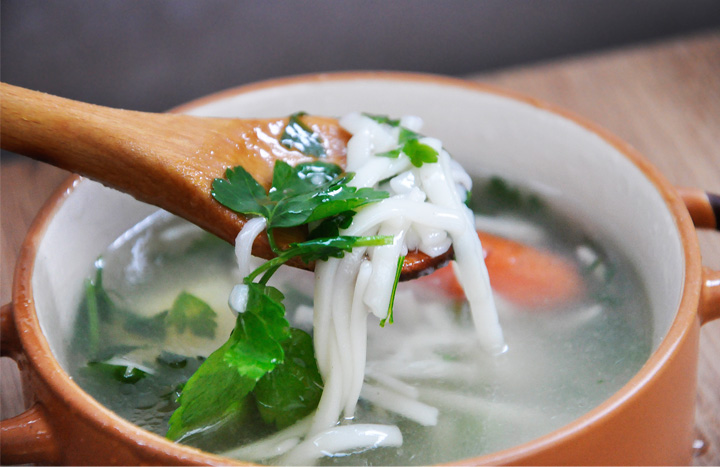 Instructiuni:
Se umple o oala cu apa si se adauga morcovii, cartofii, taiteii, sarea, piperul si uleiul.
Se fierb 20 de minute.
Se adauga mult patrunjel proaspat.
…si da… asta e tot!
Ador reteta asta de  supa cu taitei pe care o faceau bunica si mama cand eram mica. E perfecta daca sunteti raciti sau nu va simtiti prea bine. Va va pune imediat pe picioare!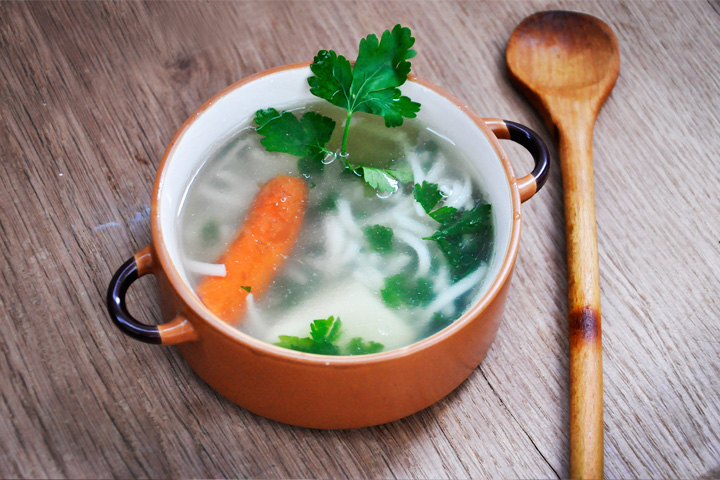 Cooksnaps