Reteta de pachetele / cornulete cu mere si scortisoara, ca la mama acasa, cu instructiuni grafice! | These mini apple cinnamon rolls are "not-so-healthy" sugary goodness, but they're addictively good!
[tabs_head] [tab_title]

  Recipe in English[/tab_title] [tab_title]

  Reteta in Romana[/tab_title][/tabs_head]
These mini apple and cinnamon rolls are a "not-so-healthy" sugary goodness! I'm telling you this from the start, but you also should know they're addictive! Yes they're that good! This is a traditional recipe in my family. We always make this mini apple and cinnamon rolls dessert for Christmas. It's pretty easy to make, even for me..and I don't like baking very much :)This time we tried something a little different because we had to make them really fast. We usually roll them in a croissant-like shape but this time we just folded and cut them to look like mini rolls.
I am not a huge coffee drinker but from time to time I like drinking some good quality coffee. Recently, I received this package of Nuvia Trim coffee and I was really excited as I knew it was going to be delicious. Last year I reviewed another Nuvia coffee (view post + recipe here: Healthy Whole Grain Cookies with Nuvia Cafe. Perfect Breakfast!) and I liked it a lot. This time it tastes a bit different.. in a good way! Nuvia Trim has a strong raspberry flavor which gives it a unique taste. It also contains lots of other ingredients (like ganoderma, african mango, green tea, green coffee beans) but raspeberry is the one with the strongest aroma.
NuviaTrim is supposed to help you lose weight because of it's high content of antioxidants. It also supports appetite control and increases lipolysis .I didn't test it for losing weight but it is a great plus that it contains so many healthy ingredients and that it's high in antioxidants.
What do you think? Have you tried NuviaTrim?
Now, about this yummy recipe..it goes great with coffee!! Oh yes! Breakfast dessert..served with a hot cup of unsweetened coffee..just perfect for me
One tip though.. be careful not to eat too many rolls!
Craving apple desserts? Check out these recipes: Upside-Down Vegetarian Apple and Cinnamon Pie  and Banana Cream Pie with Cinnamon Crusted Apples .
Mini Apple Cinnamon Rolls
These mini apple cinnamon rolls are "not-so-healthy" sugary goodness, but they're addictively good!
Ingredients
500g all-purpose flour

Dough:

1 tsp baking soda mixed with 1 tsp lemon juice
a pinch of sea salt
1 200ml glass filled with 1/2 water and 1/2 oil

Filling:

1kg apples, grated
approx. 150g sugar
3-4 tsp cinnamon
Instructions
In a large skillet, add grated apples, cinnamon and sugar. Cook over low heat until the apples are soft and moist, while stirring continuously. When they're ready leave them to cool down while making the dough.
In a large bowl, add flour. Make a hole in the flour and add the teaspoon of baking soda in that hole. Over the baking soda pour 1tsp of fresh lemon juice. Pour the glass filled with oil and water, little by little, while mixing using your hand. Knead the dough until it has a paste-like consitency and it's smooth and elastic.
Place the dough on a lightly floured work surface. Roll the dough out into a large rectangle.
Cut 5 cm strips out of the dough (1.). On each strip, on one half of the strip, add the apple filling and spread it evenly (2.). Roll the strip and press it a little (3.) . Do the same with the other strips. See instructions below.
Preheat the oven to 200C/400F. Place the large rolls on the baking tray (with parchment paper). Bake the rolls in the oven for 25-35 minutes. Remove the rolls from the oven and set aside to cool on a cooling rack.
Cut the rolls in 2cm mini rolls (4.) . Sprinkle with powdered sugar (optional).
http://gourmandelle.com/mini-apple-and-cinnamon-rolls-nuvia-trim-cafe-review/
Copyright: 2014 Ruxandra Micu | www.gourmandelle.com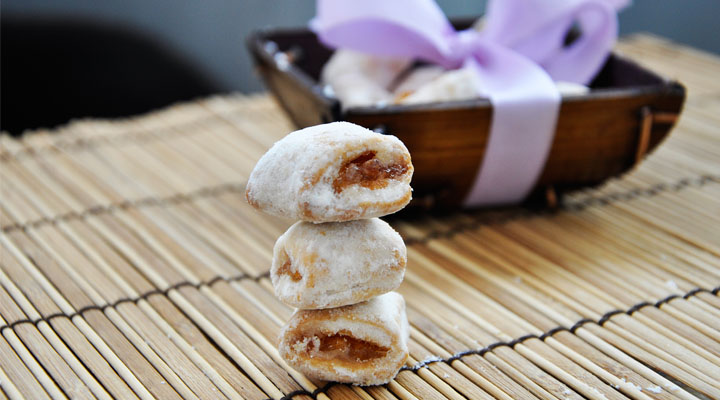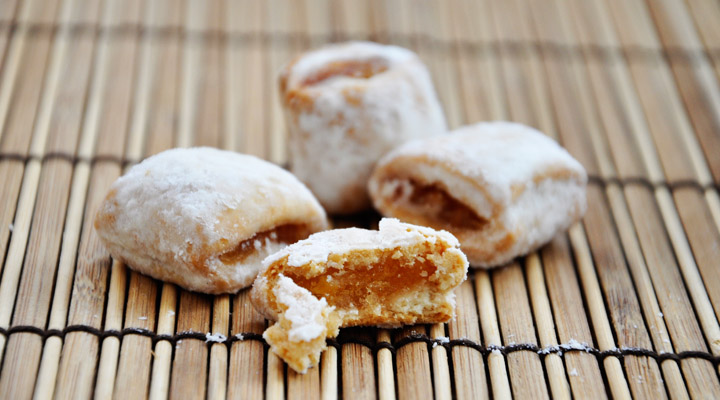 Reteta asta de cornulete cu mere si scortisoara nu se poate incadra in categoria 'retete sanatoase' insa este extrem de gustoasa!! Atentie mare! Creeaza dependenta! Nici nu iti dai seama cand dispar de pe platou
Cornuletele cu gem sunt destul de cunoscute de toata lumea si se fac de obicei la ocazii. Nu sunt deloc greu de facut si sunt delicioase! Mie mi-a fost lene sa le impaturesc in forma clasica de cornulet asa ca le-am facut pachetele. Chiar mi-au placut mai mult asa.
Cornulete cu mere si scortisoara
Ingrediente: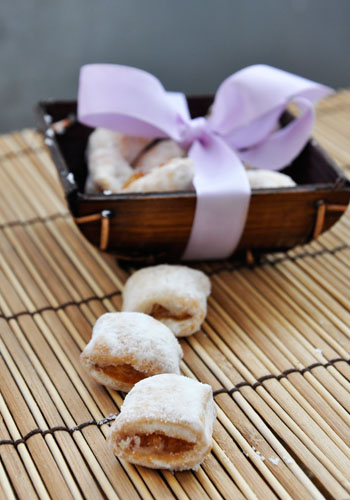 500g faina (reteta originala foloseste faina alba insa daca vrei o varianta sanatoasa poti pune 1/2 faina alba, 1/2 faina integrala sau de secara)
1 lg bicarbonat de sodiu amestecata cu 1 lg suc de lamaie
un praf de sare
un pahar umplut cu jumatate apa , jumatate ulei.
Umplutura:
1kg mere rase
150g zahar brun sau zahar de cocos
3-4 lg scortisoara
Instructiuni:
Intr-o tigaie adanca, adauga merele rase, zaharul si scortisoara. Gateste-le la foc mix pana cand devin zemoase si moi. Da-le deoparte cand sunt gata.
Intr-un bol inalt, adauga faina. Fa o gaura in mijloc si adauga lingurita de bicarbonat de sodiu. Pune peste 1 lg de suc de lamaie. Adauga paharul cu apa si ulei, cate putin, in timp ce framanti compozitia cu mana. Se formeaza o coca elastica.
Pune coca pe suprafata de lucru, pudrata cu faina in prealabil. Intinde-o cu facaletul pentru a forma un dreptunghi.
Taie-o in benzi de 5cm latime (1.). Intinde compozitia de mere pe jumatate din fiecare banda (2.). Indoaie pe jumatate acoperind compozitia si apasa incet pe margine (3). Repeta procedeul pentru toate benzile, iar apoi taie bucati de 2 cm latime din fasie (4.) Vezi instructiunile grafice de mai jos.
Incalzeste cuptorul la 200C. Pune rulourile pe o tava de cuptor acoperita cu hartie de copt. Lasa-le la cuptor 25-30min.
Se lasa sa se raceasca inainte de a fi servite.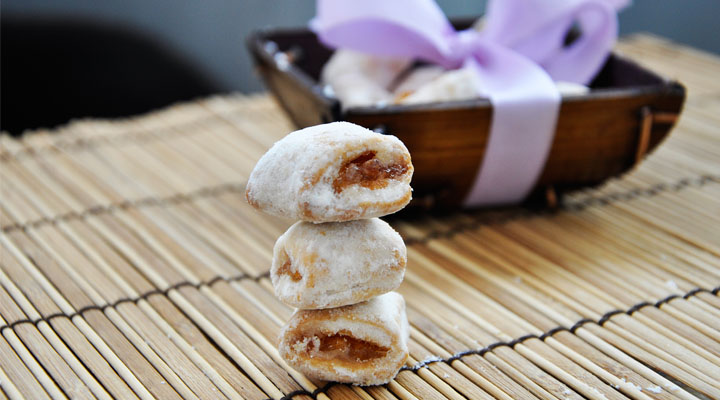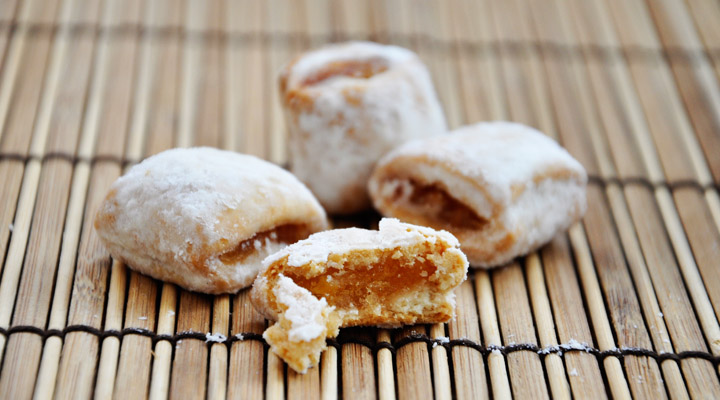 Ai pofta de deserturi cu mere? Incearca si: Prajitura de mere, Prajitura cu crema de banane si topping de mere.