If you love truffles, then you'll absolutely adore this recipe for truffle pasta with homemade truffle salsa! Yes, we'll learn how to make homemade truffle salsa from scratch and we'll enjoy an incredible lunch!
Truffles are one of my favorite ingredients in the world. They're super flavorful (if you know where to get them, of course) and extremely easy to use. They also have the power to elevate a simple dish such as plain boiled pasta to a whole new level. And I'm all for it!
Today's recipe is ALL about truffles – I used truffle tagliatelle and I also created an incredible homemade truffle salsa to use as the sauce, combined with veggie cream and a bit of parmesan. The result? A pasta dish that's bursting with flavor!
I used fresh truffle tagliatelle from Lidl because I wanted a flavor boost for the entire dish. You can, of course, use dry truffle pasta as well (instead of fresh) or even plain pasta as well. Anything works, it's just that the flavor will be a bit less intense.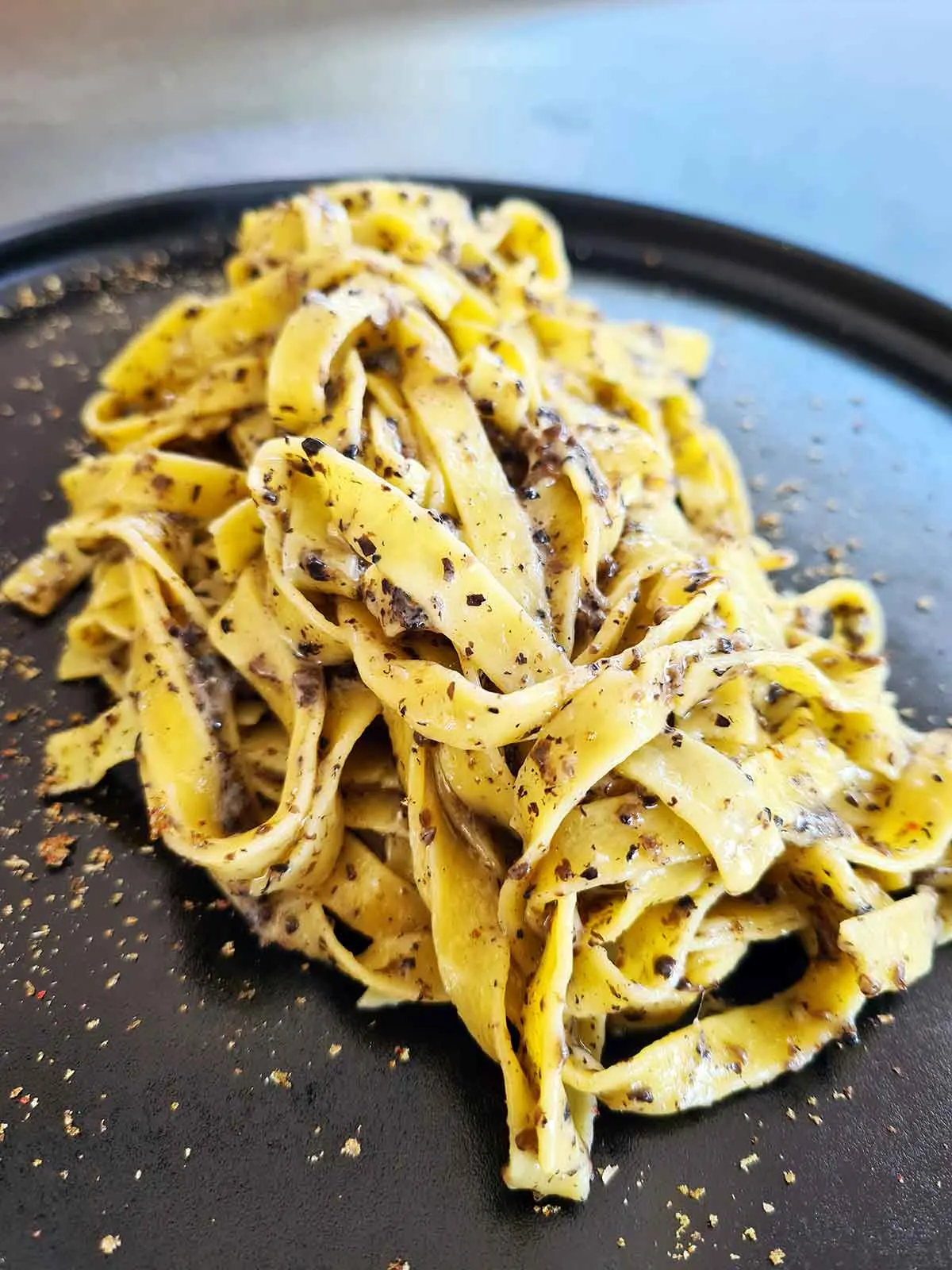 I really love pasta and I'm sure you already know that. I feel like it works best for a quick lunch on those days when you don't have any time for cooking and your schedule is packed. That's when I get the most creative, really listening to my cravings, while also using whatever ingredients and produce I have left in my fridge or pantry. I hate food waste and I love creating recipes from literally nothing, which is a great combo!
This recipe for truffle pasta with homemade truffle salsa was "born" because I was really craving a truffle-rich dish one day. And I thought I could put that fresh truffle pasta I got from the market to good use, so I created the salsa as well! Here's how to make it: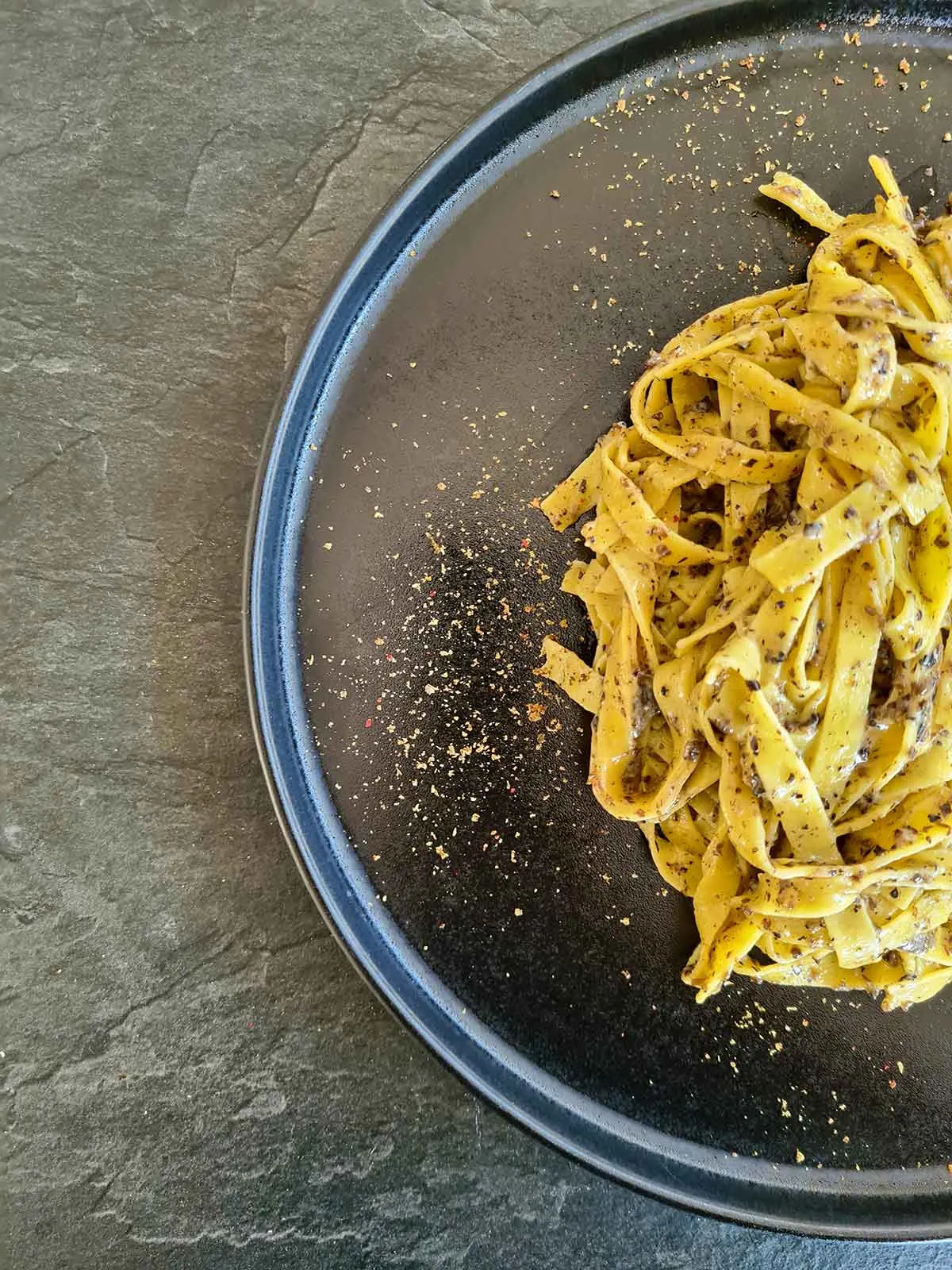 How to make homemade truffle salsa
Because I didn't have access to "real" truffles, I found a great workaround for all my truffle lovers out there: I'm talking about my homemade truffle salsa.
To make it, you only need some brown button mushrooms (yes, you guessed it, we'll use them as a base instead of the real deal) and high-quality truffle oil. You'll also need some butter to cook the onion and garlic, some wine and thyme as well. Sounds easy, right? That's because it is!
The whole drill here is to use a really good, really intensely flavored truffle oil. I tried so many brands before and I realized that most of them don't have any taste at all. I was fooled! :)) The only truly flavored truffle oil I tried until now is the one from the 'Deluxe' range from Lidl. It's not always in stock, but when I find it, I stock it up for an entire year!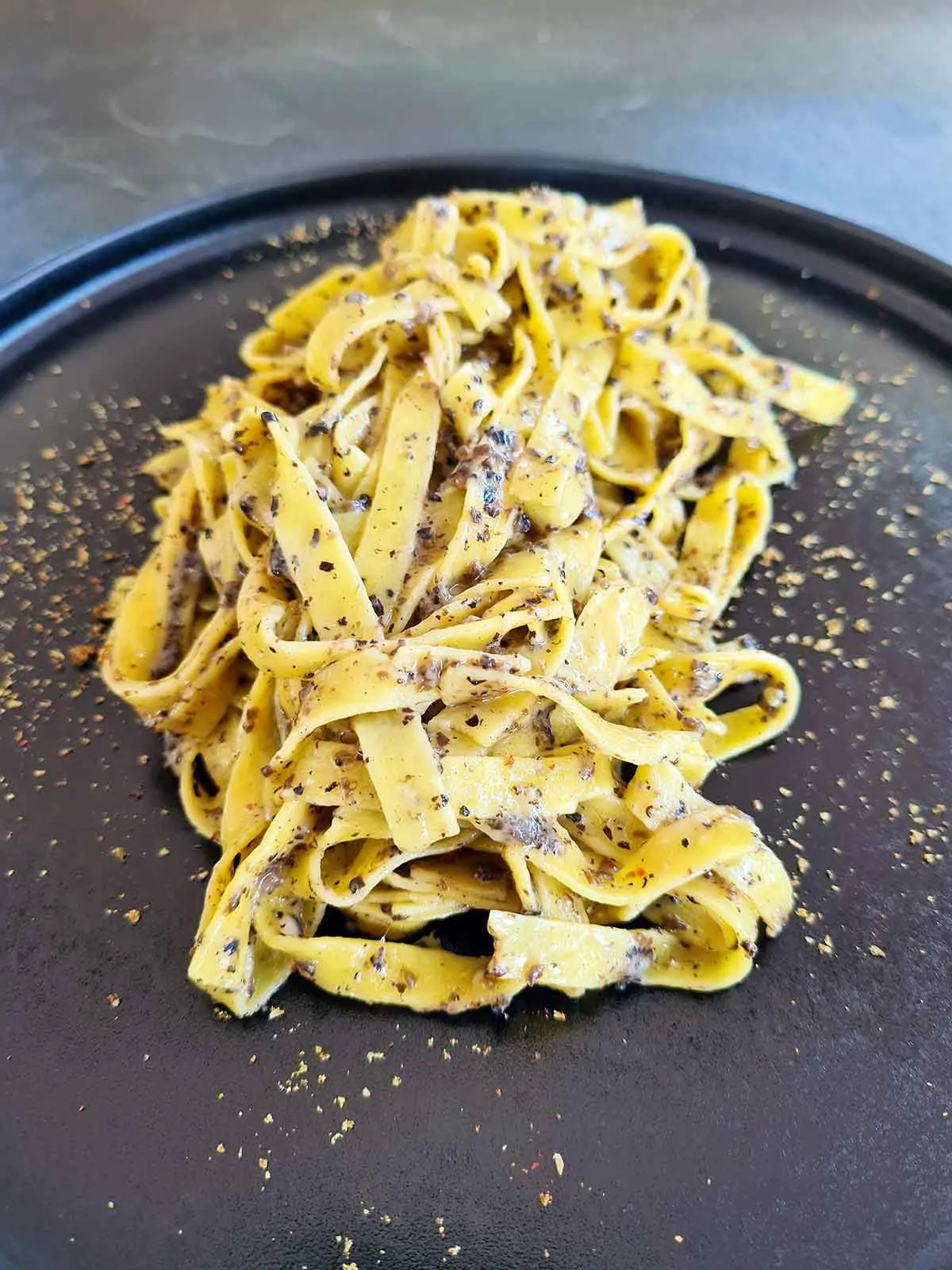 Truffle oil goes well with so many things, from pasta sauces to roasted veggies, on top of mashed potatoes, on top of eggs in the morning, and more. I can think of endless ways of using a good bottle of truffle oil, but today I recommend you try my salsa recipe! 🙂
Note: You can store this homemade truffle salsa in a jar in the fridge for up to one month. Alternatively, you can freeze it in the shape of small cubes (you can use an ice tray for this) and keep it for longer. Then, whenever you need it, just take it out of the freezer, throw it in the pan and serve it with your pasta!
Okay, I wrote this article and I'm already drooling thinking of how amazing this truffle pasta was. I'm craving another portion right now and I'm planning on making it again tomorrow! I have a lot of truffle salsa left because you'll only need 4-5 tablespoons for this recipe, so rest assured that you'll have enough homemade truffle salsa for an entire month! 🙂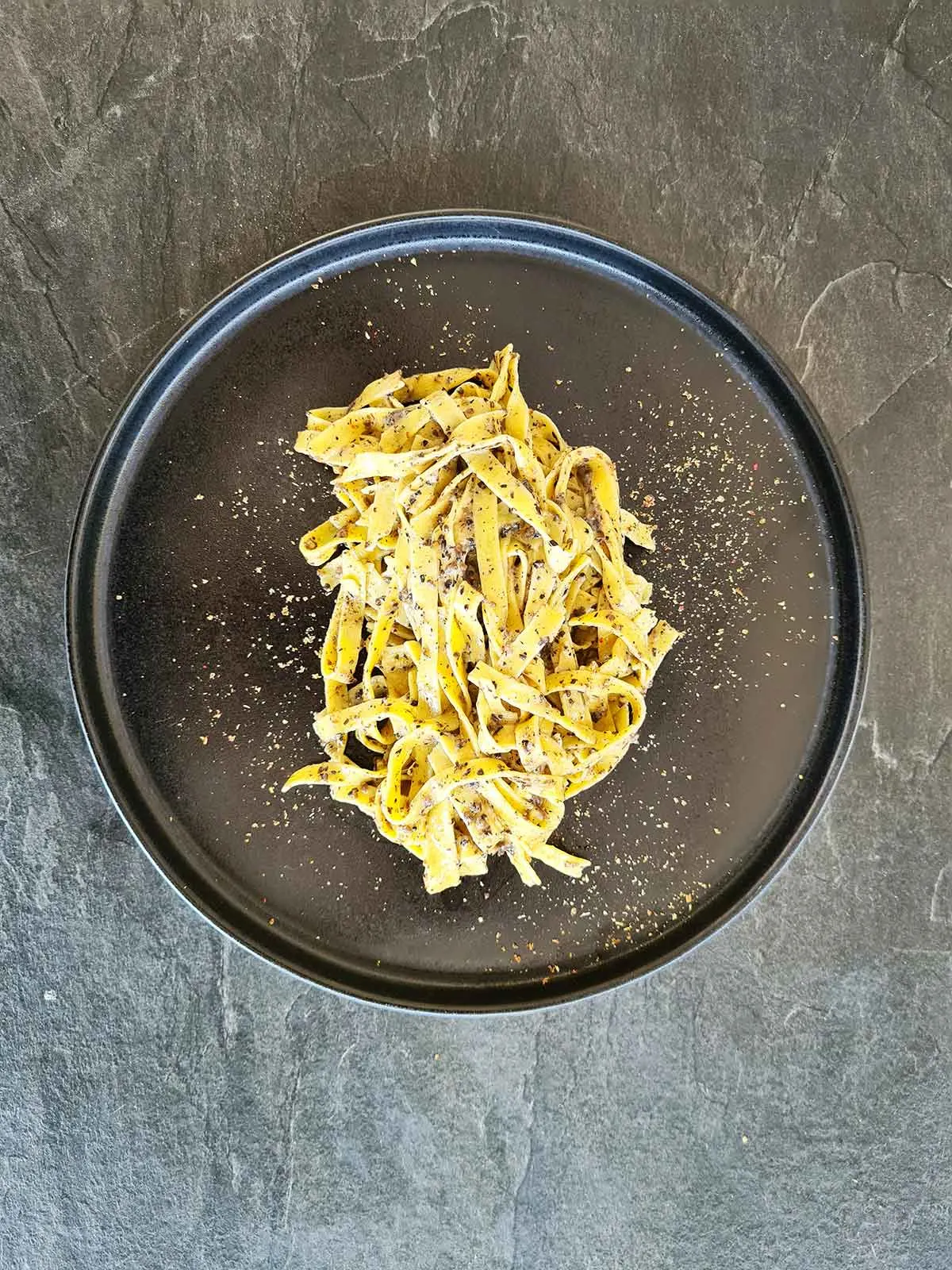 This being said, I really hope you'll give this truffle pasta with homemade truffle salsa recipe a try soon. If you love the fresh, intense aroma of truffles in general, then I promise you'll love everything about this dish. Make sure you serve it with freshly grated parmesan on top (you can use vegan) and freshly cracked pepper and you'll achieve the absolute taste! And you can also prepare a green, light salad on the side for a bit of texture.
If you decide to give it a try soon, let me know what you think about this recipe in the comments section below. I always like reading your comments and opinions.
Until then, happy cooking!
Yield: 2
Truffle Pasta with Homemade Truffle Salsa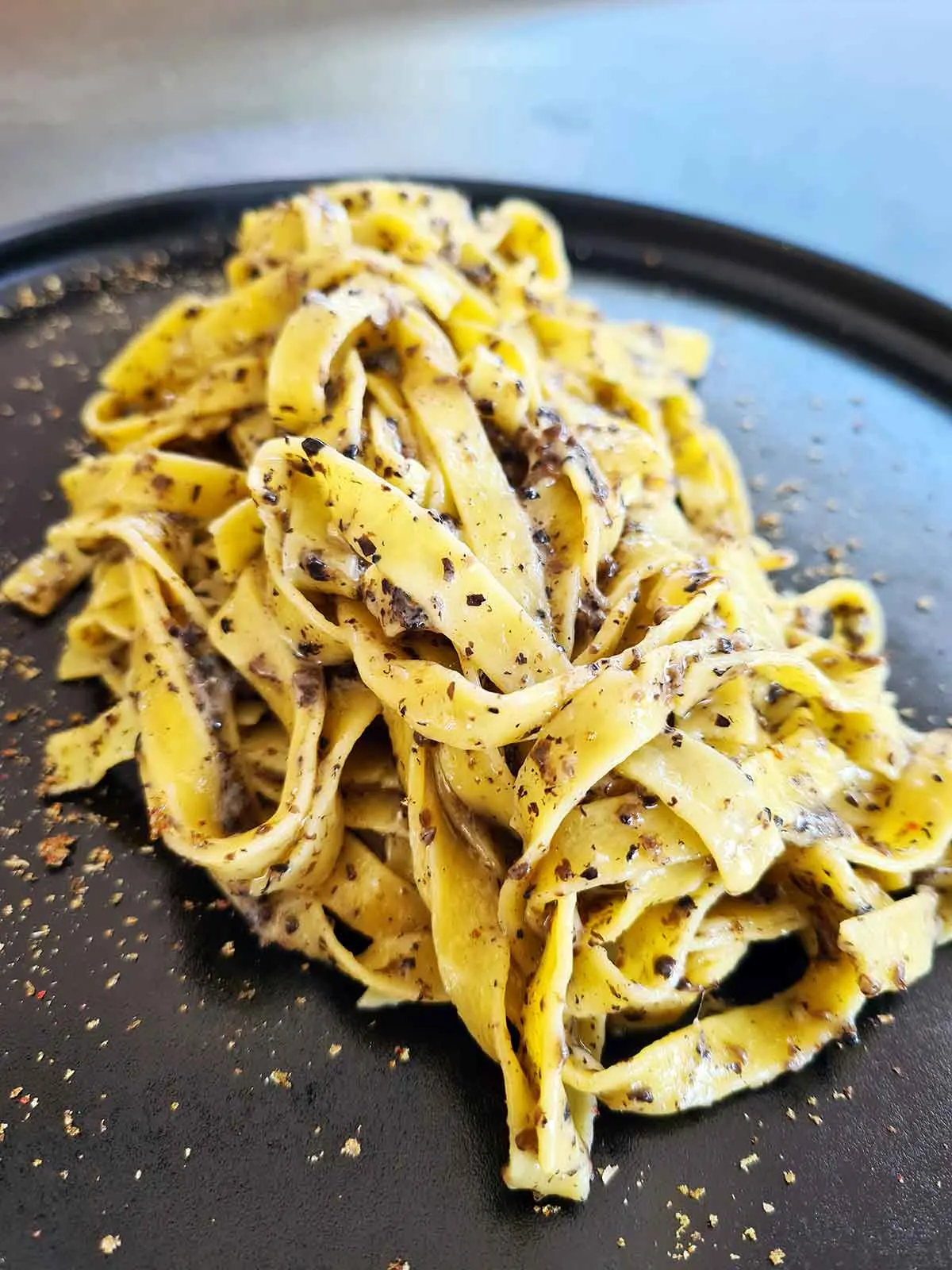 If you love truffles, then you'll absolutely adore this recipe for truffle pasta with homemade truffle salsa! Yes, we'll learn how to make homemade truffle salsa from scratch and we'll enjoy an incredible lunch!
Ingredients
200g (7 oz) truffle tagliatelle - you can use regular tagliatelle as well, but the ones with little pieces of truffles will add more flavor to the recipe
50g (½ cup) grated parmesan cheese
200ml (7 oz) rice or soy veggie cream - you can also use regular cooking cream, but I prefer the veggie versions from Alpro
For the truffle salsa:
Note: you'll only use 4-5 Tbsp truffle salsa for this pasta recipe, the rest you can keep in the fridge for other recipes
500g (17.5 oz) brown button mushrooms
5 Tbsp truffle oil
1 Tbsp butter
1 small onion, chopped
5 garlic cloves, crushed
1 tsp thyme
2-3 Tbsp white wine
salt and pepper, to taste
Instructions
Boil the pasta according to the package instructions.
Prepare the truffle salsa:
Wash the mushrooms and cut them into slices.
Add 1 Tbsp butter into a pan or bigger saucepan. Cook the onion and garlic, then add the mushrooms and wine.
Add salt, pepper, thyme and let them cook for 15-20 minutes with the lid on.
Add the cooked mushrooms into a blender and mix until a paste is formed. Add the truffle oil and move everything into a jar.
Once the pasta is boiled, drain it and add it to a big pan.
Add the grated parmesan on top of the pasta, the vegan cooking cream, and 4-5 Tbsp truffle salsa. Mix and cook on medium heat for 2-3 minutes.
Serve with grated parmesan and freshly crushed black pepper on top.