This vegan crustless asparagus quiche is the perfect recipe for you if you want to make a quick & fuss-free quiche recipe! Video included!
This crustless asparagus quiche is very similar to my vegan crustless quiche with peppers recipe, which I saw you all liked so much. This time, I used asparagus. I didn't have any nutritional yeast left (oh…the sadness…), but if you do, feel free to add 2 Tbsps of it in this. It will add that cheesy taste we all love.
This is a very easy recipe for asparagus quiche. Basically, all you have to do is mix and bake. It's that simple!
I really like asparagus but it's crazy expensive here, so I rarely cook with it. I'd love to try other asparagus recipes in the future, so if you know any worth checking out, leave them in the comment section below. 😉
Also, you can make this vegetable quiche with any other veggies you like. Even mushrooms would be delicious in this!
Hope you'll try my crustless, vegetarian quiche recipe! Let me know how it turned out! 🙂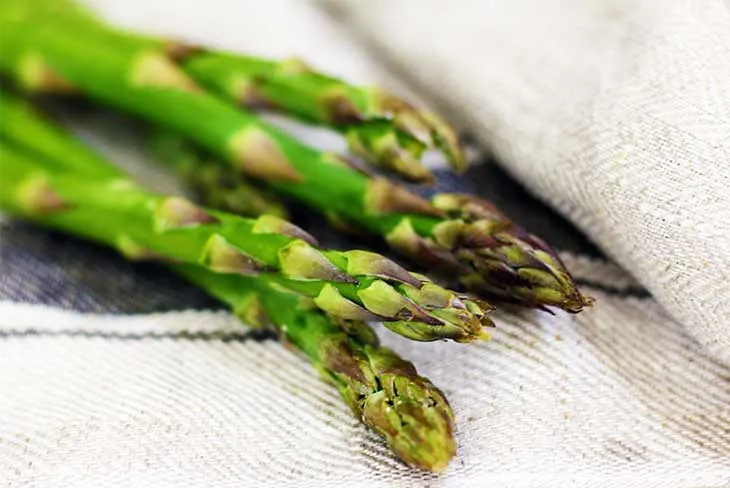 Also, there's a video for this asparagus quiche recipe, below. I just received my new DSLR, a lovely Canon 70D and it's absolutely incredible! It's definitely a step up from my old Nikon D90. I still have A LOT to learn. I'm not the most patient person in the world and hate to follow tutorials and/or instructions, but hopefully, I will learn how to use it to its full potential soon enough. 🙂
I decided to start shooting video recipes as well. I had a few attempts in the past, but they don't count, as I didn't have the right equipment for them. What do you think? How does this video recipe format look to you? I was inspired by BuzzFeed Tasty's videos. I try to follow their format while attempting to discover my own style.
It is difficult because I have really poor lighting in my kitchen. I bought two artificial lights, which I used in this video, but they take a lot of space! I'm sorry I didn't ask Costin to take a photo of me while shooting this video, so you can see what I had to go through. :)) It was so difficult to move in my tiny kitchen, and the lights started to warm up the place soon enough.
I am not 100% ok with how the lighting looks in this video. I have better lighting on my balcony, and that's where I take most of my food photos. Unfortunately, my balcony it is tiny as well. :)) I will try to shoot the next video there, and see how it will look like in natural lighting. It will be a challenge for sure, but I do hope I'll find the right place to shoot my recipe videos in.
So, let me know what you think of this! Your feedback is highly appreciated! This is my first (real) attempt at shooting video recipes, so you'll only see improvements from now on. Your feedback will definitely help me notice the flaws in this and correct them sooner. Thank you! 🙂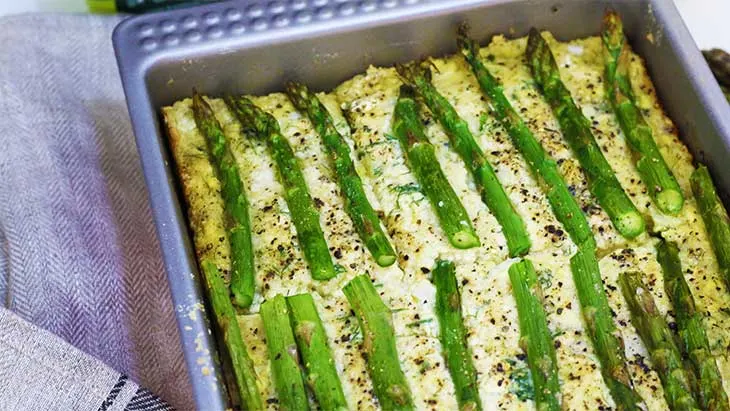 Vegan Crustless Asparagus Quiche Video Recipe
[x_video_embed type="16:9″ no_container="true"][/x_video_embed]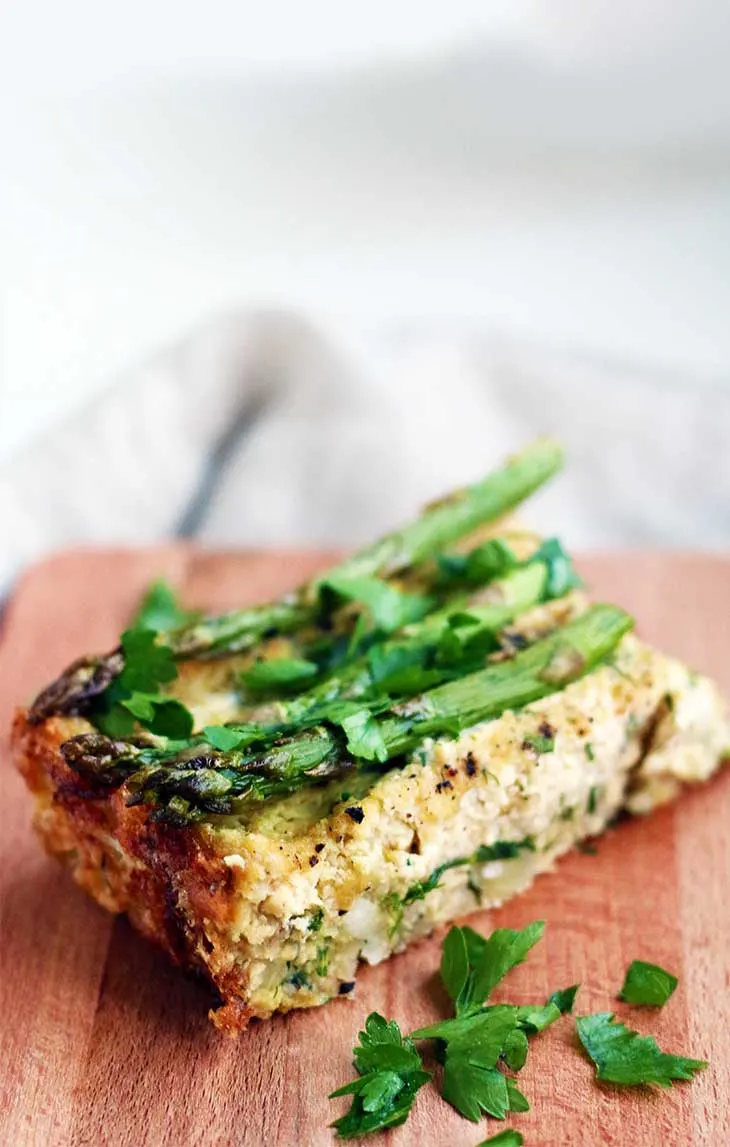 Yield: 6
Vegan Crustless Asparagus Quiche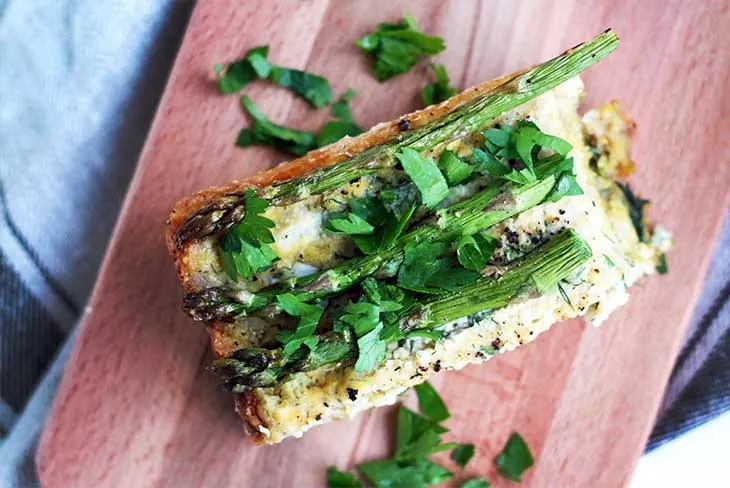 This vegan crustless asparagus quiche is the perfect recipe for you if you want to make a quick & fuss-free quiche recipe! Video included!
Ingredients
500g (2 cups) extra-firm tofu
400ml (13.5oz) soy milk
150g (1 cup) flour, I used gluten-free flour by Schar
a small bunch of fresh asparagus
1 Tbsp psyllium husks, or ground flaxseeds
4 Tbsps dill, chopped
1 medium onion, diced
½ tsp rosemary, ground
½ tsp pepper, ground
½ tsp salt
2 tsps oil
Instructions
In a bowl, mash tofu with a fork. Alternatively, you can use your food processor for this.
Add soy milk and mix.
Add flour and mix.
Add psyllium husks, chopped dill and onion, spices and mix.
Grease a small oven tray (26x20cm).
Add the composition in the tray.
Cut asparagus in half. You'll use only the softer, upper parts for this. Place them over the composition in the tray. Season them with salt and pepper.
Pre-heat the oven at 375F (180C). Place the quiche in the oven.
Bake for 20 minutes.
Let it cool a bit before slicing. Serve with fresh parsley on top and some vegan sour cream.
Nutrition Information
Yield
6
Amount Per Serving
Calories

200
Total Fat

8.4g
Carbohydrates

19.4g
Protein

12g