This spicy oven-roasted chickpeas snack is one of the easiest and healthiest crunchy snacks you can make! You can make this oven-roasted chickpeas snack in various flavors: spicy or sweet.
Roasted chickpeas is a very popular recipe on Pinterest so I finally decided to give it a try and adapt the recipe to fit my taste. I love chickpeas and mostly use it for falafel or hummus, but this awesome chickpeas snack is definitely in my top 3 chickpea recipe favorites!
Why are Chickpeas so Great?
Chickpeas are not only a great source or carbs, fiber and protein, they're also great source of deliciousness and they're very versatile. It will only serve you to get to know this amazing bean and find new ways to incorporate it to your everyday diet.
That's why today I want you to know all you need to know about chickpeas so you won't have any excuse to pay more attention to these powerful little beans. You'll be amazed to find out just how many benefits chickpeas represent to your health, so let's get started!
Benefits of Chickpeas
Let's begin with the fact that chickpeas are a great source of fiber! A high-fiber diet is known to help get glucose levels under control which is great to both prevent diabetes and to help diabetics. The amount of fiber recommended per day for women is 21 to 25 grams and 30 to 38 grams for men. Chickpeas are a simple way to meet this need!
Thanks to its high-fiber content, they also prevent constipation. Fiber also help increase satiety, so it reduces your appetite and it makes you feel full for longer. This makes chickpeas very instrumental if you happen to find yourself on a weight loss journey.
Chickpeas also contain healthy amounts of iron, calcium, zinc, phosphate, magnesium, manganese and vitamin K; these happen to strengthen bone structure and strength. A balanced intake of calcium and iron will do wonders for your bones, while vitamin K improves calcium absorption. On the other hand, iron and zinc help produce collagen and manganese is required for the formation of bone matrix.
Because chickpeas are low in sodium, they help you maintain low blood pressure. Chickpeas are also essential to heart health! They're high in fiber, potassium, vitamin C and B-6, all of these compounds aid heart health and they lower cholesterol, which prevents heart attacks.
Chickpeas are also known to help the prevention of cancer thanks to selenium because it boosts the proper function of liver enzymes and detoxification. Selenium also prevents inflammation and decreases tumor growth rates.
These beans are also rich in choline, which helps with sleep, muscle movement, learning, and memory. It also helps strengthen and maintain the structure of cellular membranes, it also aids the transmission of nerve impulses, the absorption of fat, and it reduces chronic inflammation.
General Facts About Chickpeas
Chickpeas are also known as garbanzo beans. Other names include: Bengal grams, Egyptian peas, ceci beans and kabuli chana.
They are a main ingredient in the Mediterranean diet and in Middle-Eastern food.
Evidence suggests that chickpeas were first cultivated in the Middle East about 7500 years BC.
Looking for a coffee substitute? Ground chickpeas have been used for this purpose since the 18th century and they are still a common caffeine-free alternative.
Chickpea produces individual, small flowers that can be white, pink or violet colored.
Leaves of chickpea are used for the manufacture of blue dyes.
So, here's the recipe for this roasted chickpeas snack! It is as good as it sounds! I made a spicy version. Also, this recipe can be considered a macrobiotic snack! Check it out below.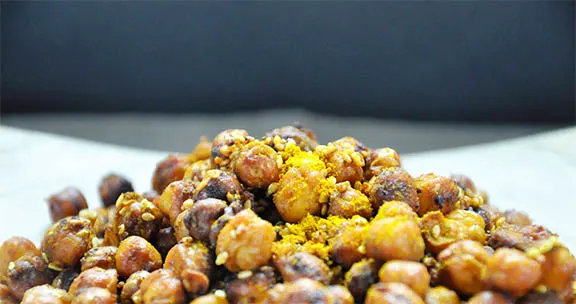 Yield: 2
Spicy Oven-Roasted Chickpeas Snack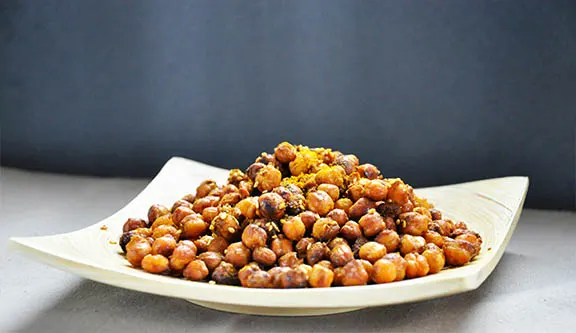 This oven-roasted chickpeas snack is one of the easiest and healthiest crunchy snacks you can make!
Ingredients
1 can (440g | 15 oz) chickpeas, rinsed and drained - you can also use dry chickpeas. Soak them overnight.
2 tsps turmeric powder
1 tsp spicy/smoked/regular paprika, Your choice. I used spicy
2 tsps dry garlic powder
some oil
sea salt, to taste
Instructions
Preheat an oven to 350F (175C).
If you use dry chickpeas: Soak them overnight. Boil them until tender (1-2 hours).
If you use canned chickpeas, go directly to the next step.
Put chickpeas in a bowl. Add spices and salt. Mix well.
Grease a large oven tray. Add chickpeas and spread them evenly. Drizzle with some oil.
Place the tray in the oven. Let them cook for 30-40 minutes, until crispy.
Nutrition Information
Yield
2
Amount Per Serving
Calories

993
Total Fat

32.2g
Carbohydrates

127.3g
Protein

48.5g