Are you ready for the easiest, healthiest lasagna recipe ever? I'm talking about this skinny zucchini lasagna – it's absolutely perfect for a keto or low carb diet! Yum!
Do you remember my last lasagna-related posts? I was so excited about this lasagna series that I found some new lasagna-based twists that taste simply amazing! And just when I thought the fun was over, I came across another lasagna-inspired delicious dish…it's skinny zucchini lasagna time!
What do we love most about the classic lasagna? Layers of perfect flavor, delicious tomato sauce, perfumed Mediterranean spices, and herbs… and it's so creamy that it seems made in Heaven!
Okay, what about the bad part about lasagna? Carbs. Pasta = lots and lots of carbs, unfortunately. And although that doesn't stop me from eating some of my favorite vegan lasagnas much more often than I should, I sometimes feel bad about it. I often think about all those empty calories and wonder if I should've had something more nutritious instead.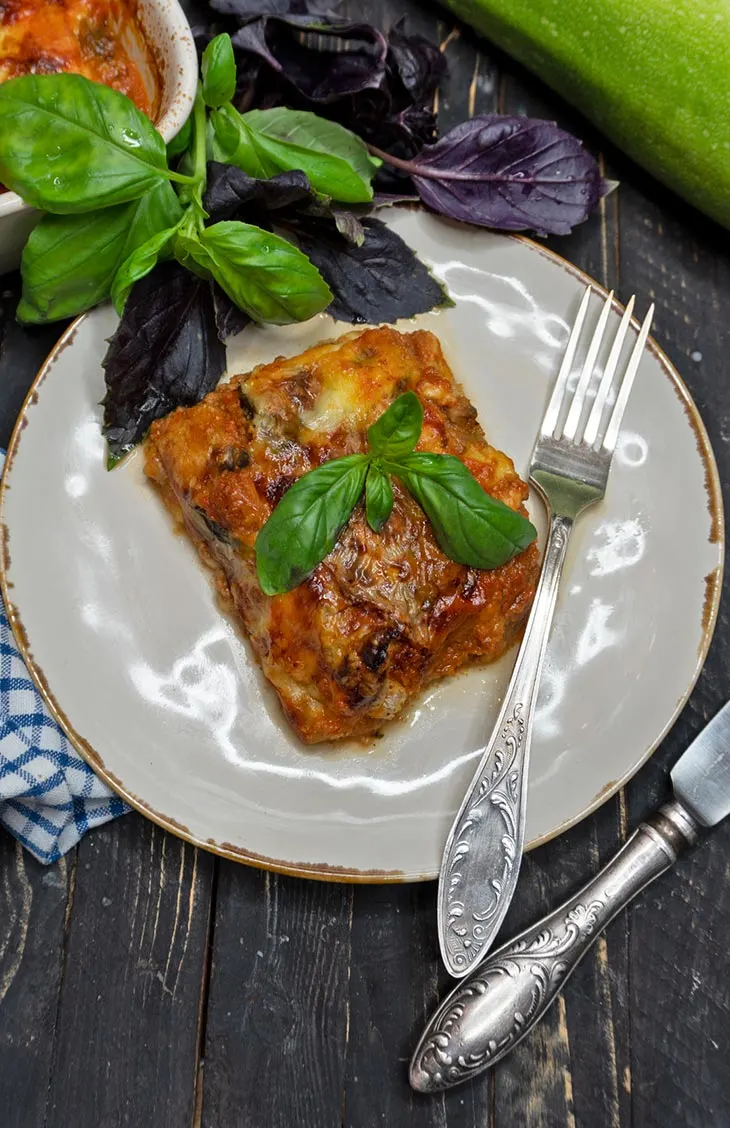 So that's why I was really happy when I found the vegan cabbage lasagna recipe that I shared with you all a while ago. But then something unexpected happened: I randomly came across a new vegan lasagna recipe, but this time with a different star ingredient: zucchini!
I decided I need to try the recipe and it turned out so, so, sooooo tasty! That's why I knew that I had to write this recipe on my blog so that anyone can enjoy this delicious and nutritious treat. Are you ready?
Of course, there's nothing wrong with indulging in some pasta-containing lasagna from time to time. It's filling and delicious and, let's be honest, it's not the worst thing you could eat.
But there's something to the way we feel after eating a low-carb meal. It really makes me feel good like I just made an important step towards getting rid of that excess weight. Do you agree?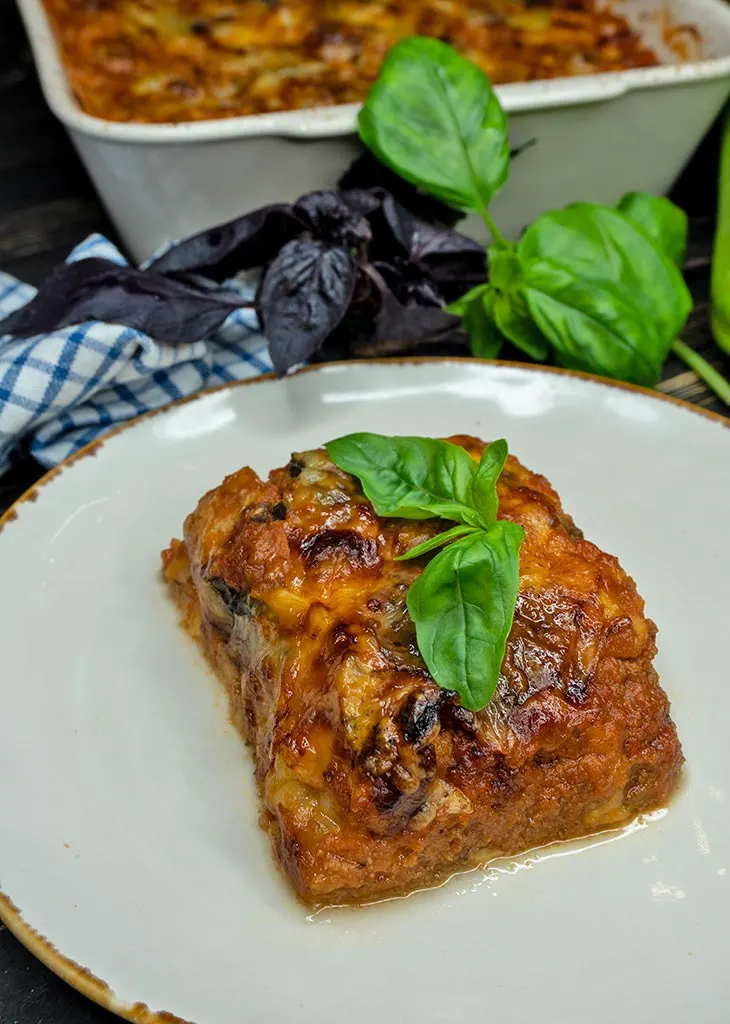 I think we should all try to have some low carb meals at least once a week – our bodies will be thankful and will reward us. And, of course, you won't have to give up anything when it comes to the taste.
So, the only major difference regarding today's recipe is that we will use zucchini instead of pasta. That's it! None of the creamy texture will go away, I promise! And none of the satisfying flavors either.
None of the deliciousness and none of the fun of this dish! So trust me once again, just like you have done with so many other recipes, and you will not be disappointed. You will be back here asking for more, I am sure of it! And that would be absolutely no problem, as you can prepare and eat this dish as often as you like because it has 0 guilt attached!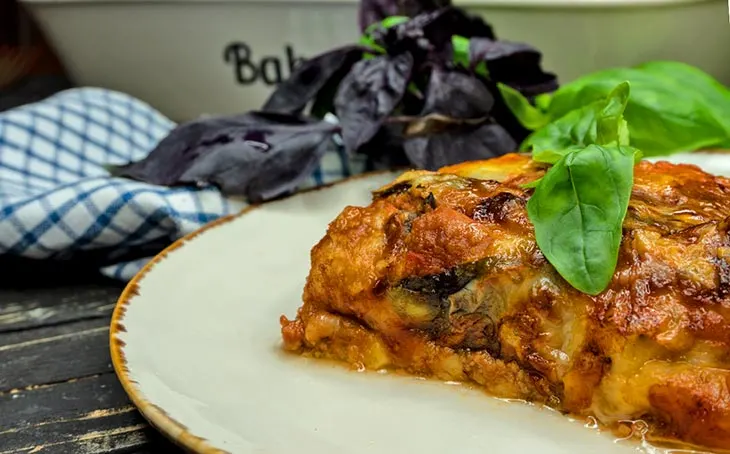 The preparation steps for this dish are the same as you would do for a normal vegan or vegetarian lasagna. Except for the fact that, as I said, we will change the pasta for zucchini.
Zucchini preparation is also really simple. You only need to cut it into thin ribbons, and then drain the excess water. To make sure that you will end up with the perfect texture, I advise you also grill the zucchini ribbons one minute on each side. Bonus flavor and amazing texture!
Being on a diet and trying to reduce carbs have never been easier and tastier! 🙂 Some people think that eating healthy is bland and boring but oh, they're so wrong!
Just try this recipe and you will get convinced that you won't be missing on anything from the classic recipe. Once you go for zucchini lasagna, you never go back!
Many of the other recipes for zucchini lasagna that you will find online contain meat and dairy cheese as the main ingredients. Although that's delicious, I, of course, adapted the recipe in order to make it perfect for a vegan diet.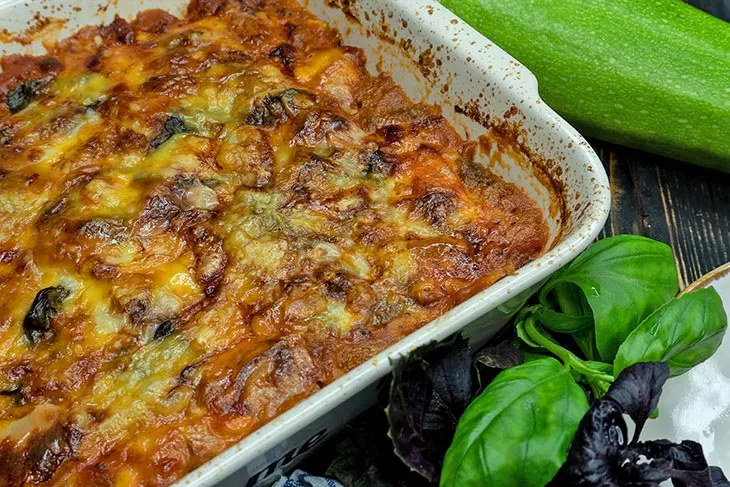 In other words, if you are looking for a non-meat and non-dairy variation for this incredible dish, search no more! Let's get to the kitchen, follow my instructions and you will end up with an amazing meal, perfect to share with all your friends and family.
Oh, and did I mention this recipe is perfect for meal prep as well? Yup, it's true!
As always, don't forget to let me know how this recipe turned out for you, I'm so curious! Happy cooking!
Yield: 4
Skinny Zucchini Lasagna | Keto / Low Carb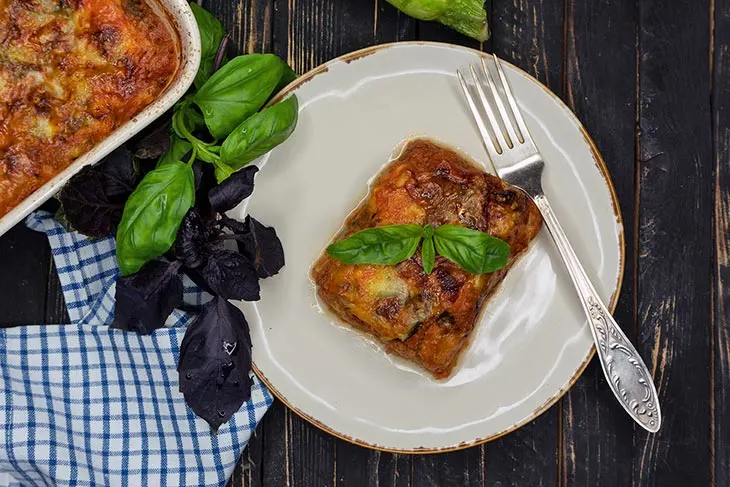 Are you ready for the easiest, healthiest lasagna recipe ever? I'm talking about this skinny zucchini lasagna - it's absolutely perfect for a keto or low carb diet! Yum!
Total Time
1 hour
20 minutes
Ingredients
2 large zucchini, sliced
200g (2 cups) textured vegetable protein, soy
1 large golden onion, chopped
200g (1 ½ cups) mushrooms, chopped
400g (2 cups) chopped tomatoes
200g (¾ cup) vegan cheddar, shredded
200g (¾ cup) vegan mozzarella, sliced
fresh basil, chopped
2 Tbsp extra virgin olive oil
salt
black pepper
Instructions
Boil 400 ml of water. Add some salt. Add the textured soy and leave it for over 20 min.
Warm 2 Tbsp of olive oil in a large skillet over medium heat. Add 1 chopped onion. Fry until translucent (5-8 min).
Add the already prepared textured soy and chopped mushrooms. Season with salt and black pepper. Mix. Cook over medium heat for 8-10 min.
Pour in 400 ml of crushed tomatoes with juice. Cook for another 15-20 min until the sauce becomes thicker.
Remove the skillet from the heat and set aside for 10 min.
Slice 2 large zucchini.
Spread some sauce from the skillet over the bottom of a baking dish. Layer the sliced zucchini on top.
Add a layer of mozzarella, followed by one layer of shredded cheese and basil leaves.
Top with tomato sauce. Repeat until the dish is full.
Sprinkle shredded cheese on top for the crust.
Bake for 20 min in the preheated oven at 200 C.
Nutrition Information
Yield
4
Amount Per Serving
Calories

645
Total Fat

27g
Unsaturated Fat

0g
Carbohydrates

71g
Fiber

17g
Sugar

12g