Try these vegetarian stuffed button mushrooms with carrots and celeriac served with garlicky rice noodles. They're healthy, simple and delicious!
I'm a huge mushrooms fan! I love their texture and how they can easily replace meat in your diet. High in proteins and low in calories, they're just perfect for anyone who wants to maintain a healthy lifestyle! Button mushrooms are my favorite because they're easy to cook and have a really a soft texture.
Easy and diet-friendly, this stuffed button mushrooms recipe can be made by anyone, no special cooking skills needed. These stuffed button mushrooms can be served as a main or side dish or even a party appetizer!
The rice noodles are also really healthy and super-fast to cook! Just put some boiling water over them and they'll be ready in no time! The sauce although must have a strong flavor or else they'll be pretty tasteless, that's why I chose one with a garlic flavor.
Enjoy!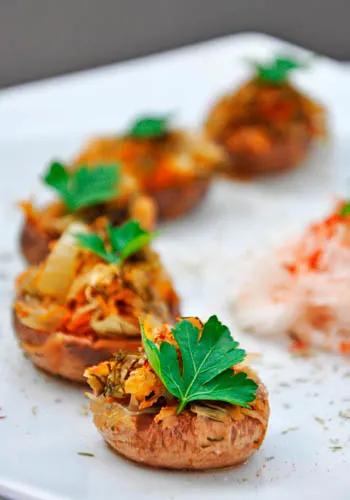 Yield: 4
Stuffed Button Mushrooms with Carrots and Celeriac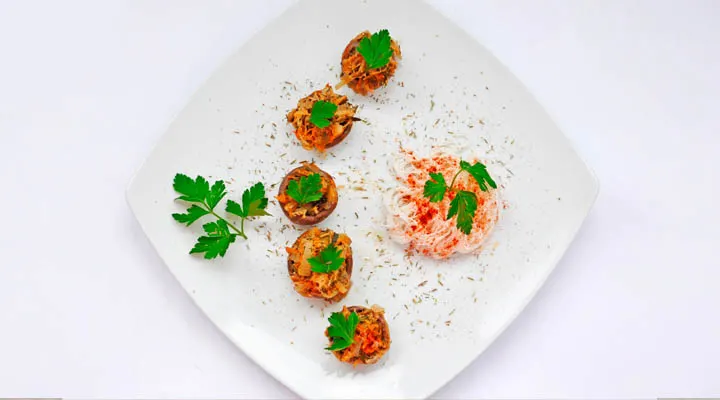 Try these vegetarian stuffed button mushrooms with carrots and celeriac served with garlicky rice noodles. Healthy, simple and delicious!
Ingredients
Stuffed button mushrooms:
24 button mushrooms
25g (¼ cup) celery root, grated
1 small carrot, grated
1 medium onion, diced
4 scallions, chopped
5g (⅓ cup) dill, chopped
parsley, for garnish
½ tsp ground coriander
1 tsp dry thyme
ground pepper, to taste
sea salt, to taste
2 Tbsps olive oil
Rice Noodles:
rice noodles for 4 – I can't tell you how much. I really have a problem with figuring out how much pasta should I make for each serving. I always tend to make more than need.
1 tsp sweet paprika
3-4 garlic cloves, mashed
½ Tbsp lemon juice for vegans or 2 Tbsps yoghurt/sour cream for vegetarians
sea salt, to taste
Instructions
Stuffed button mushrooms:
In a large bowl mix the following ingredients: grated celery root and carrot, diced onion, chopped scallions and dill, coriander, thyme, pepper and salt.
Remove the mushrooms' stems.
Preheat the oven at 375° F.
Place the mushrooms in an oven tray.
If you use butter – melt it in a small saucepan then pour a little in each mushroom.
If you use oil, just pour a few drops in each mushroom.
Stuff each mushroom with about 1 or 1 1/2 tsp of stuffing.
Pour 1/4 cup of water in the tray. We want the mushrooms to be moist not dry.
Cover the tray with some aluminum foil.
Place it in the oven and let it cook for about 30 minutes.
Rice Noodles
Boil some water in a saucepan. When reaching boiling point add the rice noodles and remove from heat. Let them stay in the water for a couple of minutes then move them into a large bowl.
In a small bowl add the mashed garlic cloves, sea salt, lemon juice or yoghurt and mix all together.
Pour the sauce over the noodles.
Sprinkle with lovely ruby colored sweet paprika and garnish with parsley.
Nutrition Information
Yield
4
Amount Per Serving
Calories

119
Total Fat

6.8g
Carbohydrates

12g
Protein

2.2g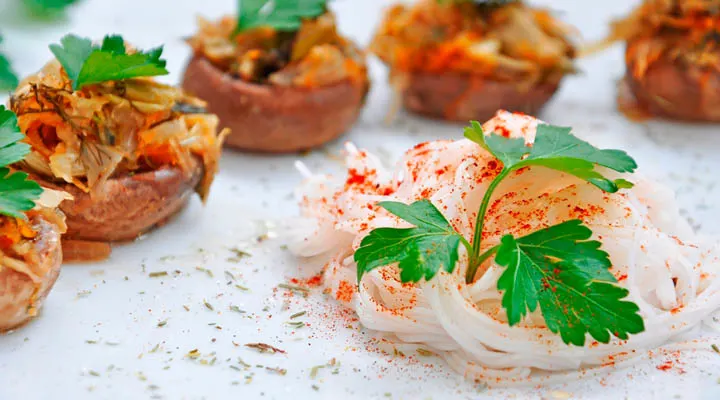 Do you love stuffed mushrooms? Try this too: Basic Stuffed Portobello Mushrooms.