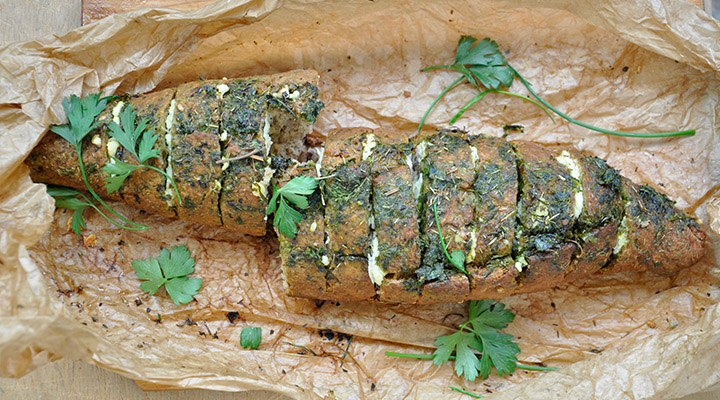 Reteta pentru paine umpluta cu branza si verdeturi. Painea este crocanta la exterior, moale la interior. Poate fi servita pe post de aperitiv. | This whole grain stuffed bread with cheese and herbs recipe is great appetizer bread and goes great served with a dip or a spread recipe. 
  Recipe in English
  Reteta in Romana
I've seen so many great stuffed bread recipes on Pinterest that I decided to make one myself and see if it's as tasty as it looks. Well, it was!
I tried a healthier version, using whole grain bread and healthy teleme cheese from the farmer's market (don't use Cheddar ..bleah). It was dreamy! You'll absolutely love the crunchy crust and hot, melty cheese middle. It is great served as a sandwich, appetizer or snack.
You have to serve this stuffed bread with cheese when it's steamy hot, even though there's a risk you'll urn your fingers trying to eat it
It's worth it!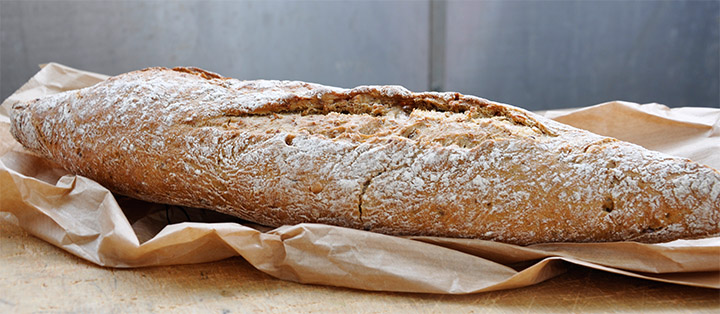 Whole Grain Stuffed Bread with Cheese and Herbs
Ingredients:
one whole grain bread, use one that is a bit longer and semi-flat
4-5 garlic cloves, mashed
half a bunch of parsley
1 tsp dry oregano
1 Tbsp olive oil
teleme cheese, thin 0,5-1cm slices
Directions: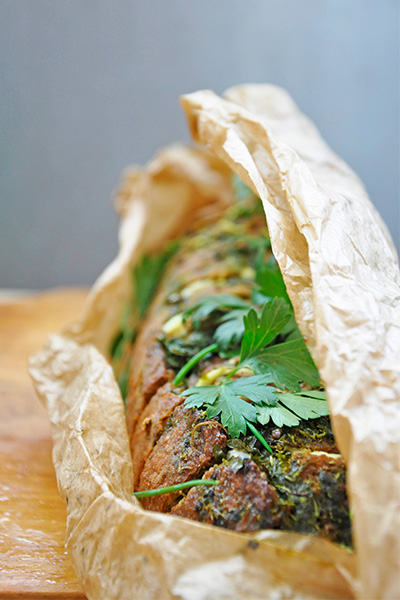 Pre-heat the oven at 180C.
Take some parchment paper, enough to wrap the bread, and soak it in water. Crumple it and drain it. It just has to be wet.
Place the bread on the wet parchment paper.
Add the parsley, oregano, mashed garlic and olive oil in the blender and blend.
Partially slice the bread.
Cover the bread with the herbs and garlic paste. Also add the composition between the slices.
Add 1 slice of cheese between each 2 slices of bread.
Wrap the bread and place in oven for 20 minutes.
After 20 minutes, partially unwrap it and leave it there for another 5-7 minutes.
Serve this stuffed bread with cheese steamy hot!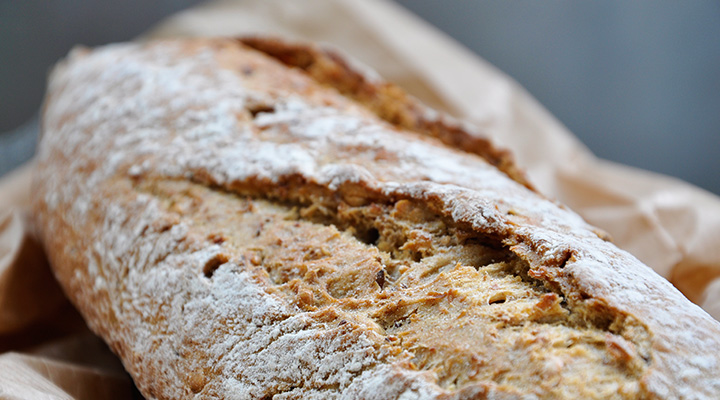 Am vazut mai demult niste retete incredibile de paine umpluta cu branzeturi si verdeturi pe Pinterest si am decis ca trebuie sa le incerc si eu! Aratau atat de bine incat instantaneu incepea sa iti ploua in gura
Eu am incercat o varianta mai sanatoasa de paine umpluta cu branza, folosind paine integrala si branza telemea, in cantitati ceva mai mici.  A iesit de vis! Painea este crocanta la exterior, moale si aromata la interior si merge de minune servita pe post de aperitiv, snack, sau sandvis.
Trebuie neaparat sa serviti aceasta paine umpluta cu branza si verdeturi, imediat dupa ce ati scos-o din cuptor, cand inca este aburinda si va chinuiti sa rupeti din ea, cu riscul de a va arde buricele degetelor :)) Merita riscul! O sa va placa la nebunie aceasta reteta de paine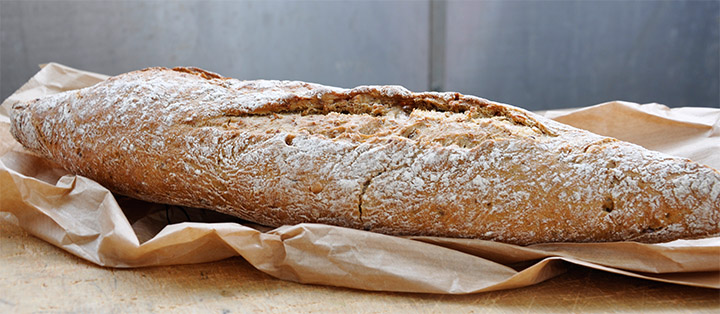 Paine umpluta cu branza si verdeturi
Ingrediente:
o paine integrala, cu o forma alungita si semi-plata - eu am folosit pentru aceasta reteta de paine umpluta, o paine numita painea padurarului. 
4-5 catei de usturoi, pisati
jumatate de legatura de patrunjel
1 lg oregano
1 Lg ulei de masline
branza telemea veche, cateva feliute subtiri cam de 0,5-1cm grosime
Instructiuni: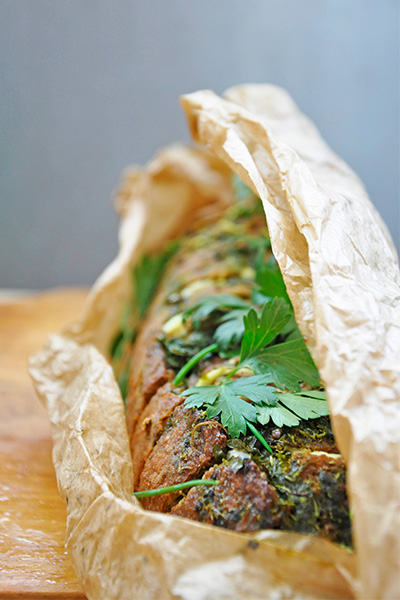 Se pre-incalzeste cuptorul la 180C.
Se ia o hartie de copt de dimensiuni suficient de mari pentru a impacheta painea aleasa. Se baga sub jetul de apa si se umezeste. O puteti mototoli, o bagati in apa si apoi o stoarceti si o intindeti. Puneti apoi painea pe ea. Acesta e secretul pentru ca painea sa fie crocanta la exterior si moale la interior.
Se feliaza partial (cresteaza) painea.
Se adauga in blender usturoiul pisat, patrunjelul, oregano si uleiul de masline. Se blenduiesc pana formeaza o pasta.
Se unge painea cu pasta de verdeturi si se baga compozitia si intre feliile taiate.
Se taie branza telemea veche in feliute subtiri si se baga cate o felie de branza intre fiecare 2 felii taiate.
Se impacheteaza painea si se baga la cuptor pt aprox 20 de minute.
Dupa 20 de minute se desface putin hartia de copt si se mai lasa la cuptor 5-7 minute pentru a deveni crocanta la exterior.
Se serveste fierbinte!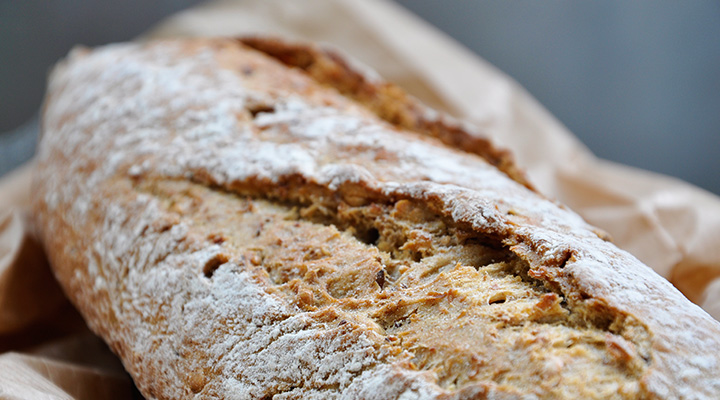 Cooksnaps