Change language | Schimba limba: Romanian
Want to impress your guests or family? Cook this spicy carrot penne pasta with mustard-parsnip sauce and you'll amaze even the pickiest eaters! Vegan, healthy and delicious! 
First of all, this original carrot penne pasta recipe was made by my father! I was really amazed because he usually doesn't cook light, fresh recipes, as he's more a "comfort food"  type of cook. This carrot penne pasta recipe is very different from his usual pasta recipes and that is why I liked it so much. You'll absolutely love the taste and textures! It's abundant with flavors and all of them blend so well together.
Parsnip is really amazing! We recently started using it more in recipes. I used to add it only in soups, but now I see what I've missed! This parsnip-mustard sauce is a keeper! You can use it as a dip or spread or even as a standalone pasta sauce.
I guarantee you'll love my dad's carrot penne pasta dish. I ate double servings!! It's a super healthy, low fat, vegan recipe you'll love, plus you can easily make it gluten-free too!
P.S. You should also try my Cheesy Spaghetti with Dill and Green Pepper Sauce recipe! It's from my "not-yet-vegan" times but it's still one of my favorites! Also, Julia made an awesome carrot pasta recipe on her blog. You should check it out! The ginger-lime peanut sauce sounds amazing!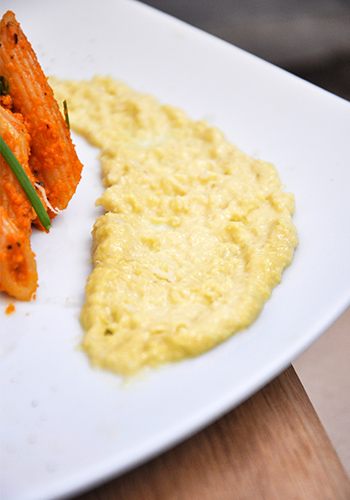 Spicy Carrot Penne Pasta with Mustard and Parsnip Sauce
Quick and easy vegetarian pasta recipe for Spicy Carrot Penne Pasta with Mustard and Parsnip Sauce.
Ingredients
4 cups whole wheat penne pasta (or GF pasta)
4 carrots, sliced
4 parsnips, sliced
olive oil
salt and pepper, to taste
1 tsp dry oregano
2-3 garlic cloves, mashed
3 tsps good quality mustard
5 tsps tomato paste
fresh chopped basil
grated parmesan (optional)
Instructions
Boil pasta for about 10 minutes.
For carrot sauce:
Put sliced carrots in the food processor and blend until they turn into a paste.
Heat some olive oil in a medium pan. Add carrot paste, mashed garlic cloves, tomato paste, oregano, salt and pepper. Cook for about 10 minutes then remove from heat.
Mix with pasta and add fresh chopped basil and grated parmesan on top.
For parsnip sauce:
Put sliced parsnips in the food processor and blend until smooth.
Heat a little bit of olive oil in a small pan and add the parsnip
Notes
Use smaller/younger parsnips in order to get a creamier sauce.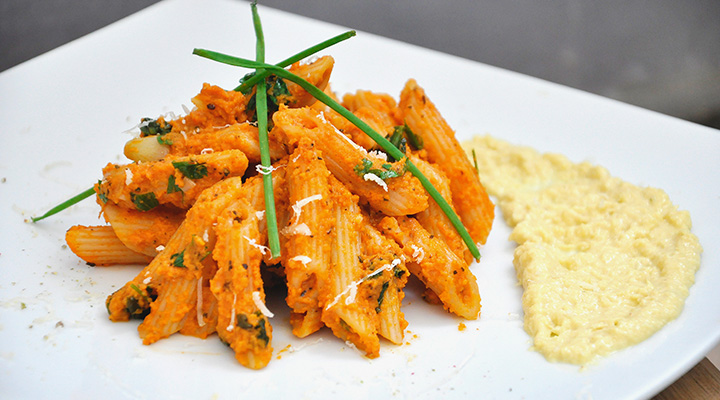 Spicy Carrot Penne Pasta with Mustard-Parsnip Sauce
was last modified:
August 6th, 2014
by