Change language | Schimba limba: Romanian
This is a delicious vegetarian recipe for lentil patties with olives and herbs.  It's very easy to make and it will impress even your non-veg friends! 
I LOVE veggie patties!!! Lentils, chickpea, beans, quinoa, millet… I love trying new base ingredients for my veggie patties recipes and experiment with flavors and textures. Even when I wasn't a vegetarian, I don't remember being so crazy about meatballs or meat patties. I rarely ate them, but now, no week passes by without trying a new vegetarian patty recipe.
Red lentils are among my favorite ingredients. I love them because they don't have to be boiled for a long time (15 minutes is enough) and also because they're very nutritious, have a nice color and a great taste! I don't recommend you to use green lentils. Yuck! I've tried cooking with them once and I really didn't like the taste, nor how they looked. Plus, it takes an hour to cook…so…I'll pass!
Very Important – Please Read!!! 
If you want your recipe to look and taste just like this one, all you have to do is follow the recipe! I get really frustrated when I receive comments like "Why didn't my recipe turn out like this? What did I do wrong? I replaced half of the ingredients in the list, but…why didn't it turn out like you said it would?!". This rarely happens, but still…really?! ….really?!?
You should know that I test my recipes multiple times before posting them on this blog. I always make sure they're worth mentioning and that all steps and ingredients are written. I assure you, if you follow the recipe, just as it is, it's IMPOSSIBLE not to get it right :). If you start replacing some ingredients with others, good for you! I encourage experimenting when it comes to cooking, but don't blame me if it didn't turn right.


Lentil Patties with Olives and Herbs
This is a delicious vegetarian recipe for lentil patties with olives and herbs. It's very easy to make and it will impress even your non-veg friends!
Serves:
15 lentil patties
Ingredients
1 cup red lentils
1 bunch parsley, chopped
1 medium onion, diced
1 potato, boiled with its skin on, peeled afterwards and mashed
4 Tbsps nutritional yeast
½ cup sliced black olives
breadcrumbs – about ⅔ cup, more or less
sea salt and ground pepper, to taste
Instructions
Add lentils in a pot and cover them with water. From the moment they start boiling, let them boil for about 15 minutes and then remove from heat.
Strain the lentils very well and put them in a large bowl. Start mashing them a little, using a fork.
Add potato, nutritional yeast, chopped onion, parsley, sliced olives, breadcrumbs, sea salt and pepper.
Using a fork, or your hands, start mixing the composition. It has to be sticky and easy to shape. If it's not it means that you didn't strain the lentils very good and the composition is too wet. No problem, just add more breadcrumbs until it has a dough-like consistency.
Spray a non stick pan with some oil. Not too much. Put each patty on the frying pan and let it fry about 1-2 minutes on each side.
Notes
You can bake them too. Grease a large pan and place the patties. Cook 15 minutes on one side and another 15 on the other, at 180C.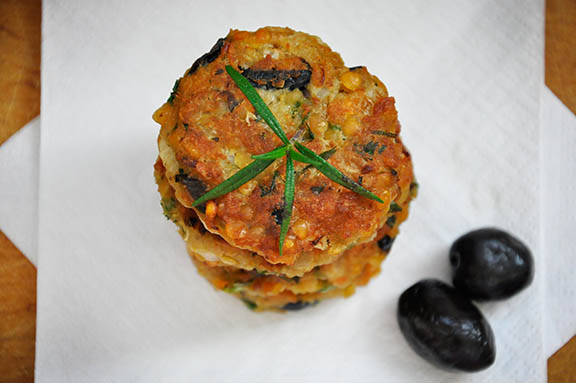 Lentils fan? Check out these delicious red lentil recipes: Lentils, Veggies and Mushroom Bake, Red Lentil Creamy Pâté, Red Lentil Veggie Burger Patties with Greens and Creamy Red Lentil Soup .
Lentil Patties with Olives and Herbs
was last modified:
May 20th, 2015
by