This is a delicious vegetarian recipe for lentil patties with olives and herbs.  It's very easy to make and it will impress even your non-veg friends! | Reteta vegetariana, sanatoasa de chiftelute de linte cu masline si verdeturi. Chiftelutele se pot servi ca atare sau se pot manca in burgeri vegetali si alaturi de diverse garnituri.

  Recipe in English
  Reteta in Romana
I LOVE veggie patties!!! Lentils, chickpea, beans, quinoa, millet… I love trying new base ingredients for my veggie patties recipes and experiment with flavors and textures. Even when I wasn't a vegetarian, I don't remember being so crazy about meatballs or meat patties. I rarely ate them, but now, no week passes by without trying a new vegetarian patty recipe.
Red lentils are among my favorite ingredients. I love them because they don't have to be boiled for a long time (15 minutes is enough) and also because they're very nutritious, have a nice color and a great taste! I don't recommend you to use green lentils. Yuck! I've tried cooking with them once and I really didn't like the taste, nor how they looked. Plus, it takes an hour to cook…so…I'll pass!
Very Important – Please Read!!! 
If you want your recipe to look and taste just like this one, all you have to do is follow the recipe! I get really frustrated when I receive comments like "Why didn't my recipe turn out like this? What did I do wrong? I replaced half of the ingredients in the list, but…why didn't it turn out like you said it would?!". This rarely happens, but still…really?! ….really?!?
You should know that I test my recipes multiple times before posting them on this blog. I always make sure they're worth mentioning and that all steps and ingredients are written. I assure you, if you follow the recipe, just as it is, it's IMPOSSIBLE not to get it right :). If you start replacing some ingredients with others, good for you! I encourage experimenting when it comes to cooking, but don't blame me if it didn't turn right.
Also, don't forget, if you liked a recipe on Gourmandelle and tried to make it yourself, you can share your photo using the CookSnaps app below. If you have any tips on how to improve the recipes, just leave a comment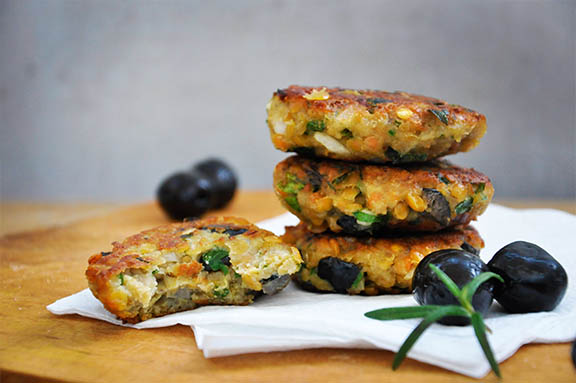 Lentil Patties with Olives and Herbs
This is a delicious vegetarian recipe for lentil patties with olives and herbs. It's very easy to make and it will impress even your non-veg friends!
Ingredients
1 cup red lentils
1 bunch parsley, chopped
1 medium onion, diced
1 egg, beaten (or 2 medium potatoes, boiled and mashed)
1/2 cup sliced black olives
breadcrumbs – about 2/3 cup, more or less
sea salt and ground pepper, to taste
Instructions
Add lentils in a pot and cover them with water. From the moment they start boiling, let them boil for about 15 minutes and then remove from heat.
Strain the lentils very well and put them in a large bowl. Start mashing them a little, using a fork.
Add the beaten egg or mashed potato, chopped onion, parsley, sliced olives, breadcrumbs, sea salt and pepper.
Using a fork, or your hands, start mixing the composition. It has to be sticky and easy to mould. If it's not it means that you didn't strain the lentils very good and the composition is too wet. No problem, just add more breadcrumbs until it has a dough-like consistency.
Spray a non stick pan with some oil. Not too much. Put each patty on the frying pan and let it fry about 1-2 minutes on each side.
Notes
You can bake them too. Grease a large pan and place the patties. Cook 15 minutes on one side and another 15 on the other, at 180C.
http://gourmandelle.com/chiftelute-de-linte-cu-masline-lentil-patties-olives-herbs/
Copyright: 2014 Ruxandra Micu | www.gourmandelle.com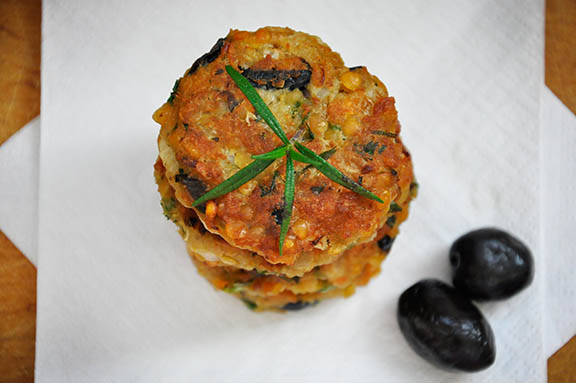 Lentils fan? Check out these delicious red lentil recipes: Lentils, Veggies and Mushroom Bake, Red Lentil Creamy Pâté, Red Lentil Veggie Burger Patties with Greens and Creamy Red Lentil Soup .
Iubesc chiftelutele vegetariene! Linte, naut, fasole, quinoa, mei…ador sa folosesc aceste ingrediente ca baza pentru retetele de chiftelute vegetariene. Mereu experimentez cu noi arome si texturi. Chiar si cand nu eram vegetariana, nu imi amintesc sa fi fost asa innebunita dupa chiftelutele cu carne. Acum, nu exista saptamana sa treaca fara sa nu mananc chiftelute vegetariene.
Lintea rosie este printre ingredientele mele preferate. O iubesc nu numai pentru ca este extrem de versatila, ci si pentru ca se fierbe foarte rapid (15 minute sunt suficiente), este foarte bogata in nutrienti, are o culoare superba si un gust minunat! Nu va recomand lintea verde. Am incercat sa o folosesc mai demult insa m-am enervat pentru ca trebuie fiarta foarte mult timp, nu are acelasi gust ca cea rosie si nici culoarea nu este cea mai apetisanta.
Orice reteta de chiftelute vegetariene se poate face atat pe aragaz, cat si la cuptor. Eu adesea prefer metoda prajita, in fff putin ulei, deoarece sunt gata mult mai rapid decat la cuptor, iar de cele mai multe ori cand gatesc, sunt pe graba. Am mentionat mai jos si cum se procedeaza in cazul in care preferati sa le rumeniti in cuptor.
Foarte important! Va rog cititi! 
Daca vreti sa va iasa reteta exact cum mi-a iesit si mie, tot ce trebuie sa faceti este sa o urmati intocmai! S-a intamplat de cateva ori sa primesc niste comentarii de genul "De ce nu mi-a iesit reteta? Cu ce am gresit? Am inlocuit peste jumatate din ingredientele mentionate…dar totusi..de ce nu a iesit ca in poze?" Serios?! Seriooos?!
Va asigur ca imi testez retetele de mai multe ori inainte de a le publica pe blog. Mereu ma asigur ca merita sa fie mentionate si ca am scris toate ingredientele si toti pasii. Va promit ca daca urmati reteta in tocmai, va fi imposibil sa nu va iasa.
Dar, daca incepeti sa inlocuiti anumite ingrediente, rezultatul nu va mai fi acelasi. Nu ma intelegeti gresit, incurajez experimentatul cand vine vorba de gatit! Insa, daca nu ati respectat reteta si nu va iese asa cum ati dorit, nu este vina mea
.
De asemenea, nu uitati, daca v-a placut o reteta pe Gourmandelle si ati incercat sa o faceti, puteti adauga poza retetei prin aplicatia CookSnaps de mai jos, pentru a fi apreciata de toata lumea! Orice sfat pentru a imbunatati reteta este mai mult decat bine primit!

Chiftelute de linte cu masline si verdeturi
Ingrediente pentru 15 chiftelute de linte rosie:
1 cana linte rosie
o legatura de patrunjel, maruntit
o ceapa medie, maruntita
un ou, batut (sau 2 cartofi de dimensiuni medii, fierti in coaja si facuti piure)
1/2 cana masline negre feliate
pesmet – aprox. 2/3 cana
sare de mare si piper, dupa gust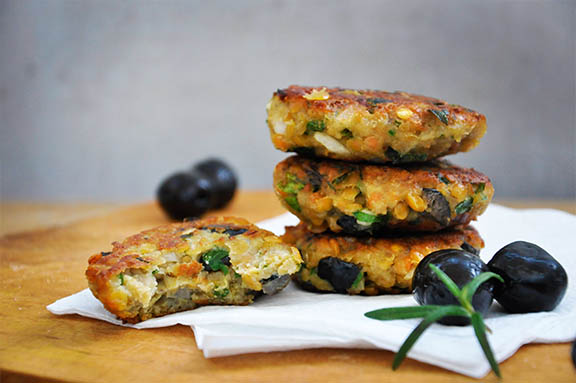 Instructiuni:
Fierbe lintea timp de 15 minute, apoi scurge-o bine de tot si pune-o intr-un bol. Paseaza lintea folosind o furculita.
Adauga oul/cartofii piure, ceapa maruntita, patrunjel, maslinele feliate, pesmet,  sare si piper.
Amesteca bine. Compozitia trebuie sa fie lipicioasa si usor de modelat. Daca nu e, inseamna ca nu ai scurs bine lintea. Nu e nicio problema, adauga pesmet pana ajungi la consistenta dorita.
Incinge putin ulei intr-o tigaie. Nu trebuie sa folosesti mult. Prajeste chiftelutele 1-2 minute pe fiecare fata.
Sfat: Chiftelutele se pot face si la cuptor. Se unge o tava cu putin ulei si se aseaza chiftelutele. Se lasa la cuptor, la 180C, 15 minute pe o parte si 15 pe cealalta.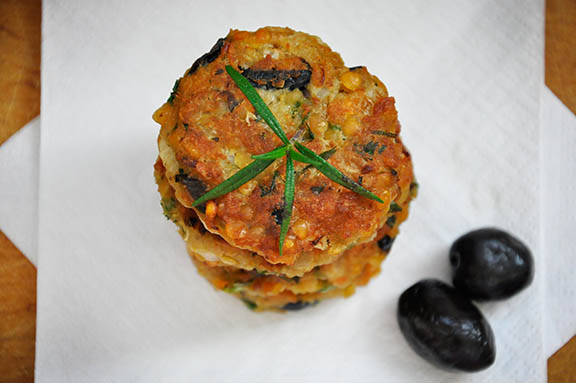 Fani linte rosie? Iata mai multe retete delicioase cu linte: Drob Vegetarian, Pate cremos de linte rosie, Chiftelute de linte rosie si Supa crema de linte rosie.
Cooksnaps