Beets fan? Prepare for an explosively delicious dish – za'atar baked beets! This recipe is a mix of oven-roasted beetroot and za'atar spice mix and it works wonderfully for lunch!
If you're a fan of beets looking for a recipe that finally puts this root vegetable into the spotlight, you are in the right place.
I like beets a lot and, ever since I started gardening and growing fresh produce in my own garden, I started to deeply fall in love with each and every fruit and veggie out there. Sure, I liked them all equally before, but now I'm almost obsessed! It's so impressive to watch something grow from a tiny seed.
Growing my own fruits and vegetables is a huge inspiration for me to create new and exciting recipes that will perfectly combine their natural aroma with other fresh ingredients. This is the case with this za'atar baked beets recipe as well!
In the picture below you can see the first beets I ever grew last year in my garden: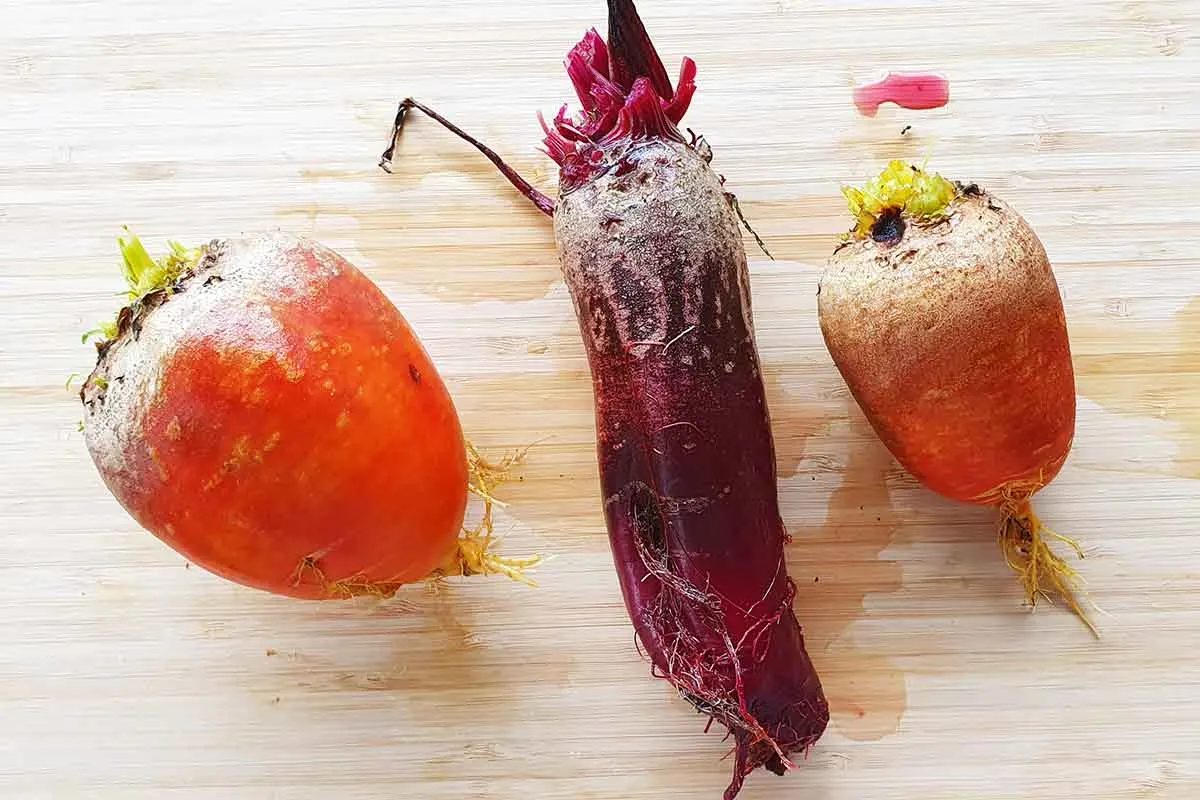 As you can see in the picture too, I recommend using different types of beets for a more impressive result. I used red beetroot and yellow beetroot. Their flavor is slightly different as well, which means you'll end up with a more complex final dish. I mean… just look at all these colors and tell me you're not excited to make some baked beets as soon as possible! Eat the rainbow, people!
I chose to add some potatoes to the mix as well, cut into fries. Because beetroot is so sweet, it only makes sense that the almost-neutral taste of the potato will balance the entire combo.
Psst! In case you don't want this recipe to be vegan, you can also add some slices or small cubes of Brie or Camembert cheese before putting the beetroot into the oven. This combo works so well. If you're following a vegan diet, you can omit this step completely or add a couple of slices of vegan cheese – homemade or store-bought.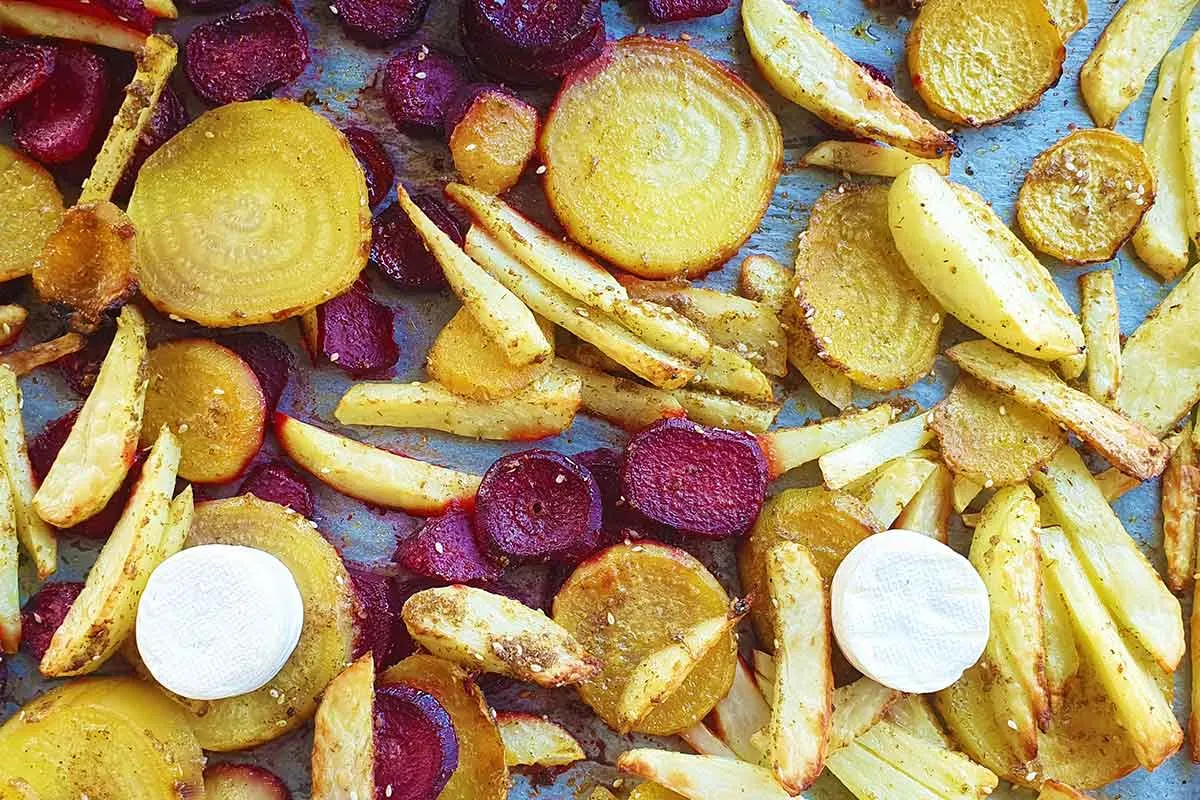 What about this za'atar thingy, though?
In case you don't know what that is, let me elucidate the mystery for you: za'atar is a mix of dried spices such as oregano or thyme, combined with roasted/toasted spices such as sesame seeds, cumin, sumac, and coriander.
Za'atar is used, most of all, in Middle Eastern cuisine and it is considered to be a staple spice combo in lots of dishes. You can use it to rub meats (chicken, fish, lamb, or beef), you can put it on top of creamy appetizers such as hummus or baba ganoush or you can use it for oven-roasted vegetables.
Of course, the options don't end here and you can add za'atar into any other dish you feel like (for example, I feel like adding it into… tons of things!). In case you need more inspiration for how to use this miracle spice combo, you can try this Baked Scallions with Za'atar and Olives or this Manakish Zaatar. Get ready to fall in love!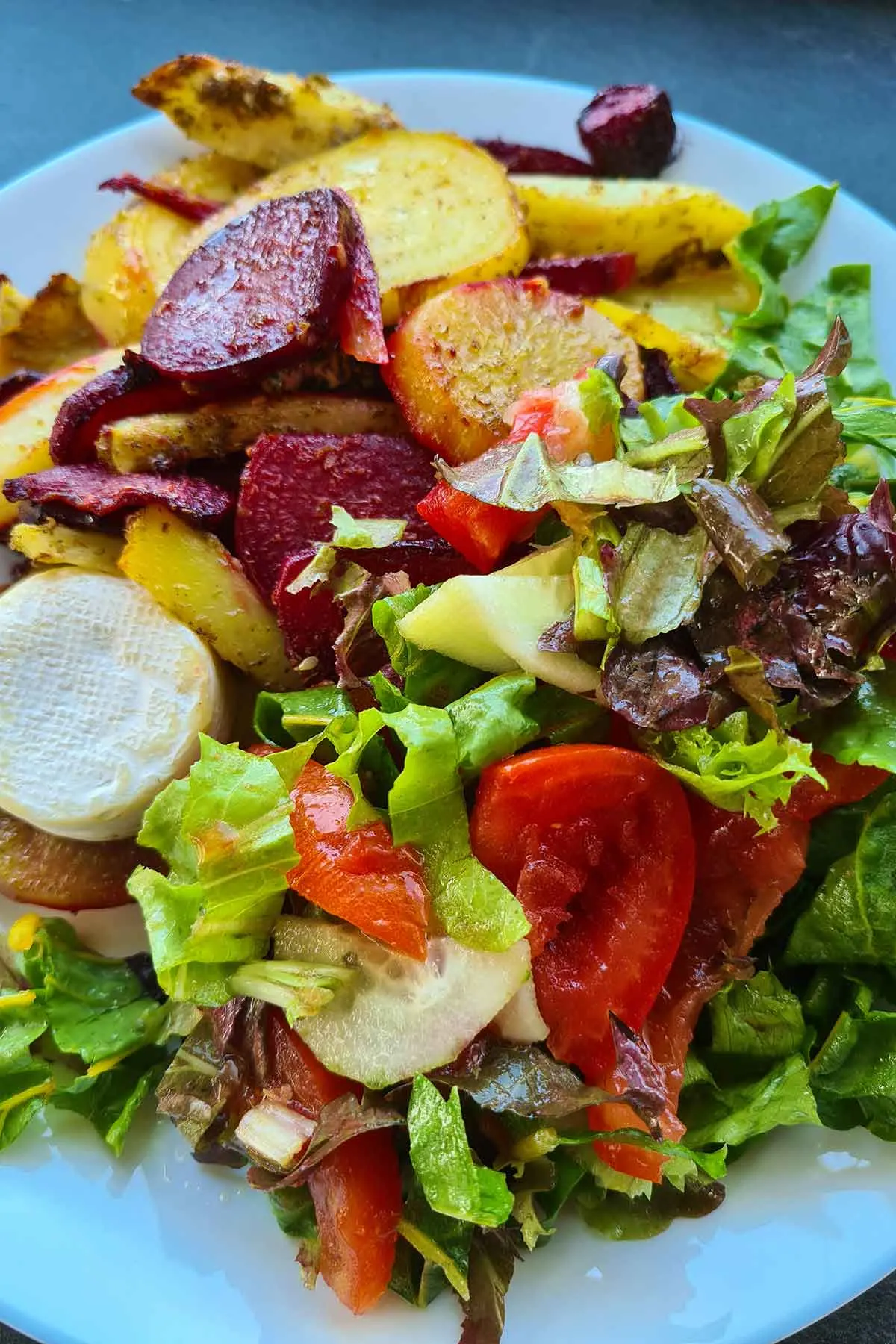 I served this gorgeous oven-roasted beetroot with a handful of fresh green salad on the side. In fact, I mixed them all in the same bowl (the beetroot, the green salad, and the melted cheese) and I ended up with one of the best vegetarian salads in the world.
It's super flavorful, extremely fresh but also comforting – I really love the combo between roasted root vegetables and potatoes. Nothing more is needed!
If you're feeling even more adventurous, you can also add a mix of sour cream (vegan or dairy) and fresh herbs – parsley or dill would work wonderfully. This is completely optional, as the mix is already perfect as it is!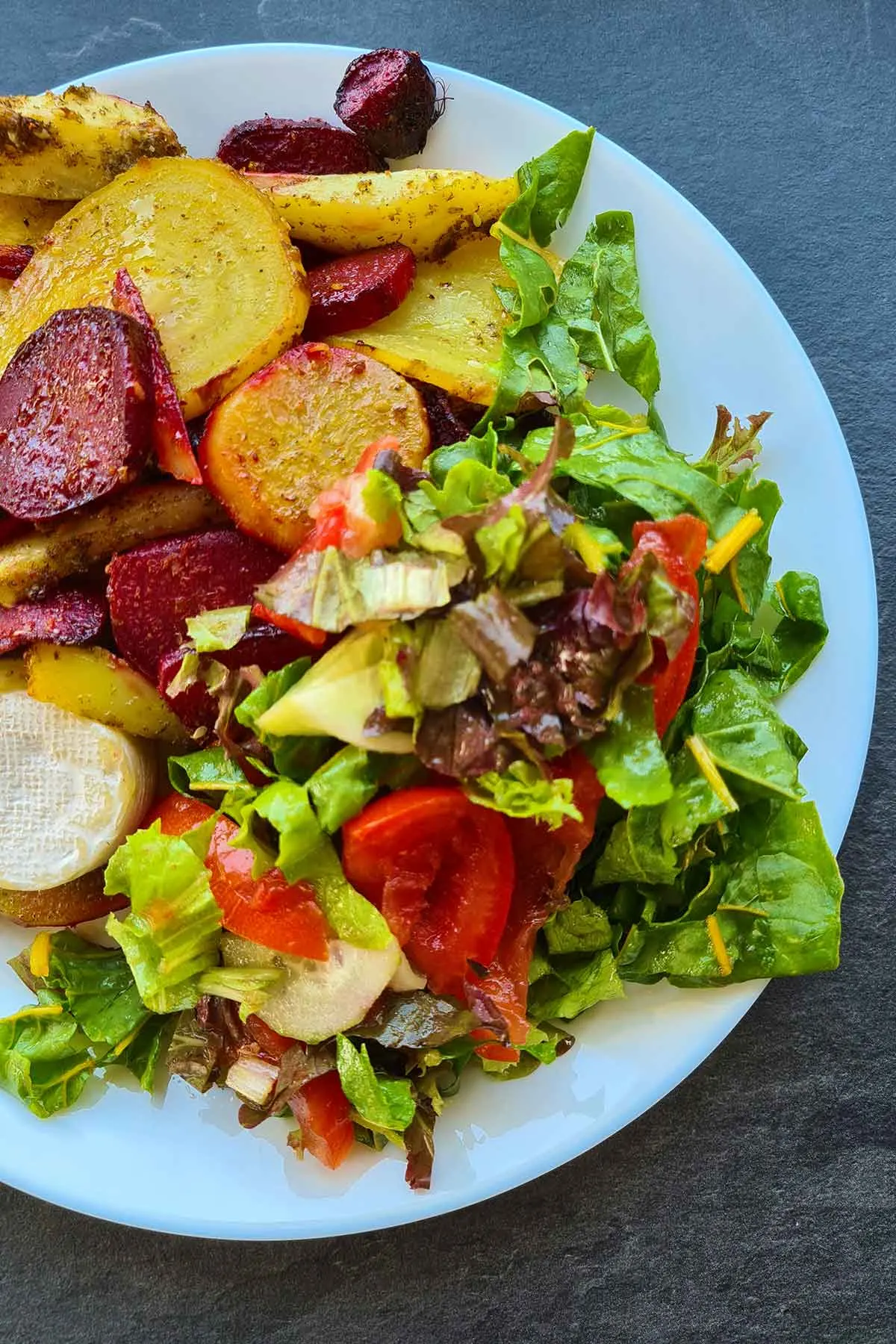 One of the best things about this za'atar baked beets dish is that it requires little to no effort. The most complicated thing you'll have to do is to peel the beets and cut them into slices (or cubes, if you prefer). Then you have to drizzle them with olive oil, sprinkle the za'atar, and leave the oven to do all the hard work.
How awesome is that? I really think that this fresh and healthy recipe is perfect for a mid-week lunch, especially if you're working from home. The beets can roast in the oven while you're on a call and, when you're done, lunch will be almost ready too! Or, if you have the possibility to re-heat this at work, you can even make the oven-roasted beetroot in advance and pack it for the next day's lunch. So many possibilities, so little effort!
This being said, I hope you'll try this amazing combo of za'atar baked beets and fresh greens soon. It's simple, quick, and extremely delicious. In fact, it's one of the best things I ate this summer – which is why I'm sure you'll like it too!
And if you decide to give it a try, don't forget to tell me how it went in the comments below. Bon appetite!
Yield: 2
Za'atar Baked Beets / Oven-Roasted Beetroot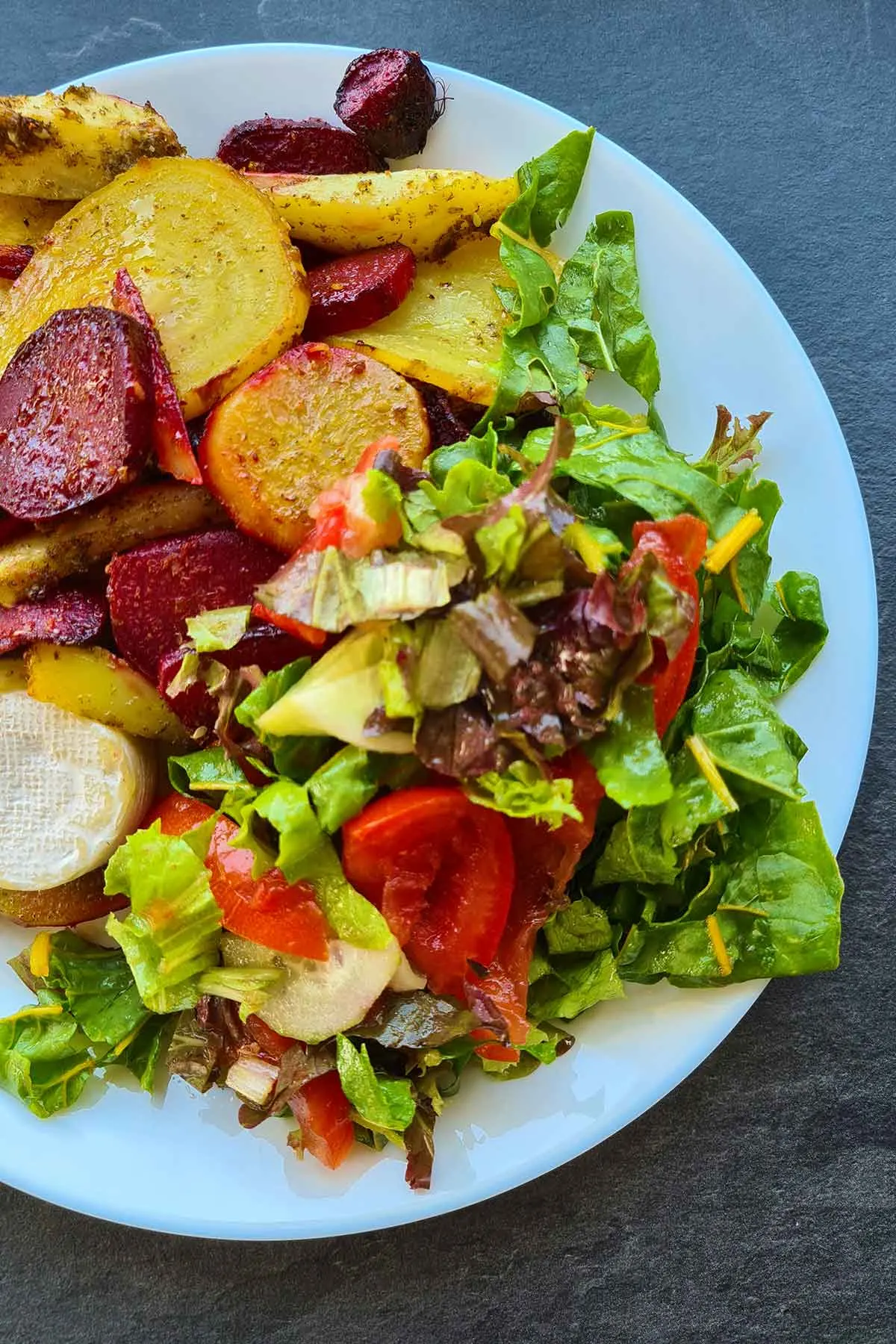 Beets fan? Prepare for an explosively delicious dish - za'atar baked beets! This recipe is a mix of oven-roasted beetroot and za'atar spice mix and it works wonderfully for lunch!
Ingredients
3 medium beetroots, peeled and sliced
2 potatoes, cut into wedges
1 Tbsp za'atar mix
salt and pepper, to taste
2 Tbsps olive oil
optional - also add Brie or Camembert for some cheesy goodness over the roasted beets
Instructions
Peel the beetroots. Slice them into 0.5-1cm thick slices.

Peel the potatoes and cut them into wedges.

Spread evenly on an oven tray covered with parchment paper. Drizzle with olive oil and sprinkle with za'atar, salt, and pepper.

Optional - add a couple of small pieces of Brie or Camembert cheese.

Bake in the oven at 200C for 30-35 minutes, until perfectly roasted.

Serve with a fresh greens salad aside.