Change language | Schimba limba: Romanian
This oven roasted cabbage slices recipe is the best way to cook cabbage! Healthy, macrobiotic and vegan, what more can you wish for?! 
I love this recipe! I never thought oven roasted cabbage can be so good! I'm not a huge cabbage fan and I rarely eat it. I usually ate it when cooking Pickled Cabbage Rolls with Mushroom and Brown Rice Stuffing, which happens twice a year.
Cooking oven roasted cabbage like this isn't my original idea. I found a similar recipe while browsing on Pinterest and I thought to myself, why not give it a try?! It is so easy to make and it makes an awesome side dish. I ate it with Azuki beans burger patties and mustard. It was divine!
Plus, the turmeric and ground pepper combo is amazing! It has a great antioxidant power. This side dish is not only crazy good, but super-healthy too.
Oven Roasted Cabbage Slices
This is a vegan / vegetarian, macrobiotic recipe for roasted cabbage, anyone can make! It's the best way to cook cabbage!
Ingredients
1 medium cabbage, sliced into 1 inch thick slices
extra virgin olive oil
sea salt and pepper to taste
1-2 tsps turmeric powder
Instructions
Preheat oven to 400F.
Drizzle some olive oil in a large oven tray.
Place the cabbage rounds. Season them with ground pepper, sea salt and sprinkle with some turmeric.
Drizzle some more olive oil in them.
Roast until cabbage is tender and edges are golden, for about 30-40 minutes.
Notes
Recipe inspired by Martha Stewart's Roasted Cabbage Wedges.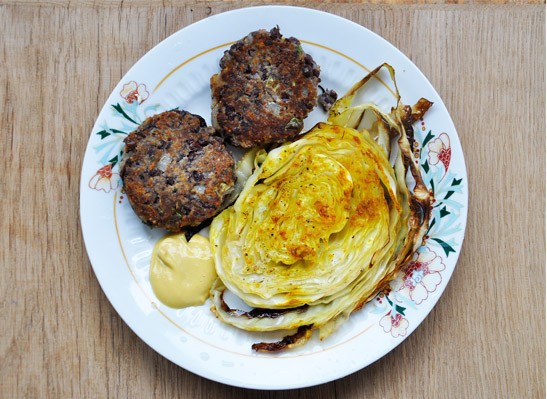 Oven Roasted Cabbage Slices, or the best way to cook cabbage!
was last modified:
August 19th, 2014
by