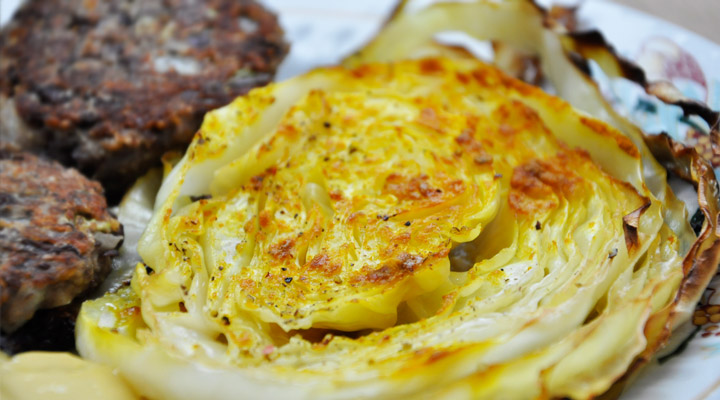 Reteta vegetariana pentru rondele de varza la cuptor, extrem de gustoasa si usor de facut, gata in jumatate de ora! | This is a vegan / vegetarian, macrobiotic recipe for roasted cabbage, anyone can make! It's the best way to cook cabbage!
  Recipe in English
  Reteta in Romana
I love this recipe! I never thought roasted cabbage can be so good! I didn't use to eat cabbage very often and when I did, I usually ate it when cooking Pickled Cabbage Rolls with Mushroom and Brown Rice Stuffing which happens twice a year.
Cooking roasted cabbage like this isn't my original idea. I found a similar recipe while browsing on Pinterest and I thought to myself, why not give it a try! It is so easy to make and it makes an awesome side dish. I ate it with Azuki beans burger patties and mustard. It was divine! Really! You must try it
I just fell in love with roasted cabbage and want to learn new recipes. Do you have any great recipes using cabbage? Feel free to share them with us!
Recipe inspired by Martha Stewart's Roasted Cabbage Wedges
Oven Roasted Cabbage Slices, or the best way to cook cabbage!
Ingredients: 
1 medium cabbage, sliced into 1 inch thick slices
extra virgin olive oil
sea salt and pepper to taste
1-2 tsps turmeric powder
Directions:
Preheat oven to 400 degrees F.
Drizzle some olive oil in a large oven tray.
Place the cabbage rounds. Season them with ground pepper, sea salt and sprinkle with some turmeric.
Drizzle some more olive oil in them.
Roast until cabbage is tender and edges are golden, for about 30-40 minutes.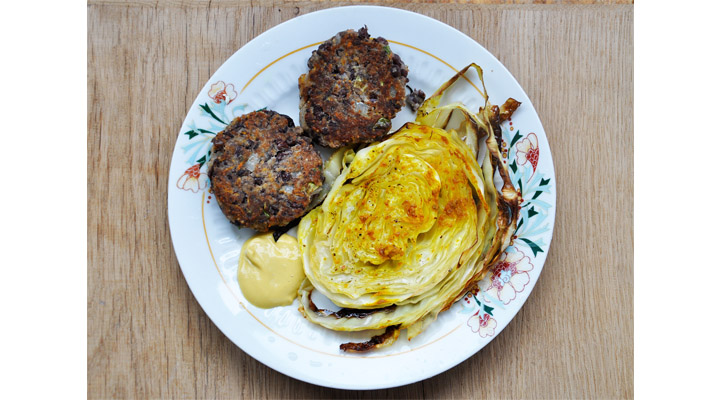 P.S. I know these pics are not that good but I was so hungry when I made them.. and the cabbage smelled so good, that I just couldn't waste any more time on photographing them :D 
Reteta asta este pur si simplu WOW! Nu credeam ca o sa imi placa varza la cuptor atat de mult!  Inainte o mancam destul de rar, de obicei doar cand faceam sarmalute vegetariene (reteta aici Pickled Cabbage Rolls with Mushroom and Brown Rice Stuffing), adica doar de vreo 2-3 ori pe an, insa acum mananc varza la cuptor foarte des!
Reteta asta nu este in totalitate ideea mea. Am gasit o reteta similara de varza la cuptor pe Pinterest si m-am gandit sa o incerc si eu. Merge de minune cu mustar si chiftelute de fasole Azuki, sau orice alte chiftelute vegetariene. Serios, trebuie sa o incercati!
Reteta de varza la cuptor inspirata de Martha Stewart's Roasted Cabbage Wedges
Varza la cuptor – cea mai buna metoda pentru a gati varza!
Ingrediente: 
1 varza medie sau mica, taiata felii –  1 cm grosime
ulei de masline
sare de mare si piper, dupa gust
1-2 lg turmeric
Instructiuni:
Pre-incalziti cuptorul la 200 de grade.
Ungeti o tava cu putin ulei de masline.
Puneti feliutele de varza in asa fel incat toate sa atinga tava. Asezonati-le cu piper macinat, sare si turmeric.
Puneti foarte putin ulei si peste ele.
Lasati-le la cuptor aprox. 30-40 de minute, pana cand devin aurii.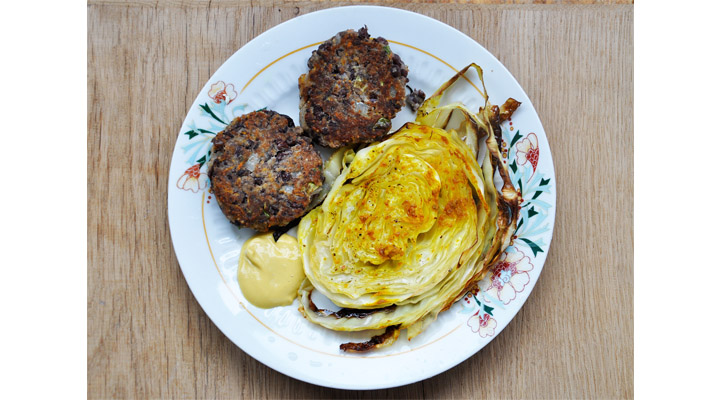 Cooksnaps