Are you looking for the cutest and most delicious Christmas wreath to present on your table for dinner? Here's how to make the best vegan Christmas wreath, filled with yummy veggies!
Christmas is knocking on our door and I'm SO ready for it! 🙂 Christmas has to be my favorite celebration ever and each year I try to create a special, diversified menu that will be loved by everyone at the dinner table.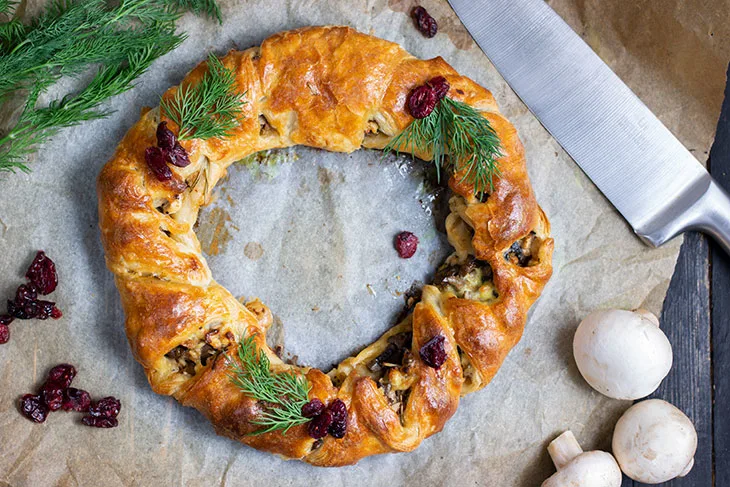 Even though this year has been atypical, to say the least, I still gathered a few very close friends of mine and I invited them to a small Christmas dinner. Part of the reason is that I miss everyone and part is because… well, I needed an excuse to make more Christmas goodies that will stuff more than two people, hehe! 🙂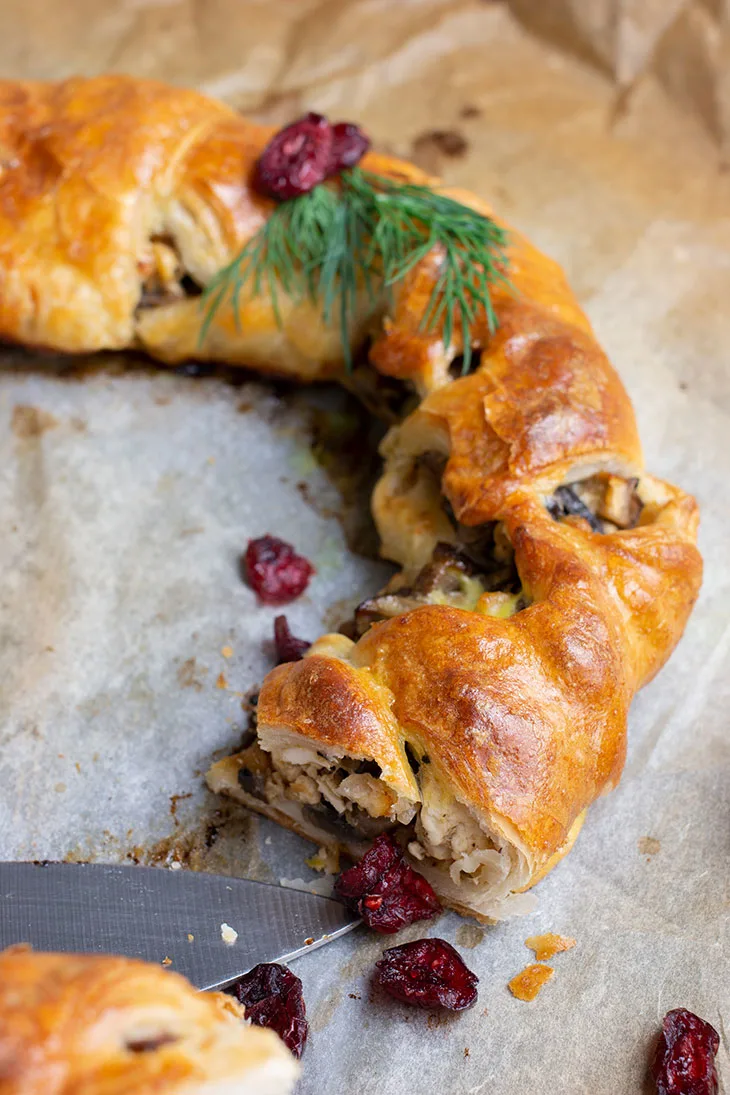 After all, what's Christmas without your loved ones? Moreover, what's Christmas without your loved ones, but with full bellies, laughing together at the table, after a satisfying dinner? For me, food is a special element of this celebration and I use it as an excuse to experiment and create new and improved recipes that will be loved by everyone. Yes, I always try and make a vegan Christmas menu and, until now, I had no complaints from my meat-eaters!
A typical Christmas menu includes some appetizers, a main dish, maybe also a second dish (if you're brave enough!), and definitely some dessert. I noticed that people are usually uninspired when it comes to appetizers. If you know for sure that you'll prepare a yummy vegan Wellington as the main dish and maybe also a Christmas cake or some Christmas cookies for dessert to share at the end of the dinner, when it comes to the appetizer… what now?
Well, there are SO many awesome recipes out there! But, if you ask me, the most impressive Christmas appetizer is a Christmas wreath. Yes, similar to the ones we hang at our doors when the holidays are close, only this one is made with pastry and some other yummy ingredients.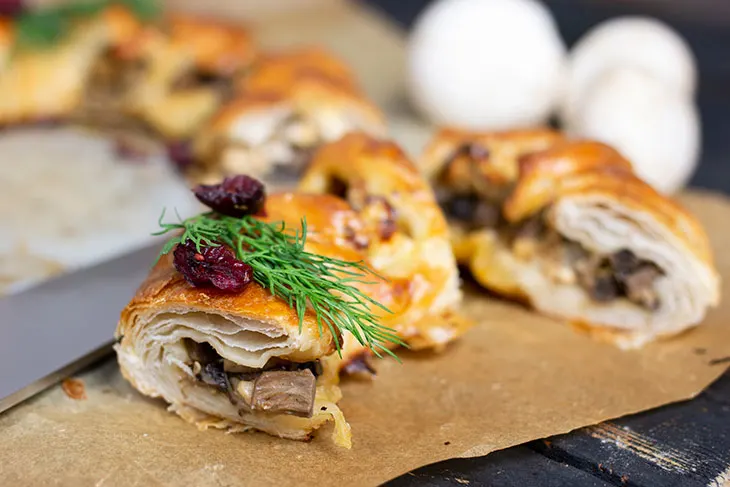 This type of edible Christmas wreath serves as a centerpiece for your Xmas dinner. You prepare the dough, you fill it with your favorite veggies, you bake it and then you carefully place it in the middle of the table, once everyone is sited. This serves as an appetizer meant to be shared, so everyone can take a piece – this is how Christmas dinner starts! Depending on the recipe, there may also be some type of sauces involved and surely some other appetizers as well, scattered around the table.
What I love best about this edible centerpiece is that it's MEANT to be shared with your loved ones. And, after all, this is what Christmas is all about! 🙂
Another fun idea would be to place a small bowl of marinated or stuffed olives in the middle of this vegan Christmas wreath. This way you'll complete the appetizer with some more yumminess!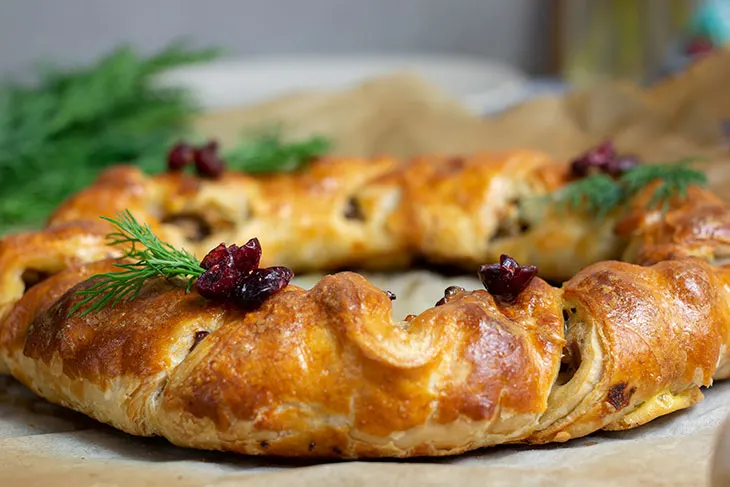 If I think about it… how else should we celebrate the end of this yucky year than with a proper Christmas dinner? And I really mean a proper one, everything included – festive atmosphere, Christmas songs in the background, all our loved ones gathered around the table, freshly baked goodies, made with love. What in the world could be better than this? It's all I'm dreaming of these days, I swear!
So, in case you're planning to prepare a delicious meat-free menu for Christmas day this year, I got you! Similar to last years' Christmas Tree Appetizer, this vegan Christmas wreath works wonderfully as an appetizer. You can also find some more Christmas inspiration on my blog, all vegan, of course, such as this vegan Christmas pudding, some vegan Christmas brownies and, to top it all off, some flavorful Christmas punch! I hope you'll find these recipes useful and, in case you decide to make them this year for your loved ones, first of all, I'd be really honored and second of all: I'm sure they won't disappoint!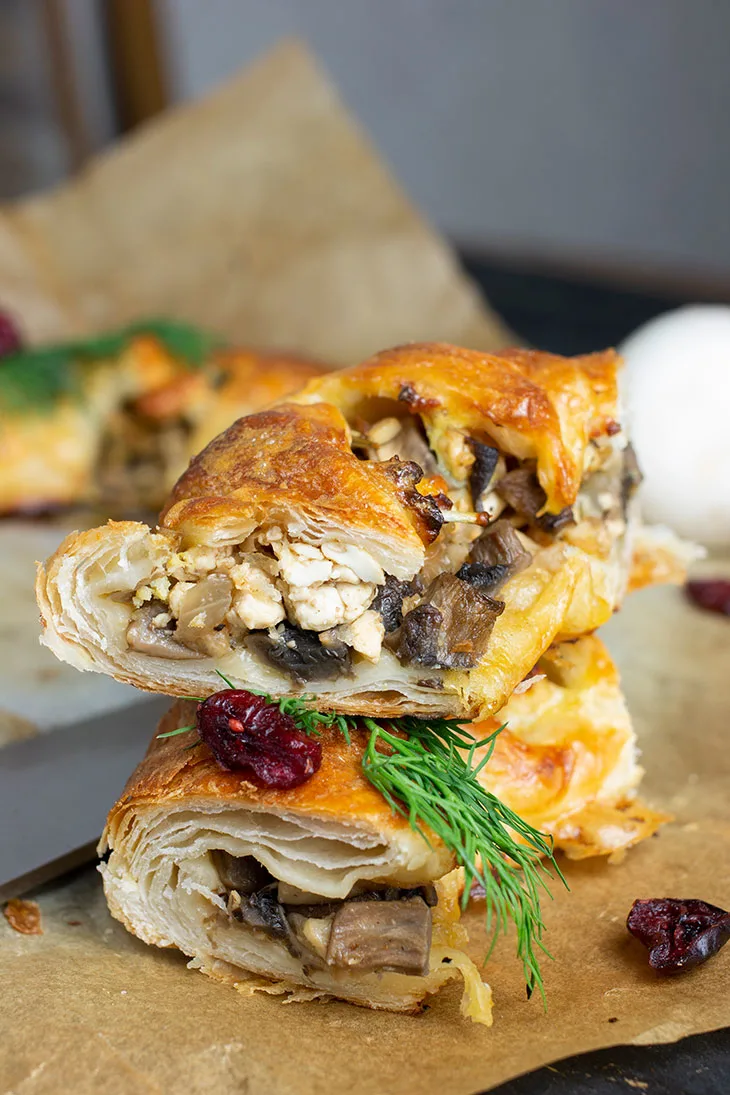 Okay, so what are you waiting for? I hope I convinced you to try this vegan festive appetizer, bursting with amazing flavors and full of healthy veggies. It's crisp, it's golden and it's extremely easy to make – even it may not seem so! You don't need to take my word for it, so just go ahead and make it.
Happy holidays!
Yield: 4
Vegan Veggie-Stuffed Christmas Wreath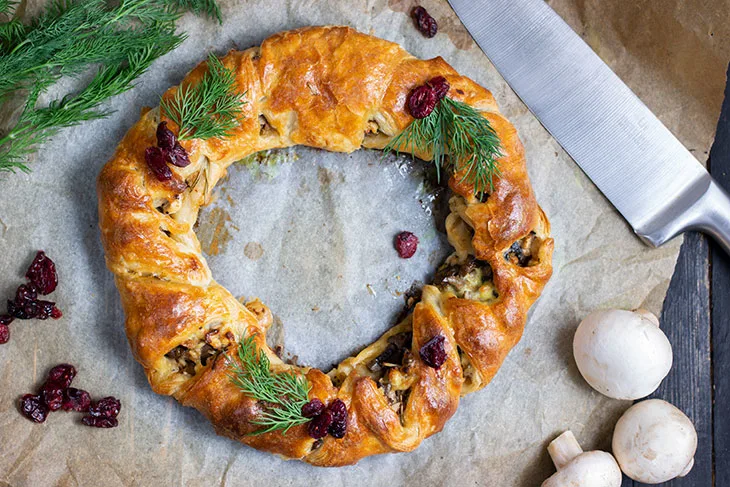 Are you looking for the cutest and most delicious Christmas wreath to present on your table for dinner? Here's how to make the best vegan Christmas wreath, filled with yummy veggies!
Ingredients
100g (3 ⅓ cups) spinach
200g (¾ cups) firm tofu, crumbled
200g (1 ½ cups) mushroom mix, chopped
2 Tbsp pine nuts
1 garlic clove, minced
2 Tbsp dill, chopped
¼ tsp nutmeg
1 pastry dough sheet
1 Tbsp oil
Salt
Pepper
Instructions
On a dry pan, roast the pine nuts.
Add oil and sautee the garlic and spinach.
Add the tofu, mushrooms, nutmeg, dill, and season with salt and pepper.
Cook for 7-8 minutes.
Cut the pastry dough into triangles, arrange them in a circle, pour the mixture on top and close the triangles.
Bake at 180 degrees C for 20 minutes.
Nutrition Information
Yield
4
Amount Per Serving
Calories

411
Total Fat

26g
Saturated Fat

8g
Trans Fat

0g
Unsaturated Fat

15g
Cholesterol

11mg
Sodium

453mg
Carbohydrates

39g
Fiber

2g
Sugar

3g
Protein

6g
I strive to keep the information as accurate as possible but make no warranties regarding its accuracy. I encourage you to make your own calculations using your preferred nutrition calculator.