This puff pastry tart with mushrooms in wine sauce is a simple vegetarian main dish recipe. The pastry tart with mushrooms is full of wonderful flavors and goes great served with a sour cream sauce with herbs.  |  Reteta vegetariana de tarta in foietaj cu ciuperci in sos de vin. Tarta de foietaj este extrem de aromata si merge de minune servita cu un sos de smantana cu verdeturi. 
  Recipe in English
  Reteta in Romana
Yes, yes…you'll tell me that pastry is not really healthy. I KNOW! I rarely eat pastry, so I can indulge myself with a few delicacies for once in a while. Except pastry, this pastry tart with mushrooms recipe is actually healthy and the mushroom composition is vegan. I was wondering, is there a recipe for vegan pastry? I know it is made with butter…a lot of butter, but I don't really know if you can use a veg butter instead. Anyway, it's pretty difficult to make pastry yourself, and I lack both the patience and the space in my tiny kitchen to make this by myself.
This pastry tart with mushrooms recipe is pretty easy to make. The mushroom stuffing is ready in just 10 minutes and the tart has to stay in the oven for another 30 minutes. So, the actual prepping time is just 10 minutes! I think it's pretty damn good for a tart, right?! I'm sure you'll love the white wine flavor. This pastry tart with mushrooms recipe goes great served with a sour cream and herbs sauce. Yum!
Hope you'll like this puff pastry tart recipe! Looking forward to your comments!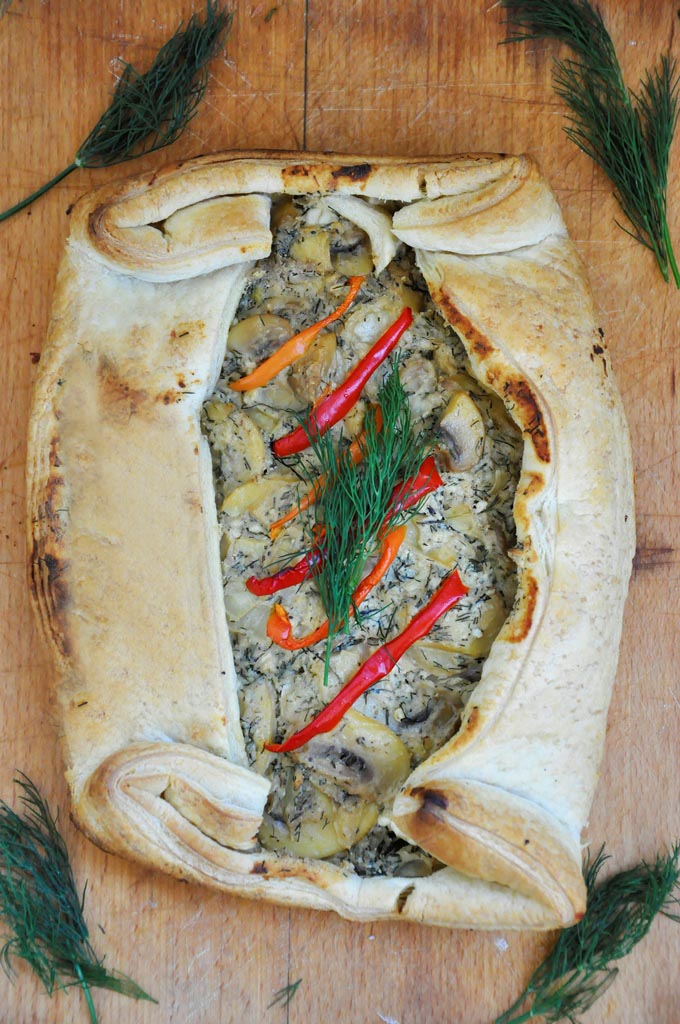 Pastry Tart with Mushrooms in Wine Sauce
This is a vegetarian recipe for pastry tart with mushrooms in wine sauce. The tart is full of wonderful flavors and goes great served with a sour cream sauce with herbs.
Ingredients
300g pastry
2 cups button mushrooms, sliced
1 medium onion, chopped
1 bunch of dill, chopped
1/2 glass of white wine
1-2 tsps dry thyme
2 Tbsps whole wheat flour
1 Tbsp olive oil or butter
salt and pepper, to taste
Instructions
Preheat the oven at 392F/ 200C.
Put the oil/butter in a large pan, over medium heat. Add chopped onion, sliced mushrooms, thyme, wine, dill, salt and pepper. Cover with a lid and let them cook for 10 minutes, over medium heat.
Remove the lid and sprinkle 2 Tbsps of whole wheat flour on top. Start mixing very well, until the sauce thickens.
Remove from heat and set aside.
Grease an oven tray with some oil. Place the pastry sheet on the tray. Put the mushroom composition in the middle. Fold the edges of the pstry sheet, over the mushroom composition.
Put the pastry tart with mushrooms in the oven, for half an hour.
Serve with sour cream sauce with fresh chopped herbs.
http://gourmandelle.com/tarta-in-foietaj-cu-ciuperci-pastry-tart-mushrooms/
Copyright: 2014 Ruxandra Micu | www.gourmandelle.com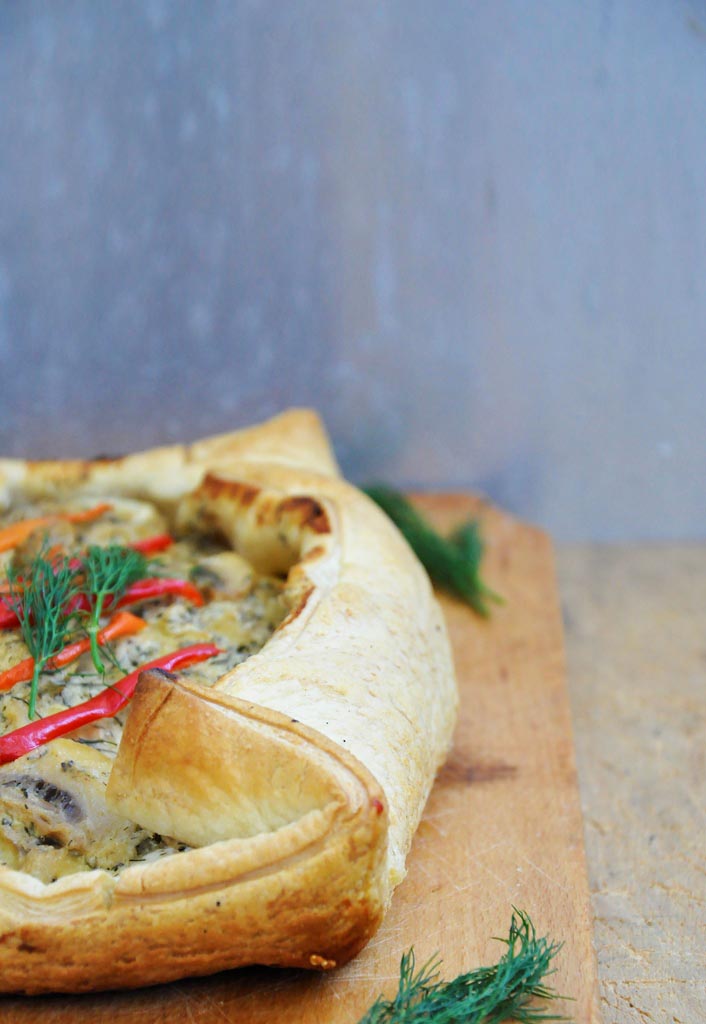 Da..da.. o sa imi spuneti inainte de toate ca foietajul nu e sanatos. STIU! Mananc atat de rar preparate de patiserie incat imi permit o data pe an sa pregatesc o delicatesa cu foietaj. Exceptand foietajul, reteta asta de tarta in foietaj cu ciuperci este chiar sanatoasa, iar umplutura este vegana. Da chiar, exista foietaj vegan? Se poate realiza? Eu stiu ca se face cu unt, dar poate ar merge facut si cu unt vegetal. Oricum e o mare bataie de cap sa pregatesti foietajul, iar eu nu am nici rabdare si nici blat de lucru pentru asa ceva in bucataria mea minuscula :D.
Tarta in foietaj cu ciuperci se face extrem de simplu. Umplutura este gata in vreo 10 minute, iar apoi la cuptor mai sta doar jumatate de ora. Timpul efectiv de lucru in bucatarie este de doar 10 minute! Eu zic ca merita, nu? Plus ca o sa va placa la nebunie atat textura cat si aroma excelenta data de vinul alb. Eu am servit-o alaturi de un sos de smantana adevarata cu verdeturi proaspat tocate. Hm… imi ploua in gura numai cand ma gandesc cat de buna a fost
Sper sa va placa reteta de tarta in foietaj cu ciuperci! Astept cu mare drag comentariile voastre sa imi spuneti cum a iesit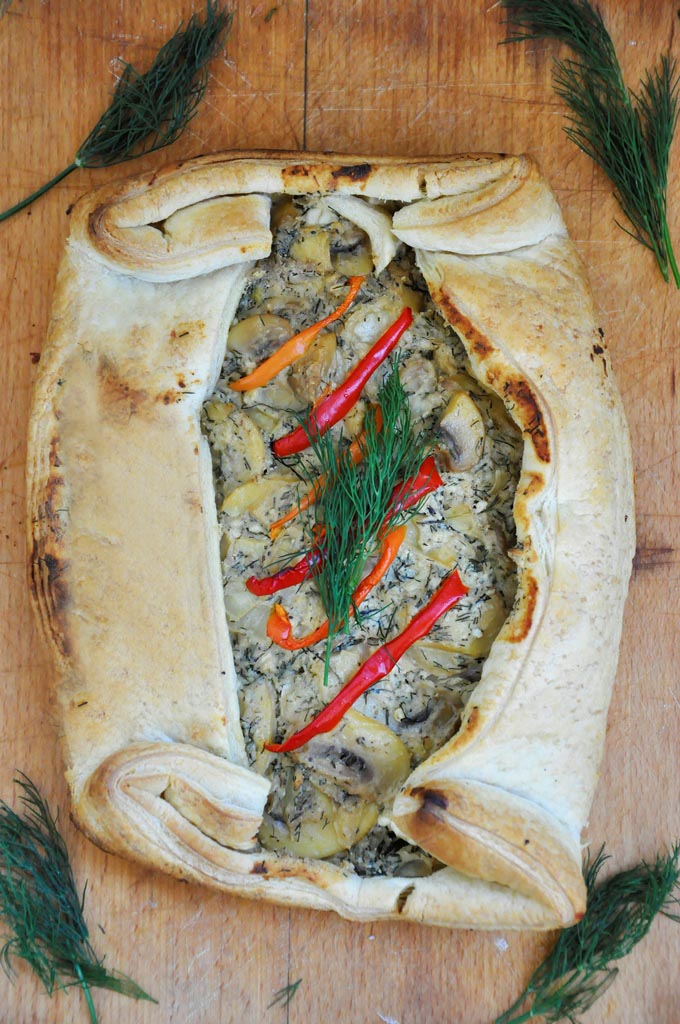 Tarta in foietaj cu ciuperci in sos de vin
Ingrediente:
300g foietaj (jumatate de pachet mare)
2 cani de ciuperci champignon, feliate
1 ceapa medie, maruntita
1 legatura marar, maruntit
1/2 pahar vin alb
1-2 lingurite cimbru uscat
2 Linguri faina integrala
1 Lingura ulei de masline sau unt
sare si piper, dupa gust
Instructiuni:
Pre-incinge cuptorul la 200C.
Pune uleiul de masline sau untul intr-o tigaie mai mare, la foc mediu. Adauga ceapa maruntita, ciupercile feliate, cimbrul uscat, vinul, mararul, sarea si piperul. Acopera cu un capac si lasa-le la foc mediu vreo 10 minute.
Da capacul la deoparte si presara 2 linguri de faina integrala. Amesteca bine de tot pana cand sosul se ingroasa.
Opreste focul si lasa deoparte.
Unge o tava de cuptor cu putin ulei. Pune foaia de foietaj intinsa pe tava. Adauga in centru compozitia de ciuperci. Ridica marginile de foietaj si adu-le peste compozitie. Aspectul rezultat este unul mai rustic. Mie personal asa imi place
Baga tarta in foietaj cu ciuperci la cuptor pentru vreo jumatate de ora.
Serveste-o cu smantana proaspata cu verdeturi.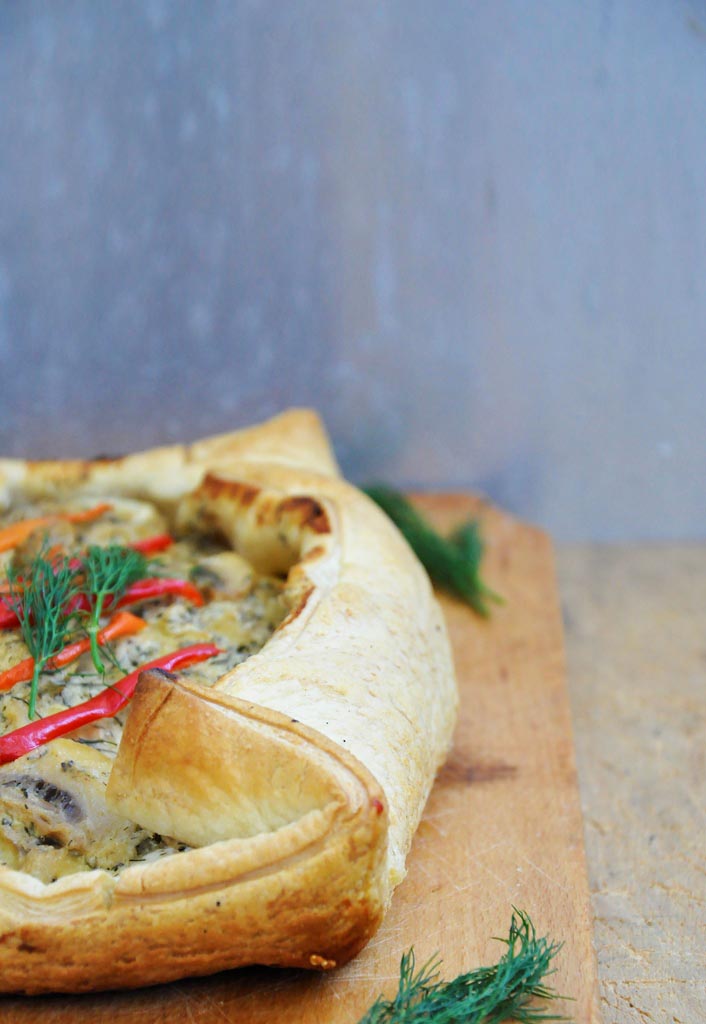 Cooksnaps