This marinated eggplant hummus has a special taste you'll love! The marinated eggplants are garlicky and slightly sour and will turn this hummus into a delicious blend of flavors!
Hummus, my love. I don't think I'll ever get tired of experimenting with new flavors when it comes to hummus. I eat it often and it has become quite a joy to try out new ingredient blends. This time I added an unusual extra ingredient to my basic hummus recipe – marinated eggplants! I discovered marinated eggplants about an year ago and I've been using them ever since. I will also show you how to preserve marinated eggplants so they will last you all year round! 🙂
Making marinated eggplants preserve is easy. You should know that marinated eggplants should be used only as condiments, as they are not that ok to eat them just as they are. Marinated eggplants will get a bit oily and after a while will have a sponge-like texture. Even though they're not that tasty to eat them alone, they are absolutely amazing in other recipes! For example, I also use them in veggie patties, pasta sauces and now in this delicious marinated eggplant hummus! They will add a semi-sour, garlicky taste to the recipes you use them in.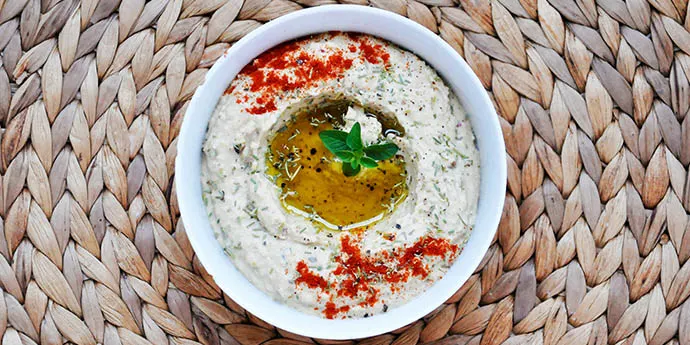 You should remember not to add any lemon juice in this marinated eggplant hummus recipe. Also, add less garlic. No need to add any olive oil, maybe some drizzles on top but that's it.
I'll show you below how to make marinated eggplants preserve. The quantities mentioned below are for 3 x 600g jars and you can keep them in your pantry for over an year. They will last, just as pickles do.
Enjoy!
[later edit] I forgot to mention that you should make the marinated eggplants ahead. It's best to have these in the pantry and use them when needed. If you want to make the hummus right away, you can cheat and make the basic hummus recipe + lightly fried eggplants only. It's not the same of course, but still good. The marinated eggplants should stay in the jars for a minimum of 1 month before using them, so that they will be lightly pickled and have a garlicky flavor. Once you open the jar, you should store it in the fridge.
P.S. I LOVE Lebanese cuisine. If you love it too, check out Ottolenghi: The Cookbook. His recipes are truly inspiring!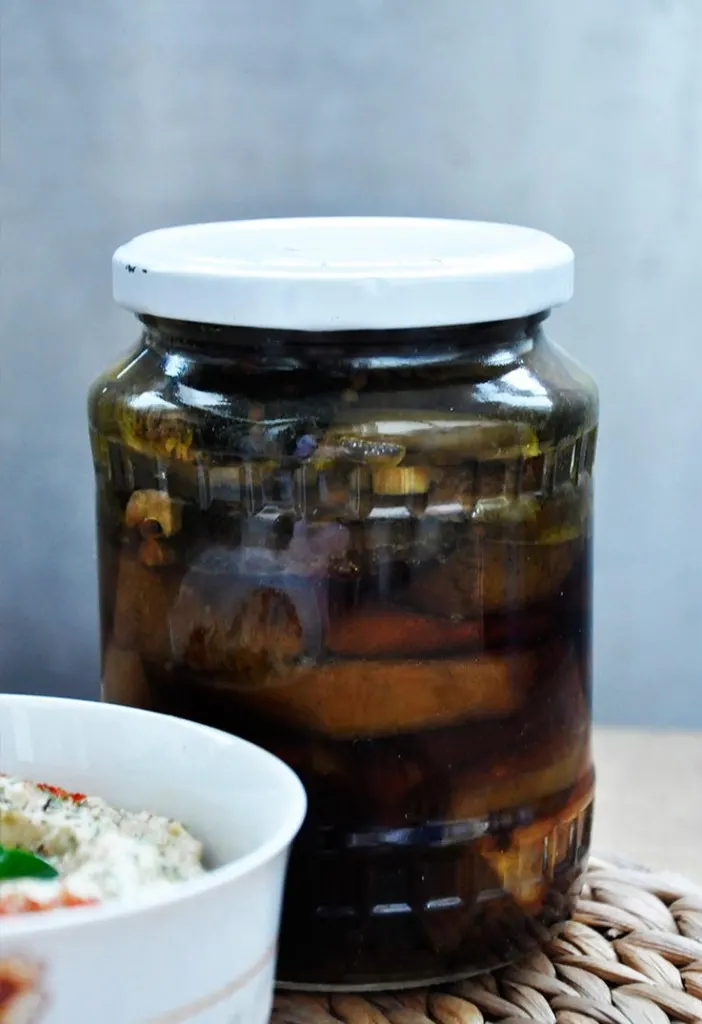 Yield: 6+ servings
Marinated Eggplant Hummus + How to marinate eggplants!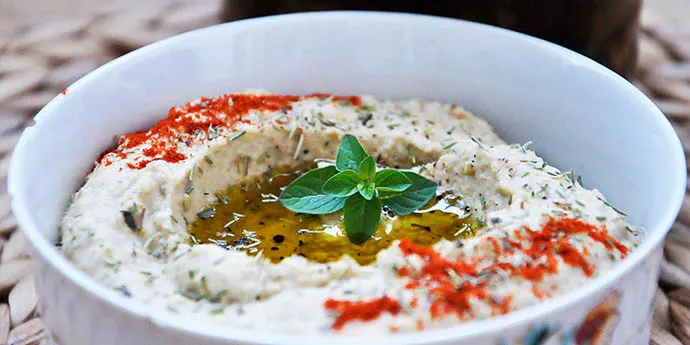 This marinated eggplant hummus has a special taste you'll love! The marinated eggplants are garlicky and slightly sour and will turn this hummus into a delicious blend of flavors!
Ingredients
1 can (800g | 28oz) chickpeas/garbanzo beans, rinsed and drained
4 marinated eggplant slices, ingredients and recipe below
3-4 Tbsps tahini paste
3 garlic cloves
2 Tbsps extravirgin olive oil
sea salt, to taste
Marinated eggplants, 2-3 jars of 600g / 21oz:
4 eggplants, sliced
½ garlic head / jar
vinegar and water - one part vinegar and two parts water / jar
1 tsp pepper / jar
some oil
sea salt
Instructions
For eggplant hummus:
Put all ingredients in your food processor.
Process on high speed for 5 minutes until hummus is extra-smooth.
Add a little bit of ice-cold water in order to make it as smooth as you want.
Drizzle with olive oil.
How to make marinated eggplants:
Slice eggplants in 0,5cm thick slices.
Drizzle with salt and let them sit for 20 minutes to remove all excess liquid.
Heat some oil in a large pan. Not too much, just enough to cover the pan.
Add eggplant slices and lightly fry them. Set them aside on a plate covered in paper towels.
Mash garlic. Use 1/2 garlic head per jar.
Make the vinegar + water solutions. Heat water in a pot. It doesn't have to be boiling water, just warm. Use one part vinegar and three parts water per jar. I used 600g jars.
Add eggplant slices in the jar. Add mashed garlic and 1 tsp pepper berries per jar. Pour in vinegar + water solution and close the jar with a lid.
That's it! You can keep this in your pantry for months!
Notes
The prep time is for eggplant hummus only.
Nutrition Information
Yield
6
Amount Per Serving
Calories

332
Total Fat

15.7g
Carbohydrates

40g
Protein

7.8g