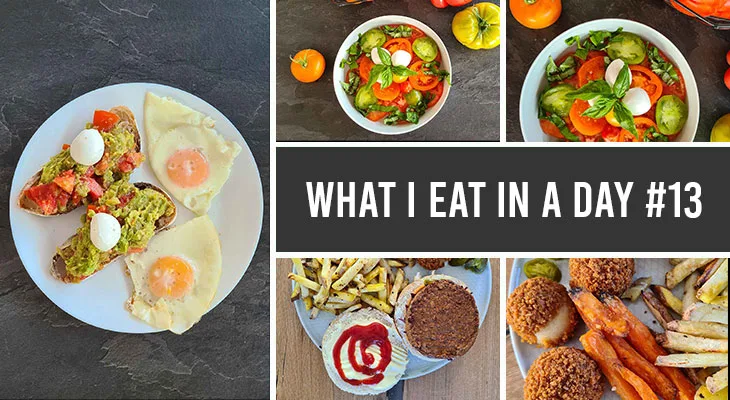 Discover the entire series of posts "What I eat in a day" here.
Recipes: Guacamole sourdough toast with mozzarella di buffala and sunny side up eggs, Fresh tomatoes salad with mozzarella di buffala and basil, Veggie burger with baked fries and cheesy mozzarella balls.
Breakfast
Guacamole sourdough toast with mozzarella di buffala and sunny side up eggs
When an avocado craving kicks in, you know what to do: guacamole! Doesn't matter if it's 9 o'clock in the morning, we can use that guacamole to make a yummy egg toast – let me tell you how!
My breakfast this morning was two sourdough toasts topped with guacamole and mozzarella di buffala (for a dose of Italian vibes), with two sunny-side-up eggs. And I loved everything about it!
Let's start with the beginning – the sourdough toast. I used store-bought this time because, even though I've made my own sourdough starter at home, I still didn't find a bread recipe to satisfy me completely, so I'm working and experimenting with that for now. I'm still a newbie when it comes to sourdough baking!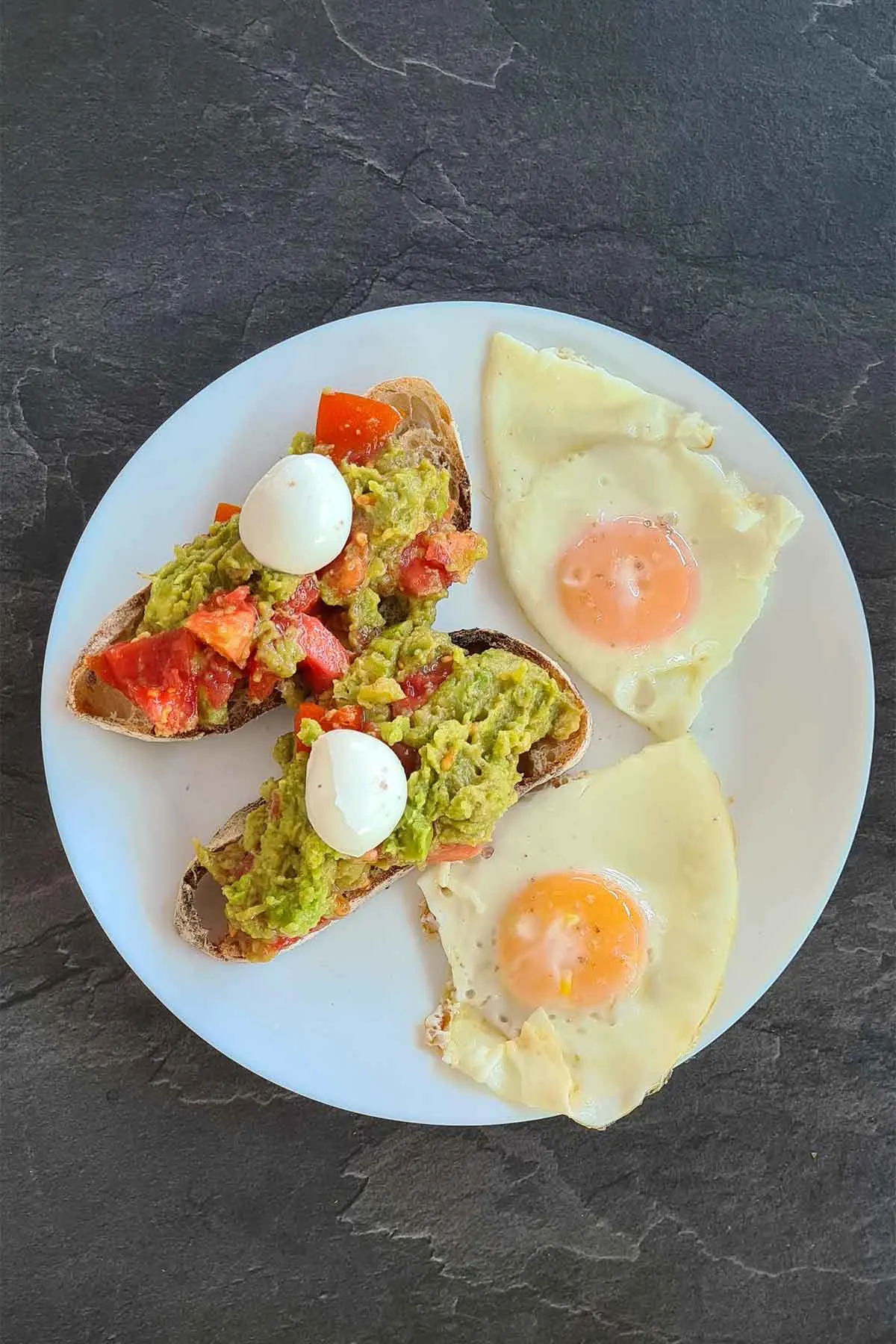 Because I was a bit lazy (I have no shame in admitting this!), I made a bowl of super quick guacamole and I kind of skipped the traditional recipe – which you can find here: Best Ever Guacamole. For the classic guacamole, you need to mash the avocado and combine it with finely chopped tomatoes, onions, garlic, jalapeno, and cilantro. Then add a splash of lime juice and some salt and pepper. Remember, the keyword here is "finely chopped".
Well, I didn't do that. I chopped my tomatoes into bigger chunks and it worked just fine, but your guacamole will be 10 times more delicious if you follow the original recipe and chop the tomatoes into fine little cubes.
After I finished topping my sourdough toast, I made two simple fried eggs in a little bit of ghee. In fact, I've been saying "no" to using vegetable oils made from seeds completely these days. I still use olive oil for my salads from time to time, but this type of oil is basically made from fruit. Oh, and I sometimes still use sesame oil for a boost of flavor in Asian recipes. But these are the only two exceptions.
Instead, I've been focusing on ghee, which is basically clarified butter (no-water butter). It's healthier than butter or other oils and it has a high smoking point, which means it's ideal for frying. Moreover, ghee has been used for decades for its therapeutic, digestive, and anti-inflammatory properties, especially in Ayurvedic medicine.
Oh, and I also recommend topping your eggs with Maldon salt flakes. The smoked ones! They offer a unique flavor that I really love. In case you don't know, Maldon salt is a type of gourmet, pyramid-shaped salt made in England following a traditional method dating since Roman times. The smoked version has a really intense flavor that goes well with so many dishes!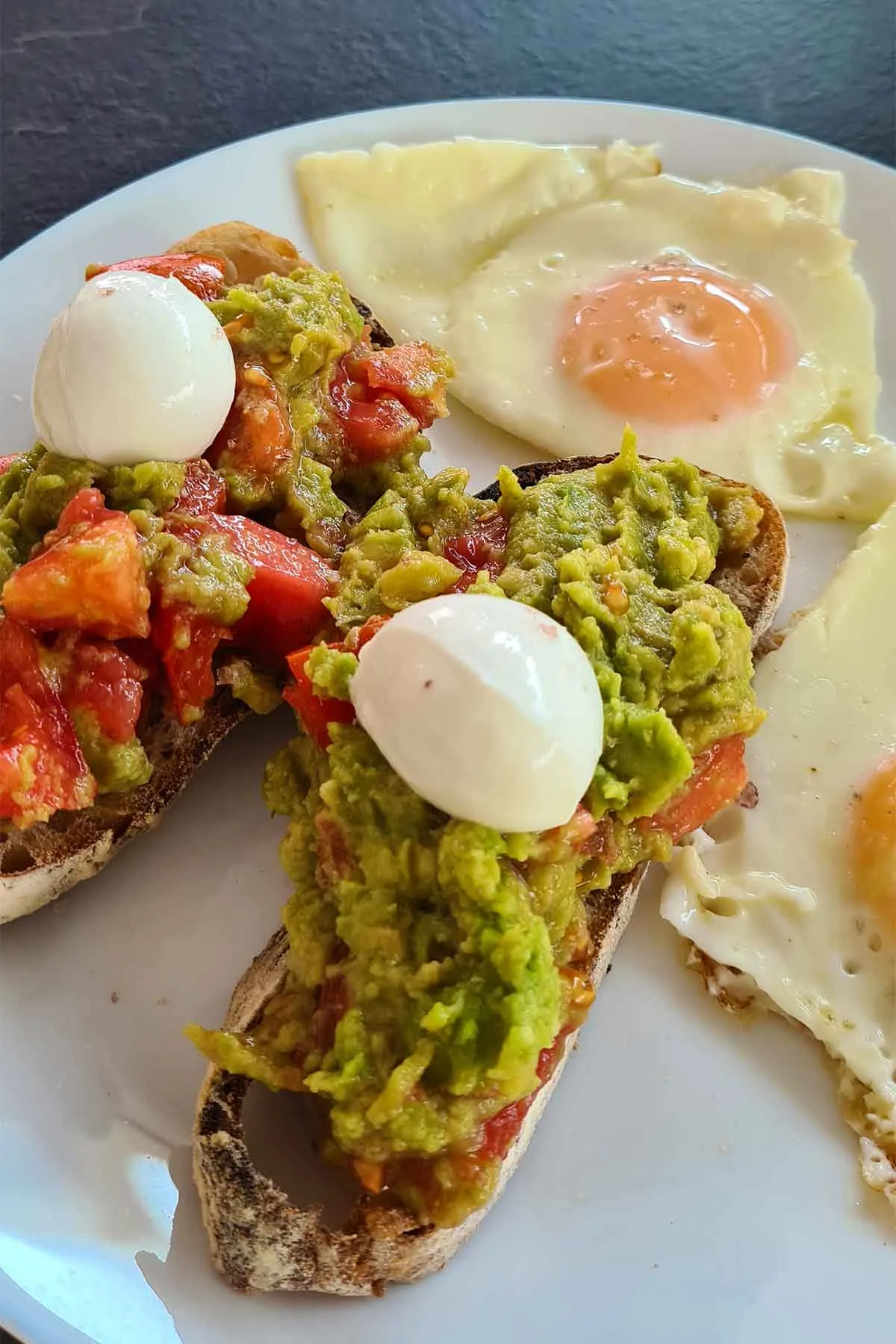 Lunch
Fresh tomatoes salad with mozzarella di buffala and basil
For lunch, I chose something simple, quick, and super tasty, perfect for summer!
All the tomatoes I eat these days are grown by me, from seeds. This year I decided to plant as many varieties as possible, so I can experiment as much as I can and see which one I like best.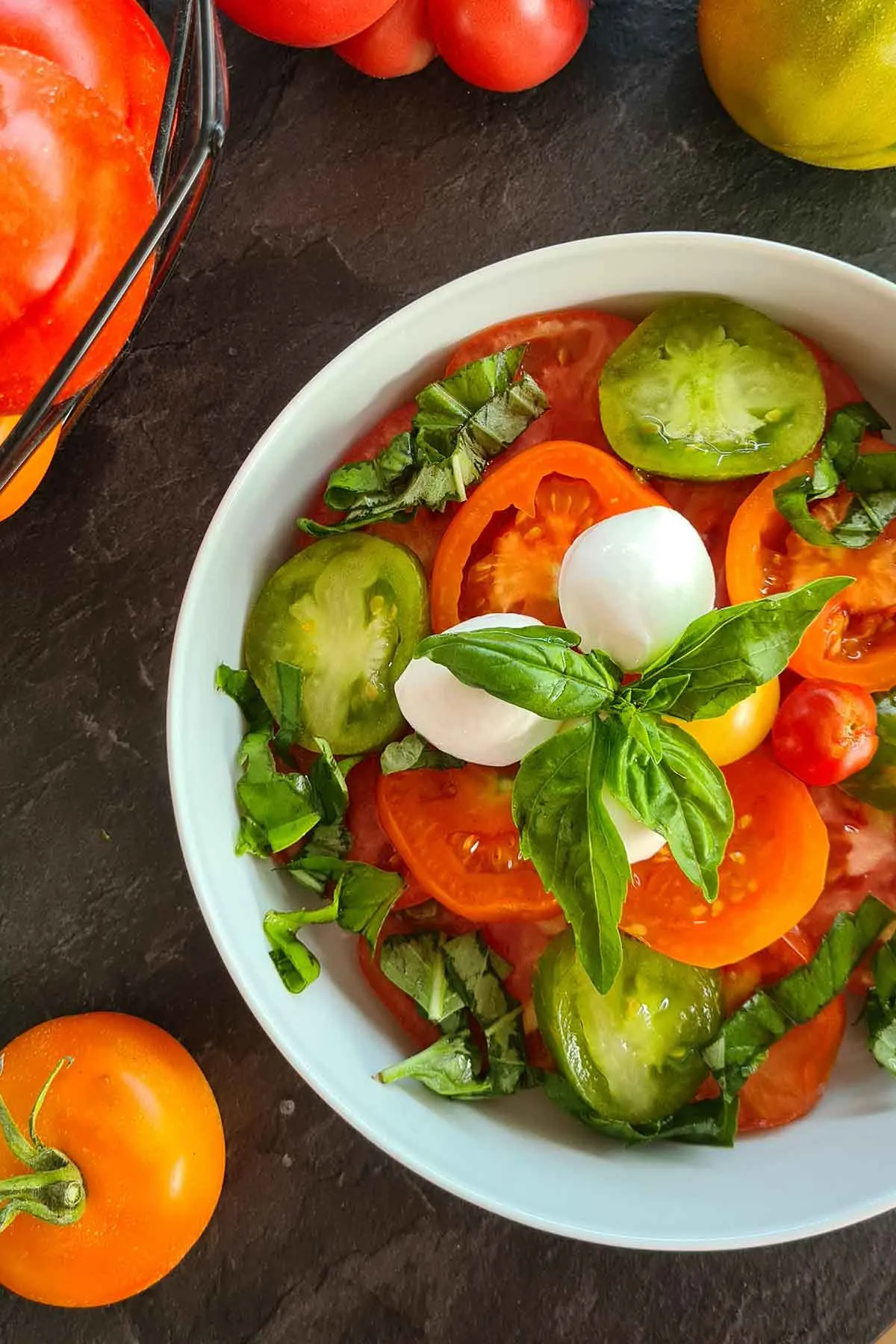 I have the following: Green Zebra, Green Velvet, Lemon Giant, Tangerine, Orange Bourgoin, Mushroom Basket, Gigante del Re, a Romanian variety from Suceava, and some Lost Marbles and White Cherry cherry tomatoes.
I really recommend the green tomatoes, they're so, so sweet and flavorful! I'm already starting to preserve seeds from the varieties I mentioned above. I'll also write an article about how you can preserve tomato seeds for next year's sowing, dedicated to my all followers that have a passion for gardening.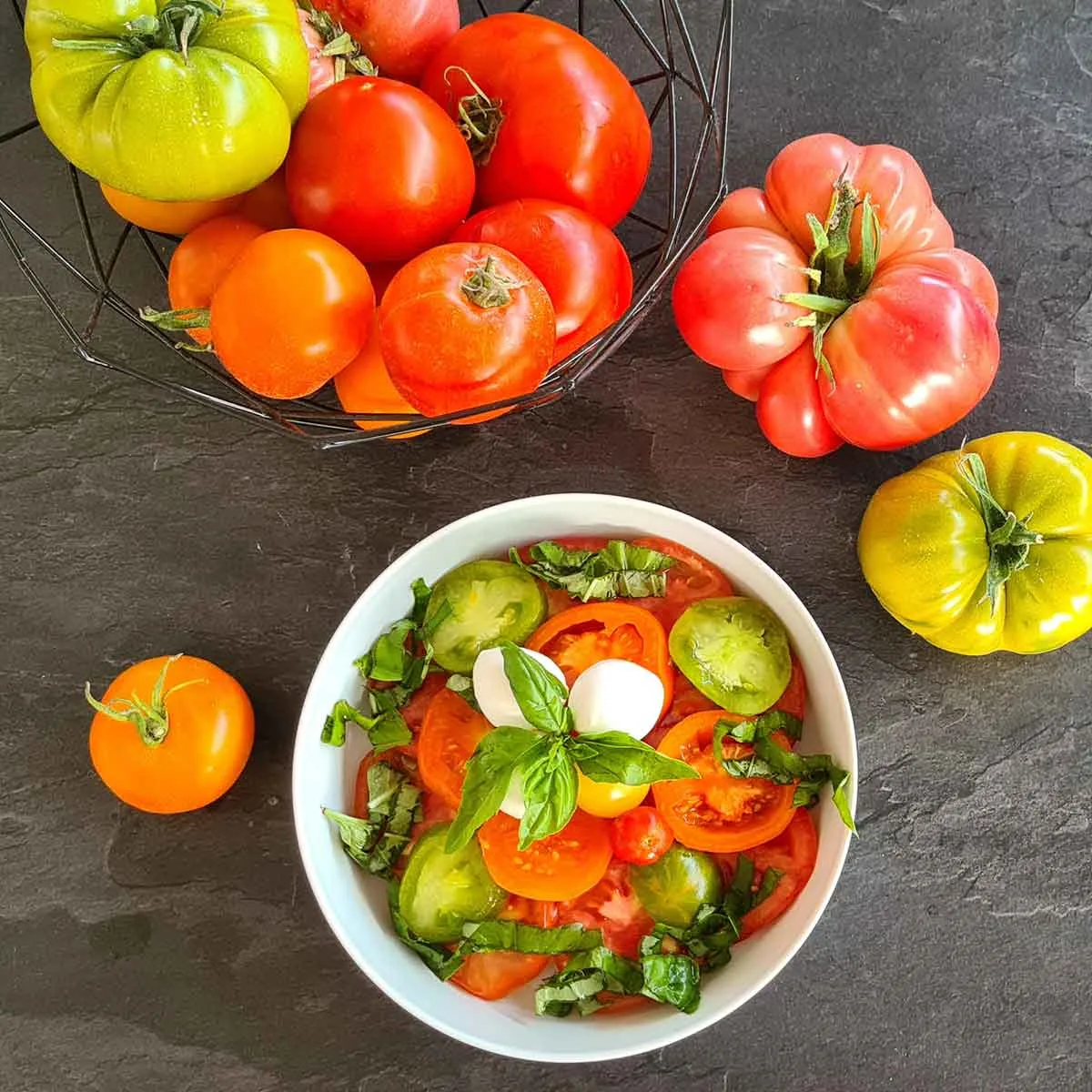 I topped my fresh tomato salad with some pieces of buffalo mozzarella and fresh basil – such a simple yet delicious combo! I recommend the buffalo mozzarella from Lidl – it has a good price and it's really tasty.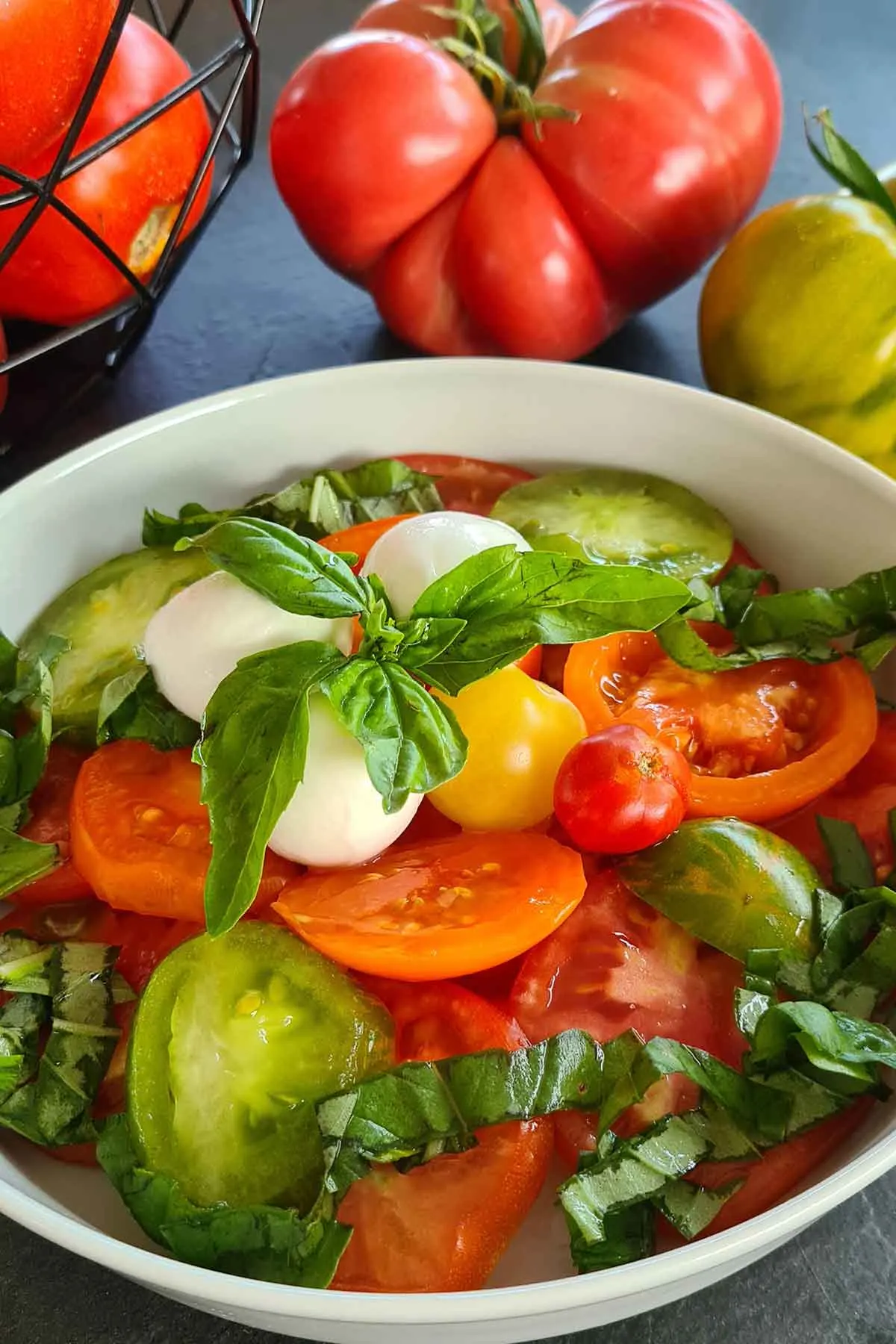 Dinner
Veggie burger with baked fries and cheesy mozzarella balls.
Because this was a weekend evening, I was craving a liiiitle bit of fast food – as a small treat. So I prepared a veggie burger with a Naturli vegan patty, served with a mix of oven-baked white and sweet potatoes and a couple of cheese balls, oven-baked instead of fried.
Although I love fast food from time to time, I never deep-fry anything in my kitchen because of two reasons.
First, oven-baking is healthier than frying, and I'm sure everyone knows that. Secondly, I have an open kitchen and I really can't stand it when the entire house smells of food.
By the way, I don't feel any difference between oven-baked and fried potatoes, I love both of them equally and, I cannot stress this enough, the baked ones are ten times healthier, so I recommend you make this switch as well.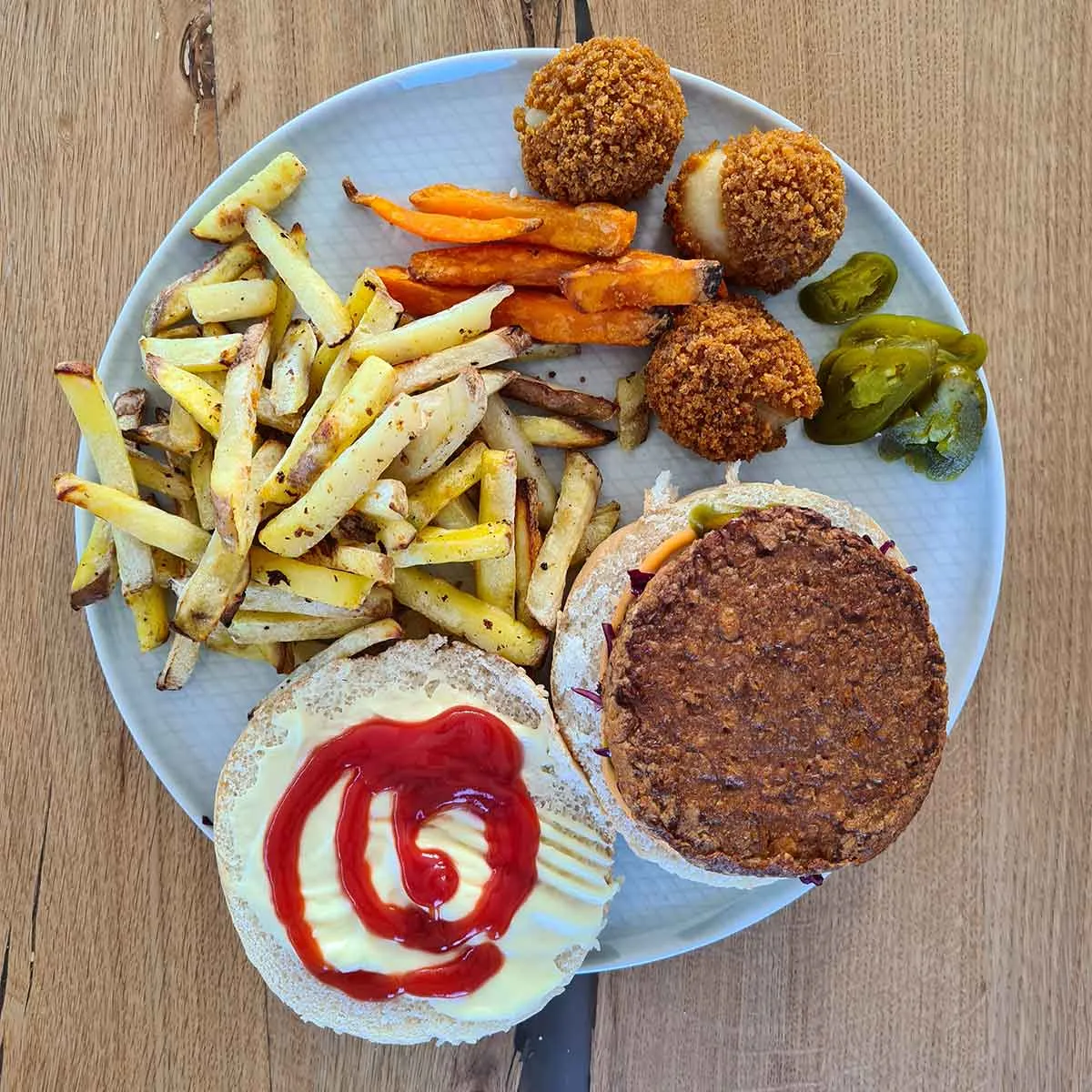 I do the same with other meals that usually require oil frying or deep frying: veggie balls, schnitzels, mozzarella balls – all of them are delicious when baked!
In case you want more veggie burger ideas for your next dinner, here are some suggestions that I made and that I always come back to: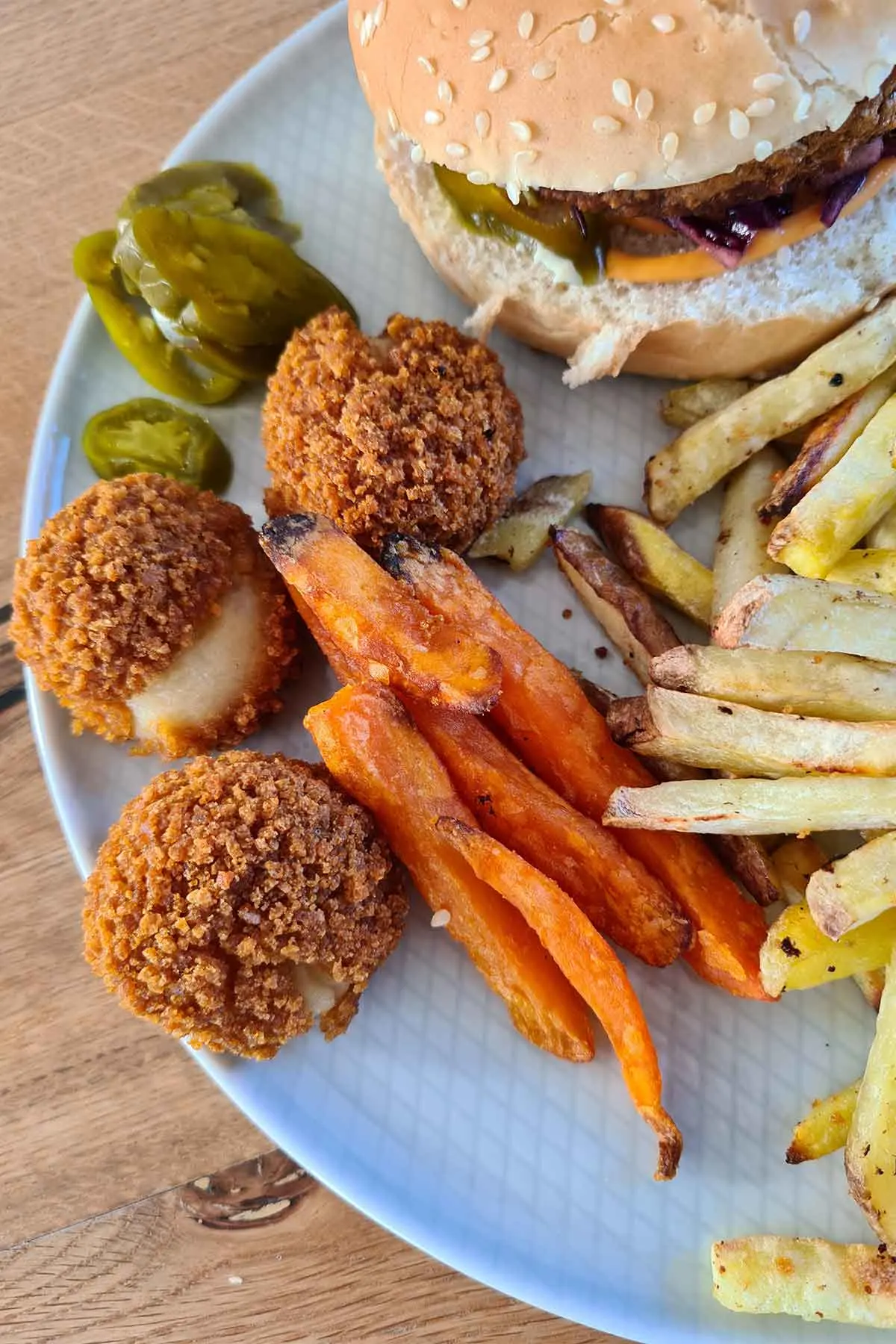 I hope you got some inspiration from today's menu! 🙂