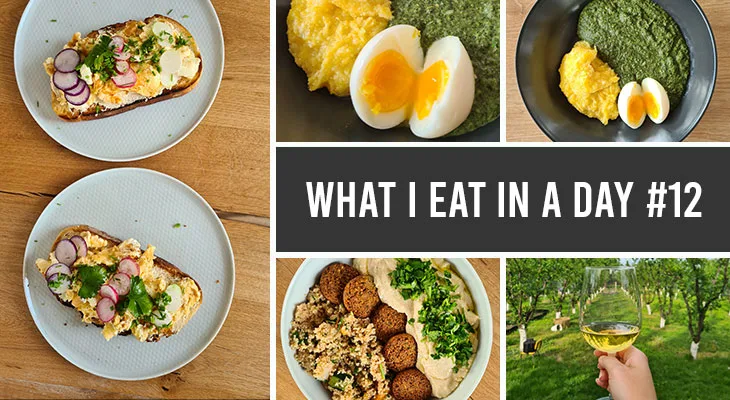 Discover the entire series of posts "What I eat in a day" here.
Recipes: Scrambled eggs with goat cheese on sourdough toast, Baked falafel with homemade hummus and couscous, Spinach puree with boiled egg and polenta.
Breakfast
Scrambled eggs on toast
I was craving a classic for today's breakfast: eggs on toast. For me, this is one of the most filling and delicious breakfasts that will offer me enough energy guaranteed to last me 'til lunchtime.
So I took one of my favorite types of bread (sourdough bread, of course) and browned it in the oven to crisp it a bit – yum! I then topped the slices of crisped bread with a thin layer of soft goat cheese. This already sounds promising, right?
Then I made a creamy omelet with goat cheese – you can already see a pattern here, right? I love goat cheese and I think it goes wonderfully with eggs!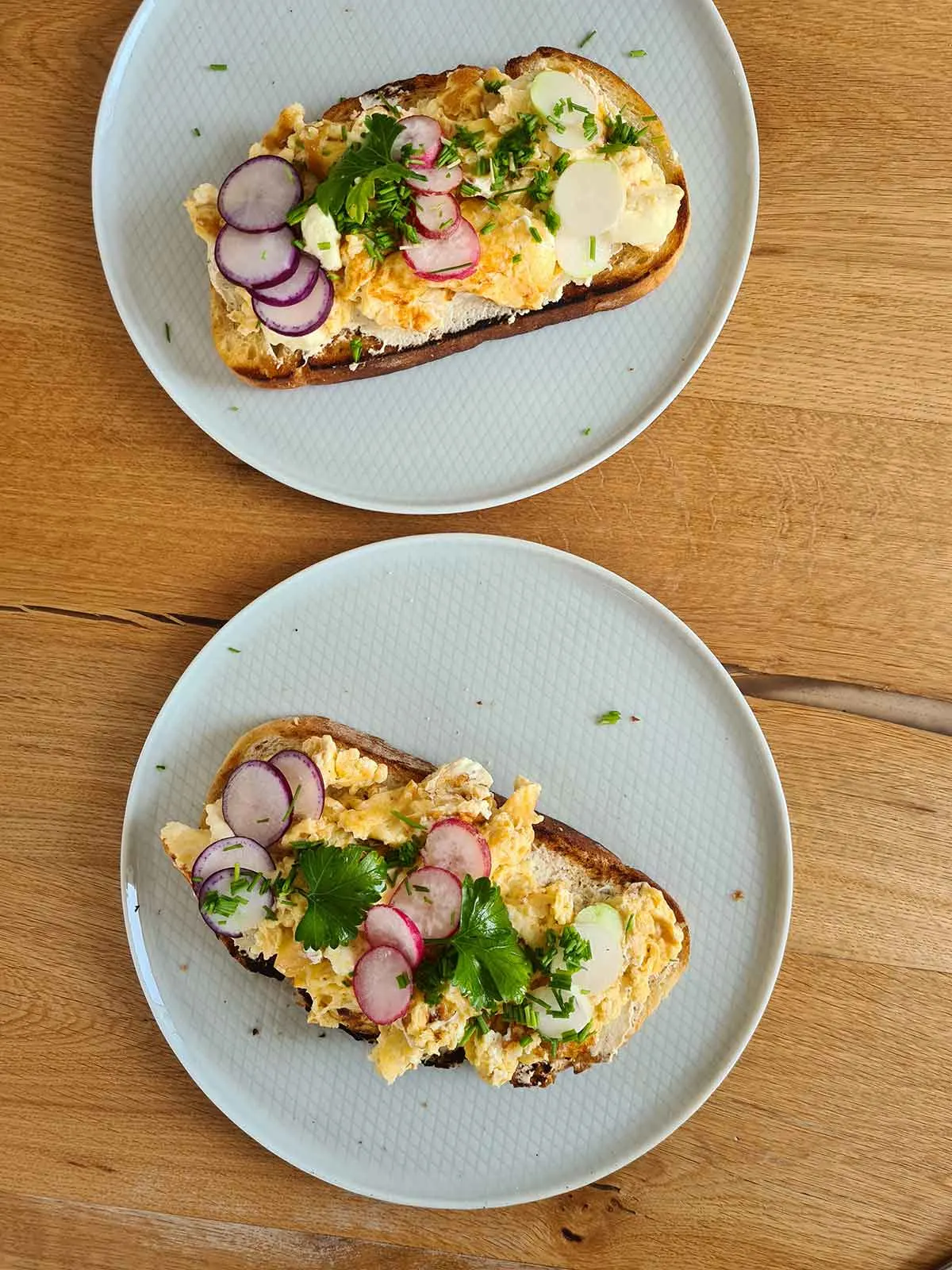 Now, whenever I eat eggs on toast, I feel the need to add something green and something fresh on top in order to make the entire 'dish' fresher. So I topped my scrambled eggs on toast with some fresh radishes (I had three types of radishes from my garden: purple, pink, and yellow), chopped parsley, and chives.
It was such an amazing combo and I definitely recommend it to anyone looking for a filling, yet refreshing breakfast!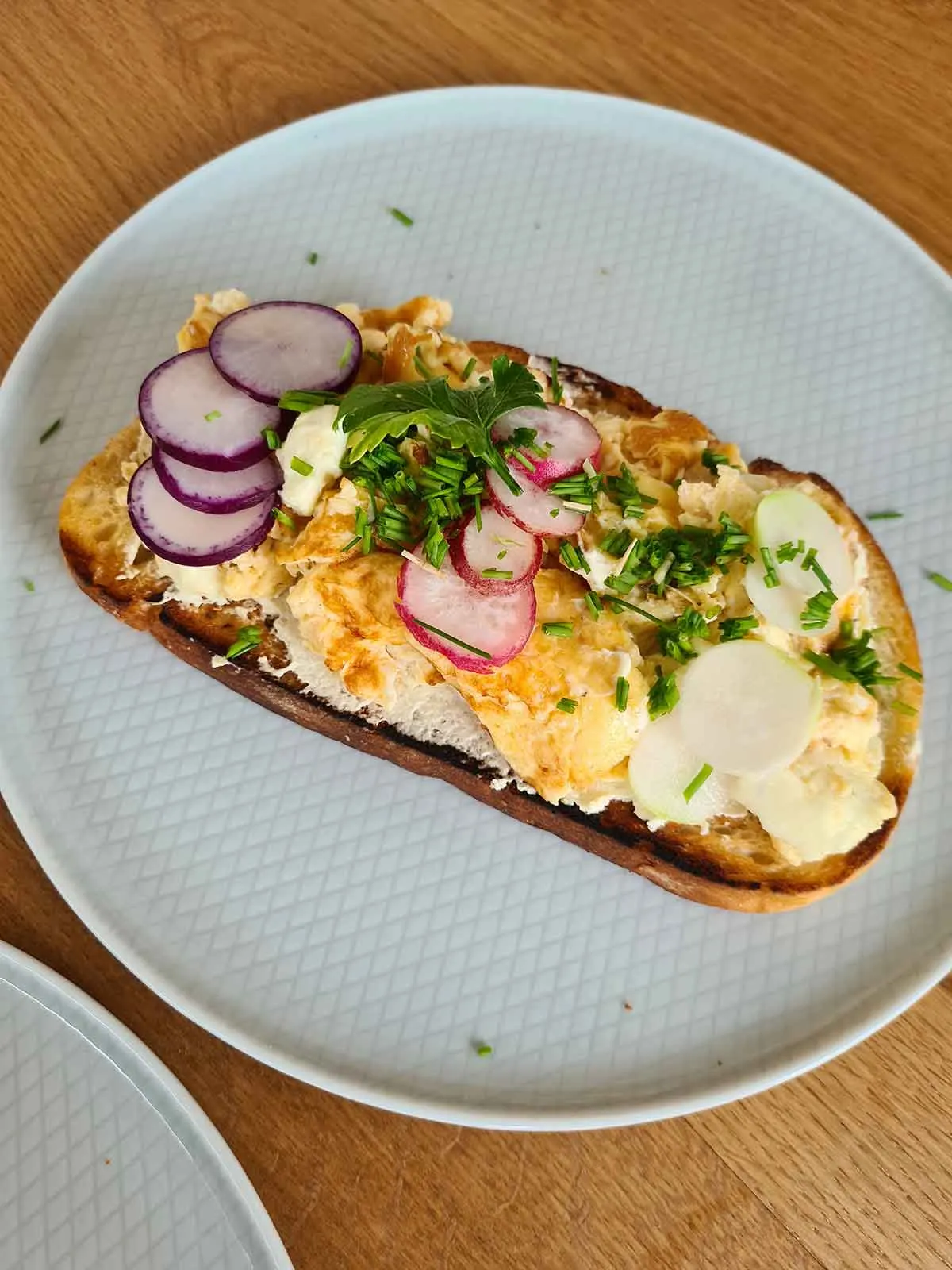 Lunch
Baked falafel with homemade hummus and couscous
For lunch, I decided to make a protein-rich, Lebanese-inspired dish. And because I was craving hummus, that's what I made first. I used my all-time favorite recipe for hummus that I use each and every time for flawless, creamy hummus – you can find it here: Best Hummus Recipe.
This is the base recipe for all the hummus recipes I've made and published on this blog, which you can find here for extra inspiration: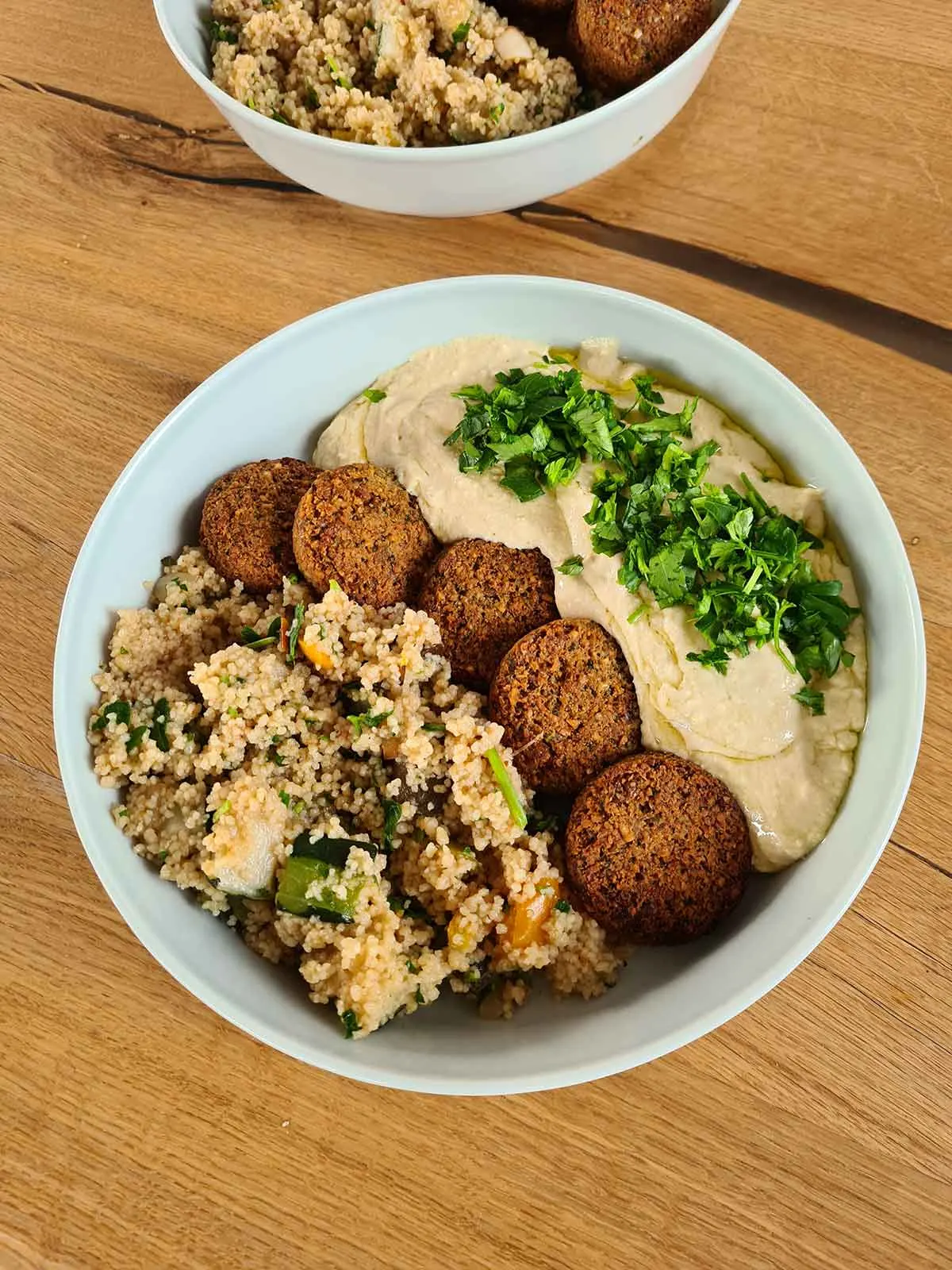 Next, what goes well with hummus? Falafel, of course! And although I love making my own crispy, fresh falafel from scratch, this time I chose the frozen falafel from Naturli because I didn't have enough time on my hands.
I've told you about Naturli before in countless other parts of my "What I eat in a day" series – I love their products and I always have my freezer stacked with various vegan falafels or schnitzels from them.
So I took my Naturli falafel out of the freezer and I roasted them for 30 minutes while I was making the hummus. That's it! That's the only effort I needed to do to have delicious falafel for lunch today!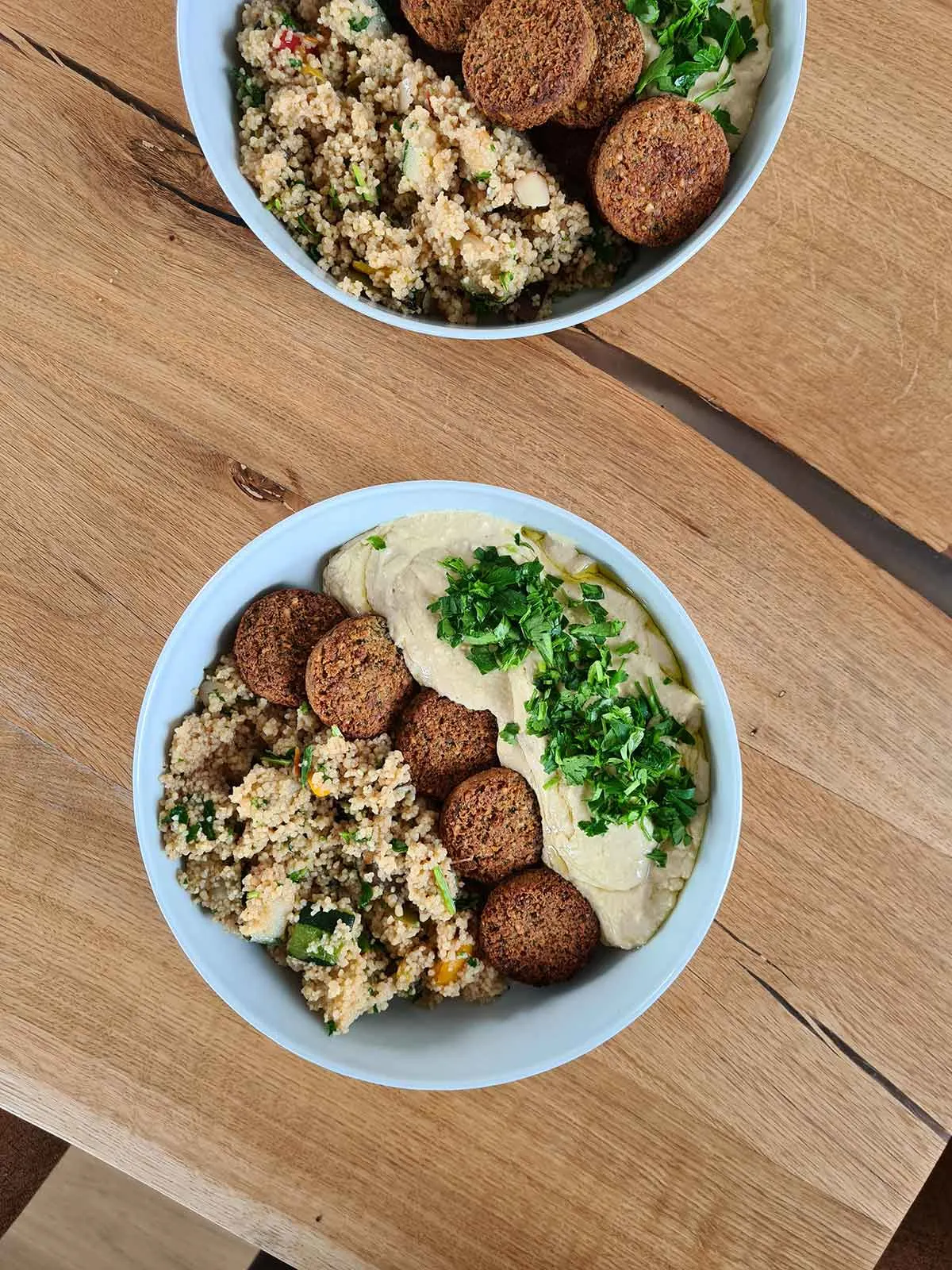 Next, I wanted something light and fresh to go with my hummus and falafel, which was already an incredible combo. So I decided to make a bowl of couscous with sauteed veggies – I call it a Couscous Salad and it's ready in 15 minutes only, so I definitely recommend you try it too!
A good alternative, in case you don't want to make the veggie couscous too, is to pair this combo with a simple green salad, dressed with a bit of olive oil and lemon. Works every time you need a fresh addition to any meal!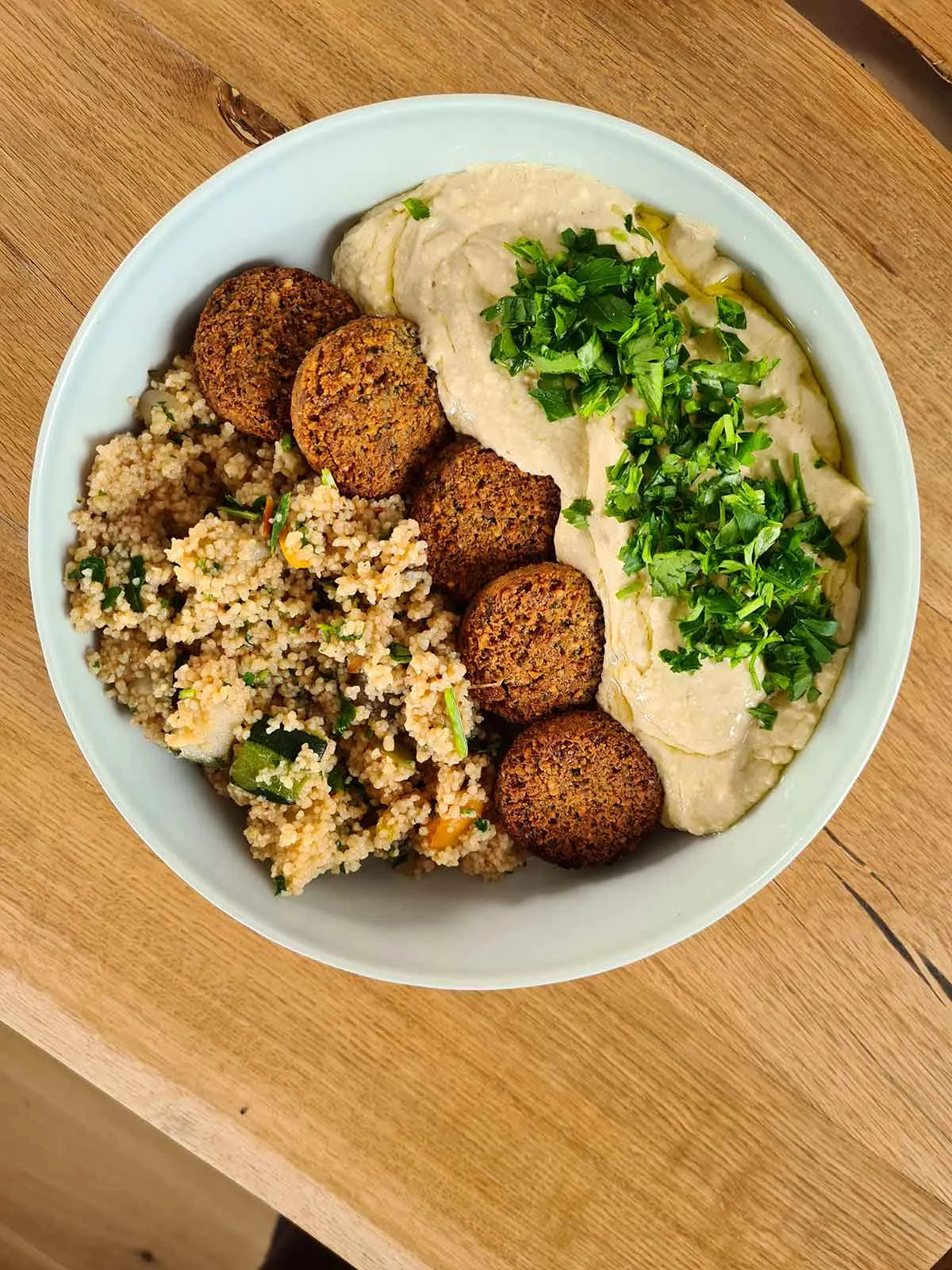 Dinner
Spinach puree with boiled egg and polenta
Even though it's super hot outside, I was craving something more comforting for dinner. So I thought of one of my favorite combos: creamy spinach puree, one soft-boiled egg, and a bit of polenta. Sounds amazing, right? That's because it was!
For the ultra-creamy spinach puree, I used my recipe for Spinach Puree with Rice – it's ready in less than half an hour and you can use either fresh or frozen spinach for it, depending on season and preference.
The soft-boiled egg goes perfectly with the taste of the spinach. As a side, I made some creamy polenta using this recipe: Creamy Polenta | The Best Creamy Polenta Recipe Ever!. It really is the best recipe that I use each and every time I want to make flawless polenta. Moreover, this polenta is made with coconut milk and nutritional yeast as well for an amazing flavor!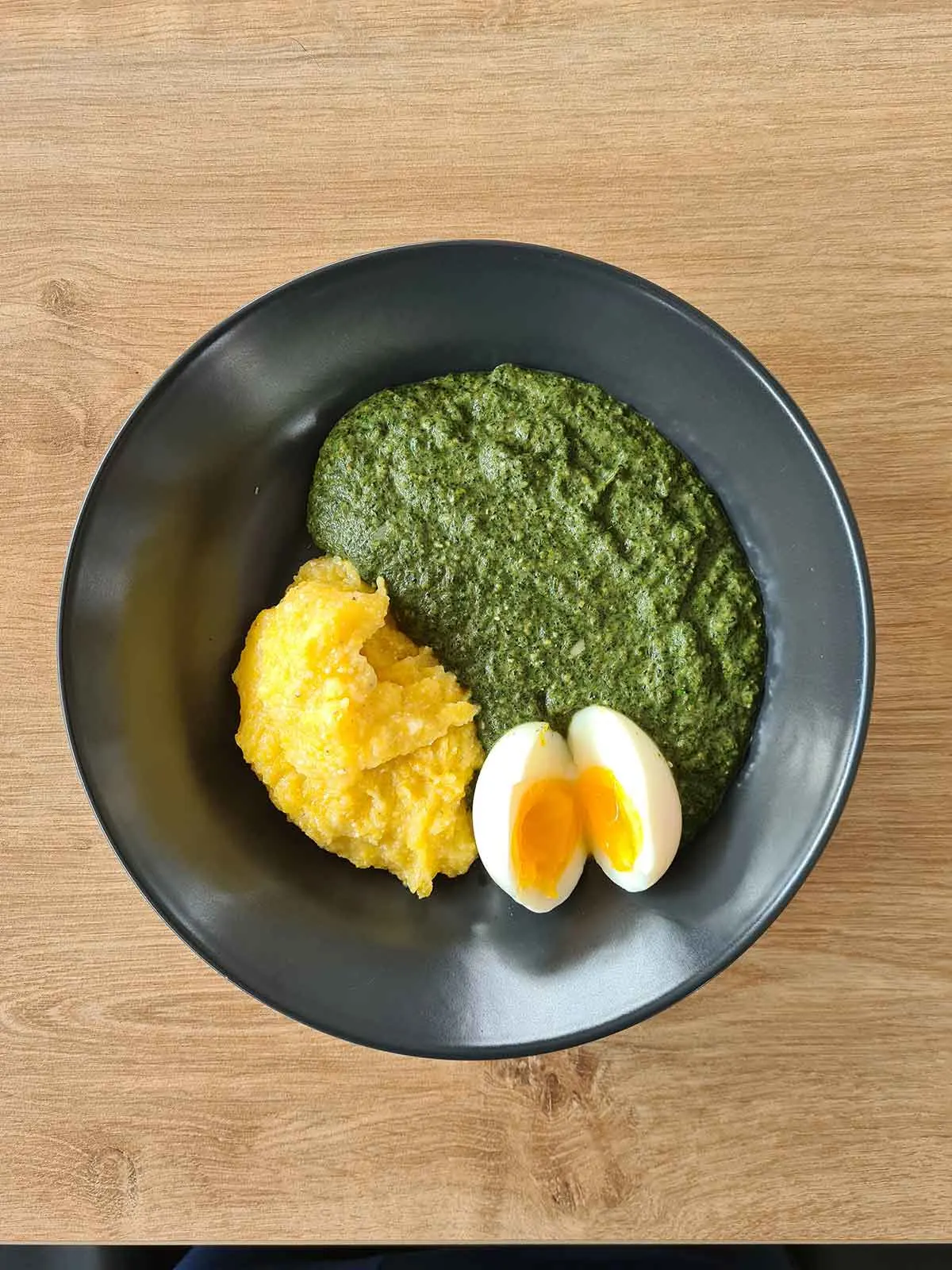 Here are some more spinach-based recipes on my blog that I really love:
And if you love creamy polenta as much as I do (I'm Romanian, after all!), here are some recipes for extra inspiration: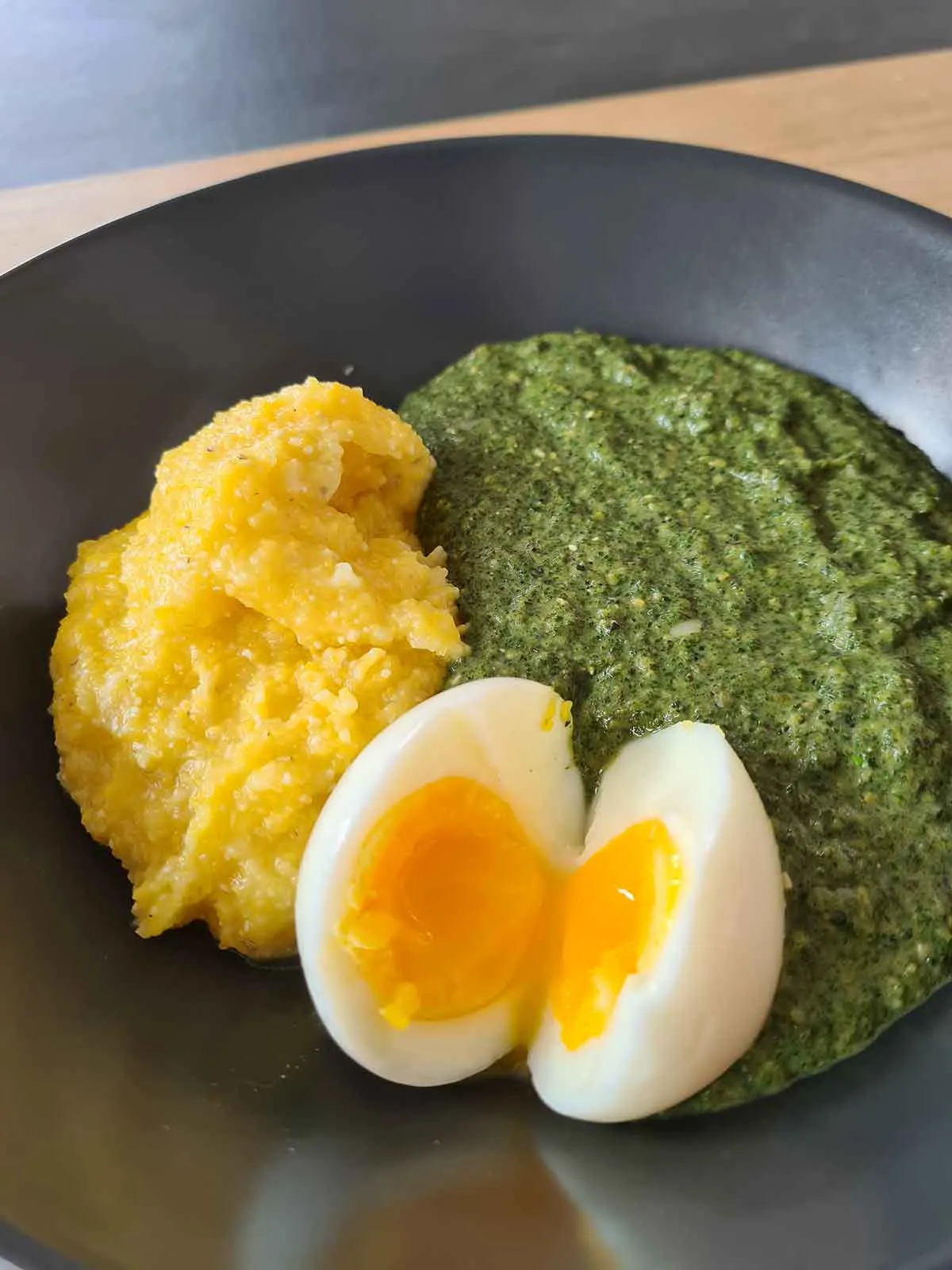 After dinner, I also treated myself to a glass of local mead wine which has become my favorite drink lately! 🙂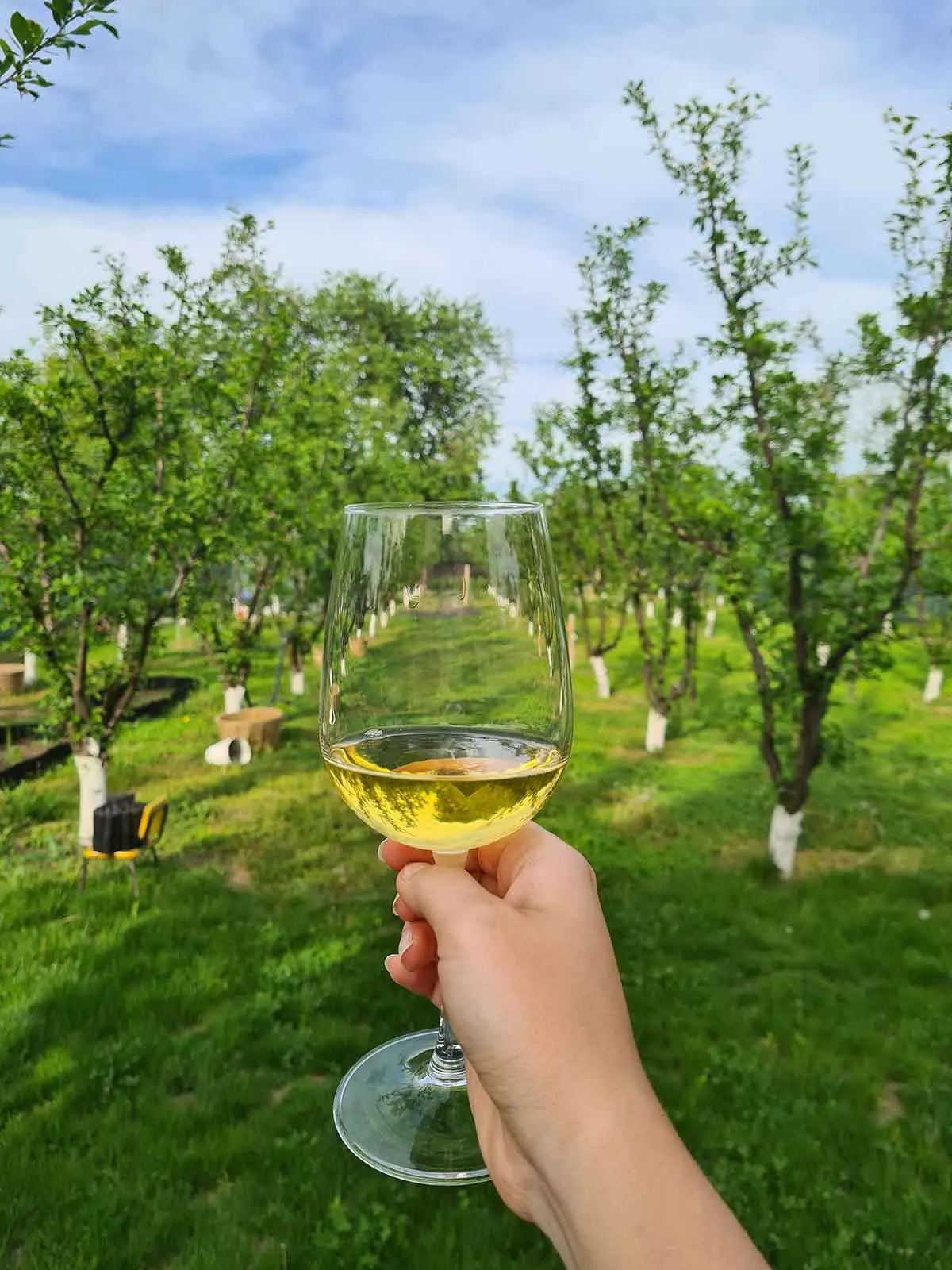 I hope you got some inspiration from today's menu! 🙂