Looking for some recipe inspiration? Here are more than 30 yummy recipes that will help you create the BEST vegetarian Easter menu. Give them a try!
Easter is right around the corner and I haven't thought of how the vegetarian Easter menu will look like this year. To make things easier for me and to inspire you too, I decided to compile this list of awesome vegan and vegetarian Easter menu recipes!
In the list below I have reunited more than 30 recipes for the perfect vegetarian Easter menu. You'll find anything from appetizers, main dishes, sides, salads, and desserts recipes – all yummy, healthy, and easy to make! You'll find some of my best vegetarian and vegan recipes, but also some recipes from some of my favorite food bloggers out there that I totally recommend you follow!
Even though I gave up dairy and gluten recently, this menu contains some recipes with cheese and gluten. I made it to be less restrictive for all of you. Of course, if you're vegan, you can 'veganize' most of the recipes in this list; except for the deviled eggs, of course! 🙂
Hope you'll like these great vegetarian Easter recipes! I love them all! I will surely try some of them this year!
Happy Easter!
P.S. Check out my new Pinterest Board: Vegetarian #Easter Recipes!
30+ Awesome Recipes for a Delicious Vegetarian Easter Menu
Appetizers |

Vegetarian Easter Menu
Let's start this list with something very simple but super yummy: vegan spinach pinwheels! These spinach pinwheels are perfect for a vegetarian Easter menu as a starter!
And here's an alternative to my first recommendation. If you're not a big fan of pinwheels, you can make this vegan Greek spinach pie instead. It's bursting with amazing flavors!
Ah, a French classic – here's how to make my vegan version of Quiche Lorraine, one of the best appetizers in the world. You can make it for any celebration and everyone will love it, trust me!
If you want to try something simpler for an appetizer, this quick, crustless asparagus quiche is both simple and super yummy. Make it with any other veggie you love in case you're not a fan of asparagus.
This special gluten-free tart is one of my favorites thanks to the amazing mint flavor. Give it a try if you want to experience something else this Easter!
This vegan egg salad is an amazing recipe for Easter! You can make it for your vegetarian menu or you can save it for later in case you have some leftover boiled eggs and you're out of ideas. Everyone will love it!
This wild garlic hummus recipe is inspired by the basic Lebanese hummus recipe. This is a spring hummus recipe, with a fresh, wild garlic flavor. Ready in 5 minutes!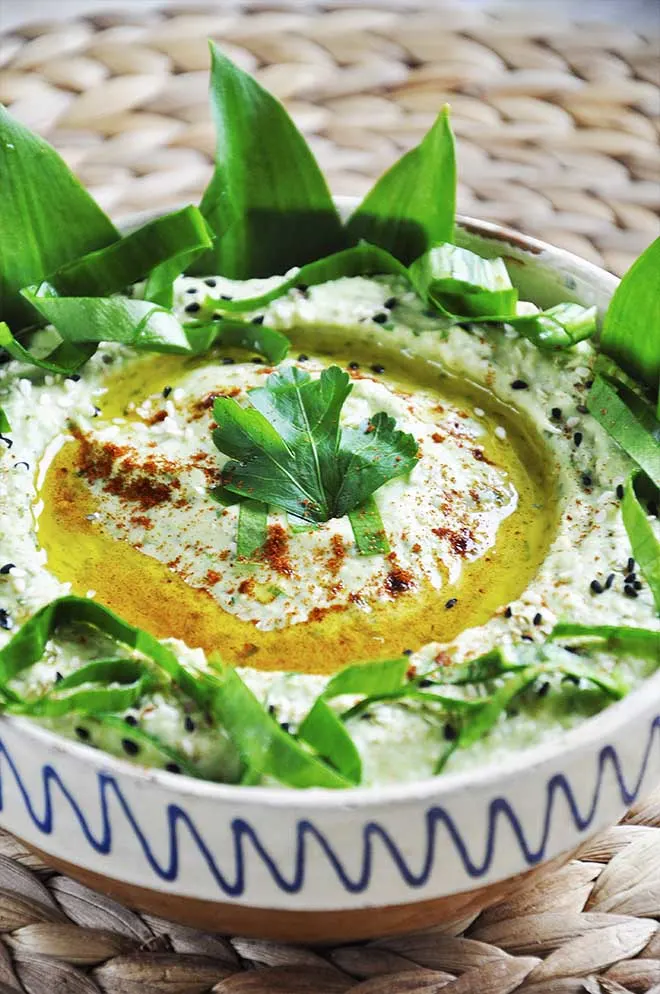 Love this idea and I totally recommend it for Easter. I mean, what would Easter be without some pretty eggs? These deviled eggs were naturally "dyed" in pink! They look wonderful!
Main Dish |

Vegetarian Easter Menu
Yes, it IS possible to make a vegan rack of lamb that looks and tastes just like the real deal. Make it this Easter and I promise you it will be a hit! Everyone will ask for seconds!
Here's a traditional Eastern European dish turned vegan: stuffed cabbage! This recipe is made with red cabbage for an extra impressive result. The recipe requires a bit of patience but the result is totally worth it!
In case you're a cauliflower fan, you simply cannot miss this recipe. This whole roasted cauliflower is super healthy and bursting with flavors!
Here's something a little more fancy: vegan scallops with pea puree. An elegant main dish for the perfect vegetarian Easter menu with your friends and family!
This mushroom bake is a traditional Romanian recipe for Easter, made vegetarian! It can also be made in a casserole dish and you can omit/replace the egg for the vegan version.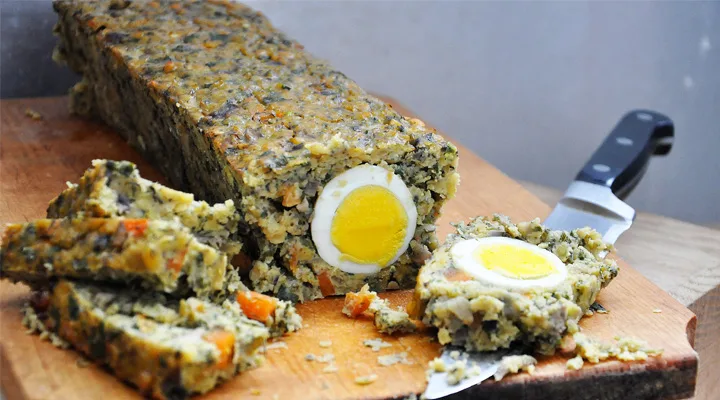 This is a vegetarian root vegetable rustic tart with mushrooms, inspired by Jamie Oliver's meatless recipes! Give it a try, it has such an amazing flavor!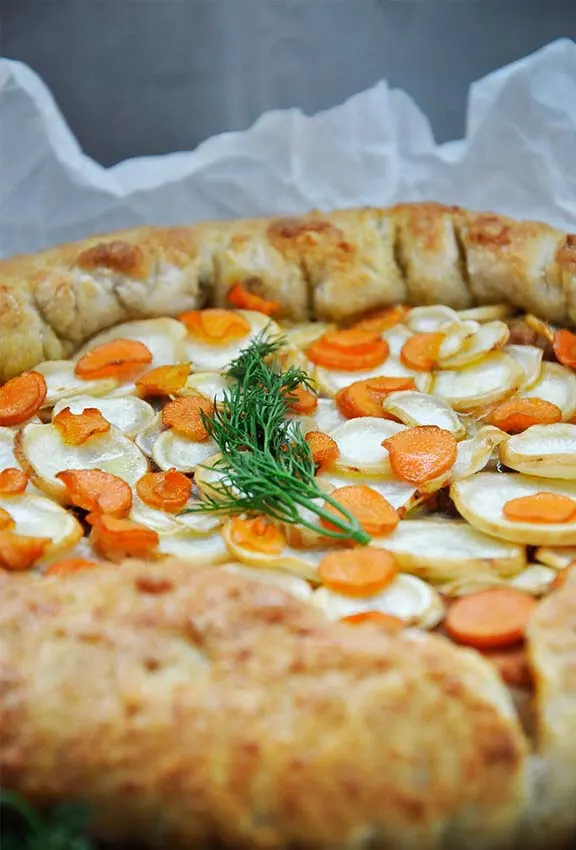 This is a great recipe for Easter! You won't miss meat at all with this delicious seitan mushroom roast recipe!
Sides | Vegetarian Easter Menu
Simple but extremely impressive: this Hasselback casserole is one of my favorite Easter sides that the entire family will love!
And in case you're not a fan of the casserole above, you can make these Hasselback potatoes instead. A classic recipe that's full of amazing flavors!
Here's another potato-based side dish: vegan scalloped potatoes, also known as "Pommes Dauphinoise", an amazing French recipe that you won't forget!
This baked scallions with za'atar and olives recipe is a very simple, vegetarian/vegan side dish, inspired by one of Jamie Oliver's recipes. You'll be amazed by how delicious this is!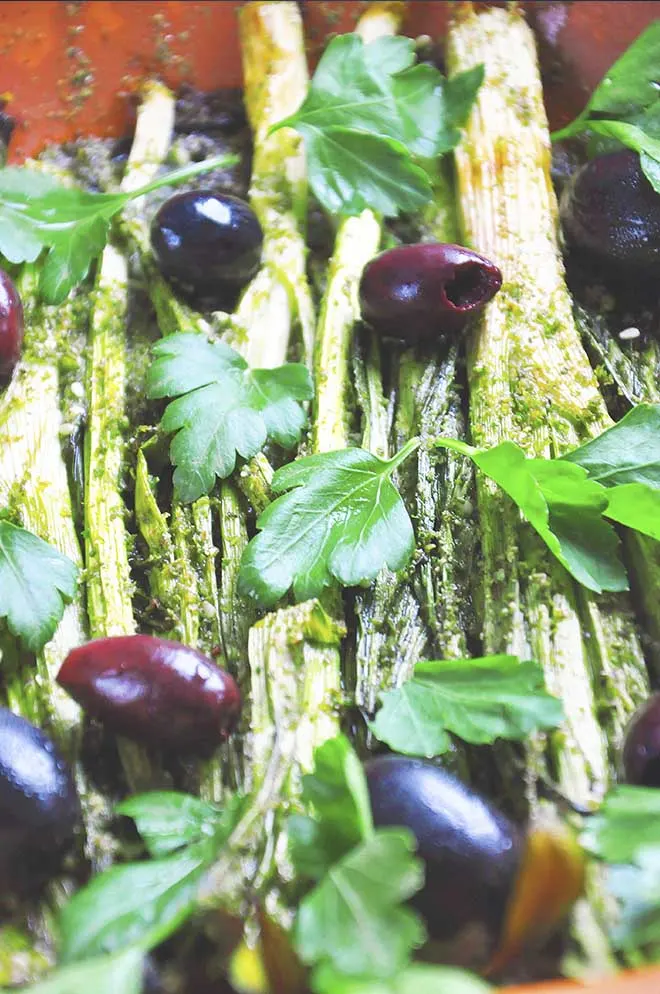 This vegan mashed potatoes recipe goes great with the seitan mushroom roast or lentil and mushroom bake recipes above!
These roasted baby potatoes will look soo good on your Easter table. You can make this with any other pesto-like sauces, like parsley, ramps, or even basil!
Salads | Vegetarian Easter Menu
This raw spring detox salad is not only healthy but delicious too! I never thought eating detox salads would be so good! The hemp oil-horseradish dressing gives it a special taste.
This potato salad recipe can also be used as a side dish, as it is very filling! The horseradish aioli dressing makes it special!
Desserts | Vegetarian Easter Menu
Of course, no Easter is complete without dessert, right? This vegan fruit tart is extremely refreshing and bursting with fruity flavors. Give it a try!
Here's a classic Romanian recipe transformed into a raw vegan dessert. It's very similar to a cheesecake and I really love it. Don't let the looks fool you – it's SO, SO delicious!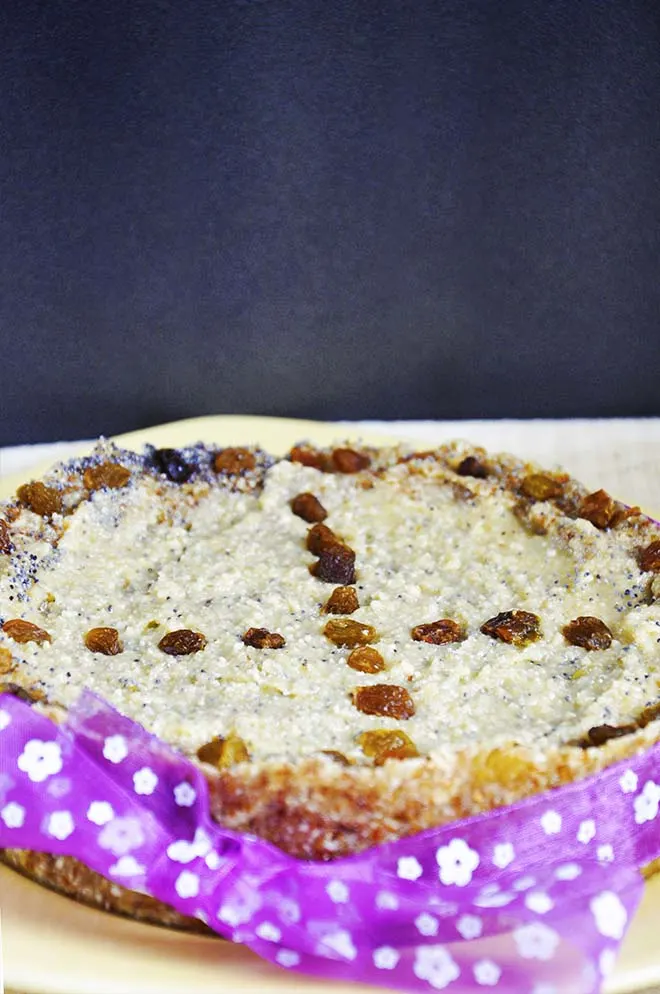 Who doesn't love muffins? In case you don't fancy a complicated dessert for Easter, these vegan carrot muffins are the perfect solution.
This carrot cake Swiss Roll may look complicated, but it's actually SO easy to make. And the filling is just amazing, very similar to a cheesecake cream!
Of course, I couldn't omit the original recipe as well, after all this talking about muffins and Swiss Rolls. This vegan carrot cake is ideal for spring and for Easter too!
Look at this beautiful and simple lemon bars recipe! It's not that difficult to make either, so you have no excuse not to try them for Easter this year!
This minimalist vanilla cheesecake recipe looks stunning and it tastes amazing too! What more can you wish for?
These cookies are just plain beautiful! I think it's a great idea to use edible flowers and make your cookies look precious and elegant!